Being mobile is an essential element of independence. Opel employees are very aware of that, which is a big part of the reason why Andreas Möritz, Engine Design Engineer in the Powertrain segment, volunteers in the bicycle workshop of the Ingelheim multigenerational house. Originally designed to help people help themselves by offering assistance to neighbors with bicycles in need of repair, the institution has become an important service hub for refugees. It allows them to obtain their own set of wheels, thereby aiming to ease their transition to a new environment.
On every second and fourth Monday of the month starting at 6:00 p.m., participants are pumping, oiling, and tightening bolts for all they are worth in the Ingelheim workshop: Andreas Möritz and an even dozen of his companions gather to repair used bicycles. At the beginning of each event, the products completed last time are handed out to refugees housed in the Ingelheim shelter for refugee applicants. "Two refugees are also part of our team," Andreas Möritz reports. "Originally our idea was to repair the bicycles side by side with the refugees. But in the meantime we have so much to do that we can only make our quota with a well-rehearsed team."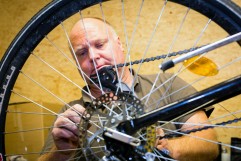 "Originally our idea was to repair the bicycles side by side with the refugees. But in the meantime we have so much to do that we can only make our quota with a well-rehearsed team."
–  Andreas Möritz  –
---
---
INCHARGE: KTN Takes the Chair
---
Making refugees fit for the job market is the stated goal of INCHARGE, an initiative of renowned Hessian companies and institutions. Their employees assume the role of mentors for refugees, helping them learn the German language, write job applications, and deal with officials and public authorities. Aside from Opel, organizations such as Kienbaum, Sixt, K + S, and the Gesellschaft für Internationale Zusammenarbeit (GIZ) have joined INCHARGE.
The initiative is chaired by Opel CEO Karl-Thomas Neumann. "We want to send a clear signal of solidarity and make a contribution to integration. INCHARGE helps jobless youths and refugees overcome employment barriers," KTN explained at the introduction of the program in Wiesbaden.
---
OPEL OFFERS TRANSPORTATION ASSISTANCE WITH A MOVANO
The production is kept up and running by cash contributions and donations in kind. "The best way to contact is through the Homepage of the multigenerational house in Ingelheim," says Andreas Möritz. Anyone with a used bicycle at home that is no longer needed can drop it off at the multigenerational house any time during the week. Defective bicycles are repaired and those which cannot be rendered serviceable by even the most talented tinkerers are used for replacement parts.
"If there is no other way, we also pick up discarded bicycles from people's homes," the 49-year-old explains. Here he uses his Opel Adam with FlexFix system, or asks his employer for help: Just recently he got to borrow a Movano for a weekend to handle transportation. Free of charge.
---
---
SOLIDARITY IS IMPORTANT: BICYCLES PLAY THEIR PART
In Ingelheim, the wheels for refugees initiative is now being supported by several institutions and companies – including bicycle dealers, "who fortunately do not view us as competitors. We return the favor by purchasing new replacement parts from them when needed."
The bicycle workshop was established in 2012, at first only to repair two bicycles for a daycare center. Then came the neighbors, asking if they could restore their aging two-wheelers here under competent instruction, and the project took on a life of its own. The Powertrain employee and his team readily rose to the challenge of helping to ease the transition to life in Germany for refugees. "Owning a bicycle allows refugees to conduct business with public authorities efficiently or look for jobs in the surrounding communities," says Andreas Möritz.
The volunteers are aware that much remains to be done. They are taking a brief break over Christmas and New Year's, but are back in the workshop on Wednesday, January 13 at 6 p.m.
 Stand Dezember 2015