Mr. Engler, Erhard Schnell designed iconic mass-market models like the Rekord, Calibra, and Corsa A. In a caricature he drew of himself, he is to be seen pulling a small scale model of the Opel GT behind him. Is the sports coupé the model you immediately associate with Erhard Schnell?
Without a doubt, Erhard will continue to be the father of the GT – or the son as he sees it. In his eyes, Clare MacKichan, his boss at the time, has the rightful claim to the title. Being modest is par for the course for Erhard. This is evident in the caricature showing him with a toy version of the GT. I believe the sketch really understates the importance of his role. Erhard was incredibly creative and had a sharp mind up until his death. He was ahead of his time and loved to sketch whenever he had the chance. His opinions always carried great weight, especially when we set out to transfer the DNA from the original GT to the new GT Concept design study.
You got Erhard Schnell involved in the project?
Yes, it was important for me to have him involved. It was our job to take the lifestyle that the 1970s design icon represented and bring it up with the times, without falling into the trap of going full retro. To understand a brand like Opel, you have to understand the iconic models that embody its design philosophy. We were looking to tap into the simple, clean, sculpted design of the GT.

"Erhard was incredibly creative and had a sharp mind up until his death."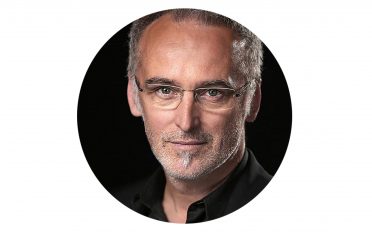 – Friedhelm Engler –
Director Design Execution
---
Friedhelm Engler (b. 1963) is the Director Design Execution where he is in charge of planning the interiors and exteriors of all Opel vehicles. After completing his degree in design at the University of Pforzheim, he moved to Tokyo for three years to work as a product designer. In 1992, he began as a transport designer at Opel and was later head designer on the Meriva A and the Astra H. From 2007 to 2010, he managed the PATAC design department responsible for all GM brands in Shanghai. He returned to Rüsselsheim in 2010. Today, he oversees all mass-market vehicles up to their production launch.
---


What was his verdict?
When the first full-scale clay model of the GT Concept was ready in the summer of 2015, we invited Erhard to the Advanced Design Studio to present the new model to him. He didn't say a word for several minutes as he walked around the clay model, stopping every few feet to think and examine it from different angles before moving on. I was all nerves (laughs). Then came the good news: "Excellent work!" The team let out sign of relief. He did, however, point to the front of the car and say: "You know you've got work to do here." What can I say? He was right – and we knew it.
You joined Opel in January 1992. Erhard Schnell retired from the company that August. Did you ever get the chance to work with him?
In my first few months on the job, I saw him at a number of presentations and meetings. He was a quiet man. Terse, direct, and distinguished are words that describe him. In addition, he always knew exactly what he wanted and had natural authority. It was during this time that I first got to witness the legend surrounding Erhard Schnell up close, though I didn't get to know and admire him until later.

---
Erhard Schnell (b. 1927) started his career as a designer at Opel in 1952. The future Director of the Advanced Design Studio first created the badges for several models, including the Opel Kapitän, before actually designing the vehicles. Production of the Opel GT, which featured Erhard's design and would go on to become a design icon, started in 1968. The Frankfurt native had a strong sense of what most consumers wanted in a car. Among other things, he designed the first-generation Opel Corsa as well as the Opel Calibra, which was the most aerodynamic car of its time. "It's my favorite car, with its modern new design language. I was given complete freedom," says Schnell when discussing the cult vehicle. When Erhard Schnell left Opel in 1992, retirement was the last thing on his mind. He continued to draw constantly and designed things around the home and garden. He also maintained strong ties to Opel, attending many company events. Erhard Schnell passed away on 8 February aged 92 in Trebur, Germany.
---


Could you explain?
In 2010, my son and I bought an Opel GT to restore. It was Erhard's greatest work – and the coupé was the car of our dreams. While we were working on it, we became deeply involved in the GT scene and got to know the people who know and love the car. Erhard was the key figure on the scene and could be seen at events and meetups throughout the year. Whenever he would show up, he was treated like royalty. From day one there was a deep sense of trust and respect between two designers. We then quickly struck up a friendship.


You served as Director of Advanced Design at Opel, the same position previously held by Erhard Schnell. How did this connect you?
Erhard is both a mentor and role model for me. It's no coincidence that my second classic car was one designed by him. It was a sporty Commodore A GS/E fitted with a three-liter six-cylinder engine. I think we share the same basic concept of what design is, which links us together. Let's take the Opel Calibra, for example, the most aerodynamic car of its time. The sports coupé was Erhard's favorite car. It combines everything that marks out Opel design to this day: a clean, modern look coupled with innovative technology. It embodied the 'Bold and Pure' design philosophy. He inspired an entire generation of Opel designers through his creativity and on a more personal level as well.
How so?
He headed the Advanced Design Studio starting from 1964. At the time, there were few places where you could study to be a car designer. He had a tremendous impact in changing this by seeking out talented young people and teaching them the craft. This included nearly every designer on the Opel team during his tenure. The studio churned out top talent.
"Whenever Erhard would show up, he was treated like royalty."

↑ Video: Sketch by Erhard Schnell

"When future Opels roll off the assembly line, the spirit of Erhard Schnell shall live on in them."

Erhard Schnell made a number of caricatures of his fellow employees and higher-ups. That's not always the best way to make friends. In Erhard's case, the opposite was true. Why is that?
His subtle sense of humor comes across well in his drawings. He was audacious, which made him popular. All the while, he was always the consummate company man. I'm pretty sure some of Opel's competitors tried to poach him, but it was not something he probably really ever seriously considered. He was born and raised in Frankfurt, and he helped set up and chart the course of the Design Center in Rüsselsheim. He felt at home there. He is the father of Opel design in Germany. The DNA he developed shapes the brand to this day – and it will continue to do so.

How and in what way?
With the GT Concept we took the form and design, i.e., the original DNA from Erhard's Opel GT, and updated it, giving it a more modern look. We then took the new design and upgraded it to create the Opel GT X Experimental. This recent design study is our vision, our compass, and the face of the brand for all upcoming models. When future Opels roll off the assembly line, the spirit of Erhard Schnell shall live on in them.
Mr. Engler, thank you for taking the time to do this interview with us.

---
February 2020
Levonorgestrel Online
Buy Flovent
Buy Rhinocort Online
http://allergyremediesonline.org/singulair/