Ognjen Tasic drives electric. His new company car: a Vivaro-e HYDROGEN. The hydrogen fuel cell drive produces electricity while he shuttles between dental practices, medical and pharmaceutical laboratories. Tasic's expertise is the highly complex inner workings of laboratory dishwashers. And that of thermal disinfection units. For eleven years, he has been on the road as a service technician for Miele in the Rhine-Main region. Wherever professional appliances from the Gütersloh-based manufacturer are in use, they need to be serviced, tested or repaired.
The three hydrogen tanks of Tasic's new company car are installed in the underbody, which means that the six cubic metres of cargo volume remain completely intact. "I can't make any concessions on the cargo space," he says and opens the sliding door: the cargo space is filled to the last centimetre with shelving systems, which in turn are stocked with special tools and spare parts. "My new company vehicle," he says, "combines electric mobility with the comfort I'm used to." In other words: high range, refuelling in a few minutes and plenty of storage space – "and only water comes out of the exhaust." Tasic has a convenient choice of three hydrogen filling stations in his area of operation.
"My new company vehicle combines electric mobility with the comfort I am used to."
– Ognjen Tasic –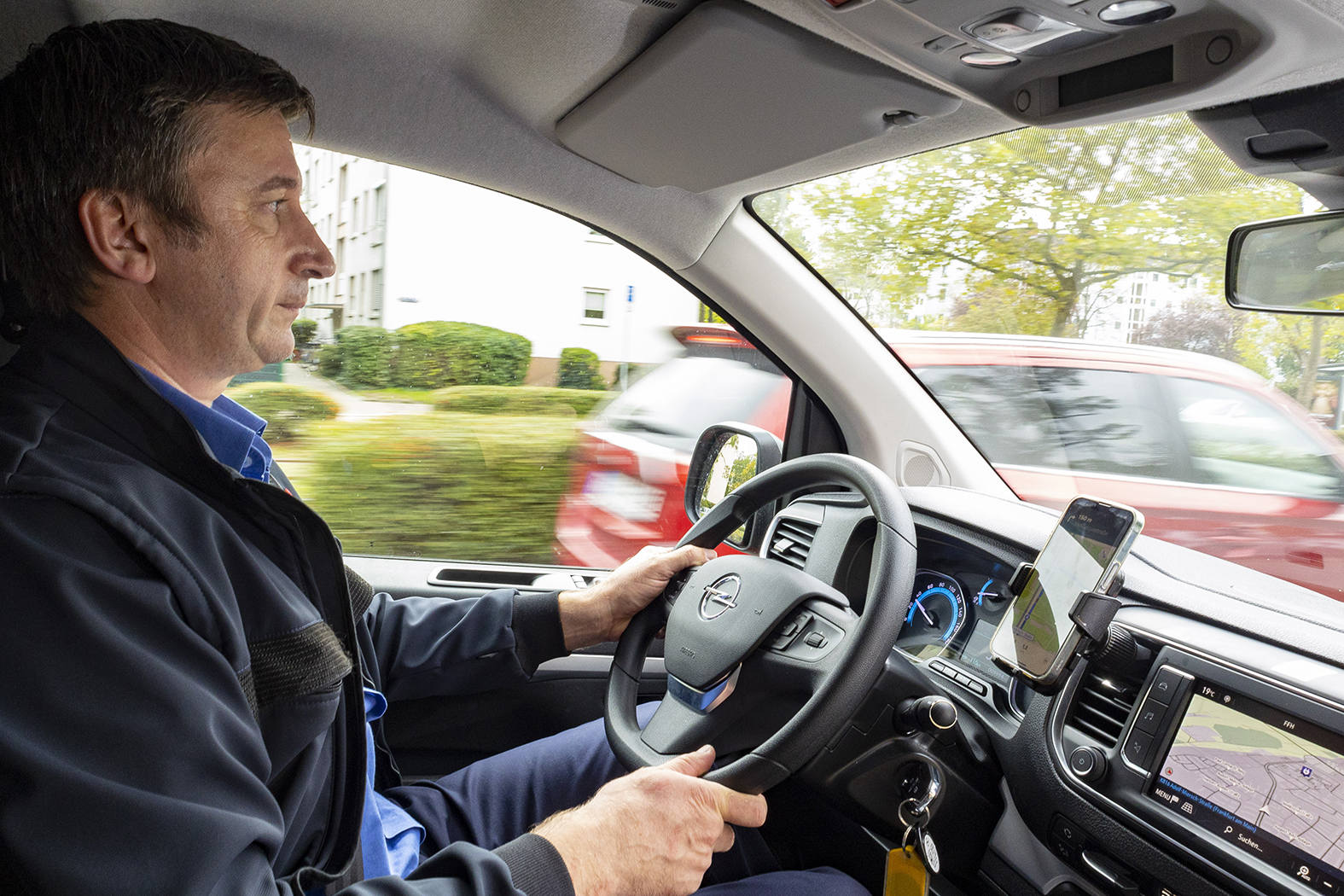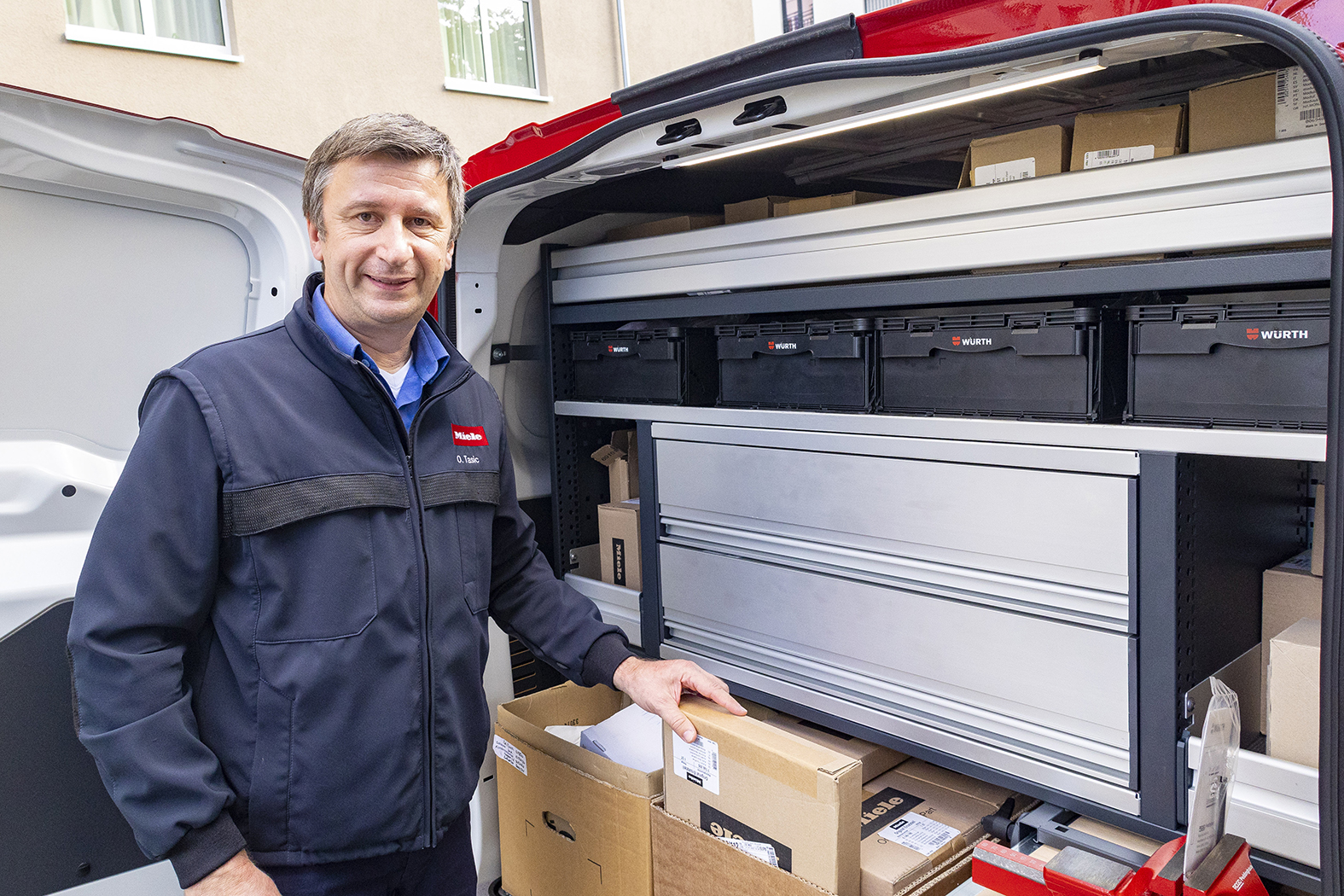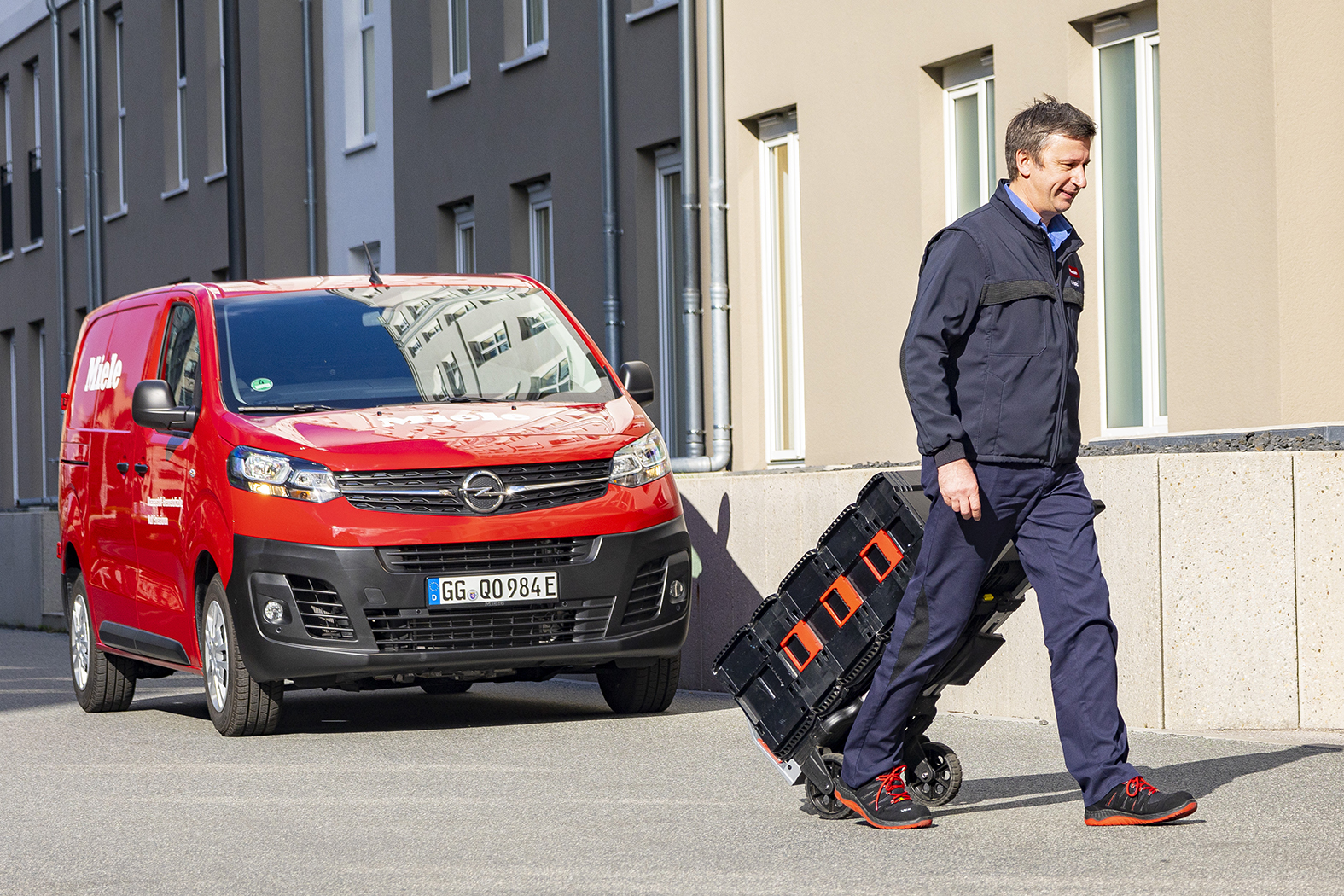 The Miele corporate philosophy: "Always Better"
With 11 employees, four lathes and one drill, technician Carl Miele and businessman Reinhard Zinkann founded a company to manufacture milk centrifuges in Herzebrock in what is now the district of Gütersloh (North Rhine-Westphalia) in 1899. Their motto "Always Better", which they printed on the first appliances, became the company's philosophy. In the meantime, the family business has stood for high-quality home and commercial appliances for more than 120 years, including appliances for the kitchen, laundry and floor care, as well as for use in commercial enterprises or medical facilities. Miele employs around 23,000 people worldwide, slightly more than half of them in Germany. Fun fact: From 1912 to 1914, the globally active group briefly competed with Opel. A total of 143 cars left the factory.
The Opel Vivaro-e HYDROGEN is the first light commercial vehicle (LCV) with hydrogen fuel cell propulsion on Germany's roads. And Miele is among the first corporate customers to rely on the Rüsselsheim power plant on wheels. After a successful test phase, Ognjen Tasic's company car was fitted with the shelf system, and the service technician has been driving emission-free for several months. The biggest difference to his previous company car with a combustion engine? "The driving," he says. "It's my first car with an electric powertrain – I didn't think it would be so much fun."
Contribution to sustainability
The use of the Opel Vivaro-e HYDROGEN in Miele's customer service fleet is closely linked to the company's ambitious climate protection strategy: "Sustainability is not just a buzzword at Miele, but a pillar on which the brand stands," says Frank Tegeder, sustainability specialist at Miele and responsible, among other things, for optimising supply chains. The family-owned company's ambition is to be a pioneer in energy efficiency and environmental protection, and not just in domestic and commercial appliances. It also focuses on reducing the company's own carbon footprint.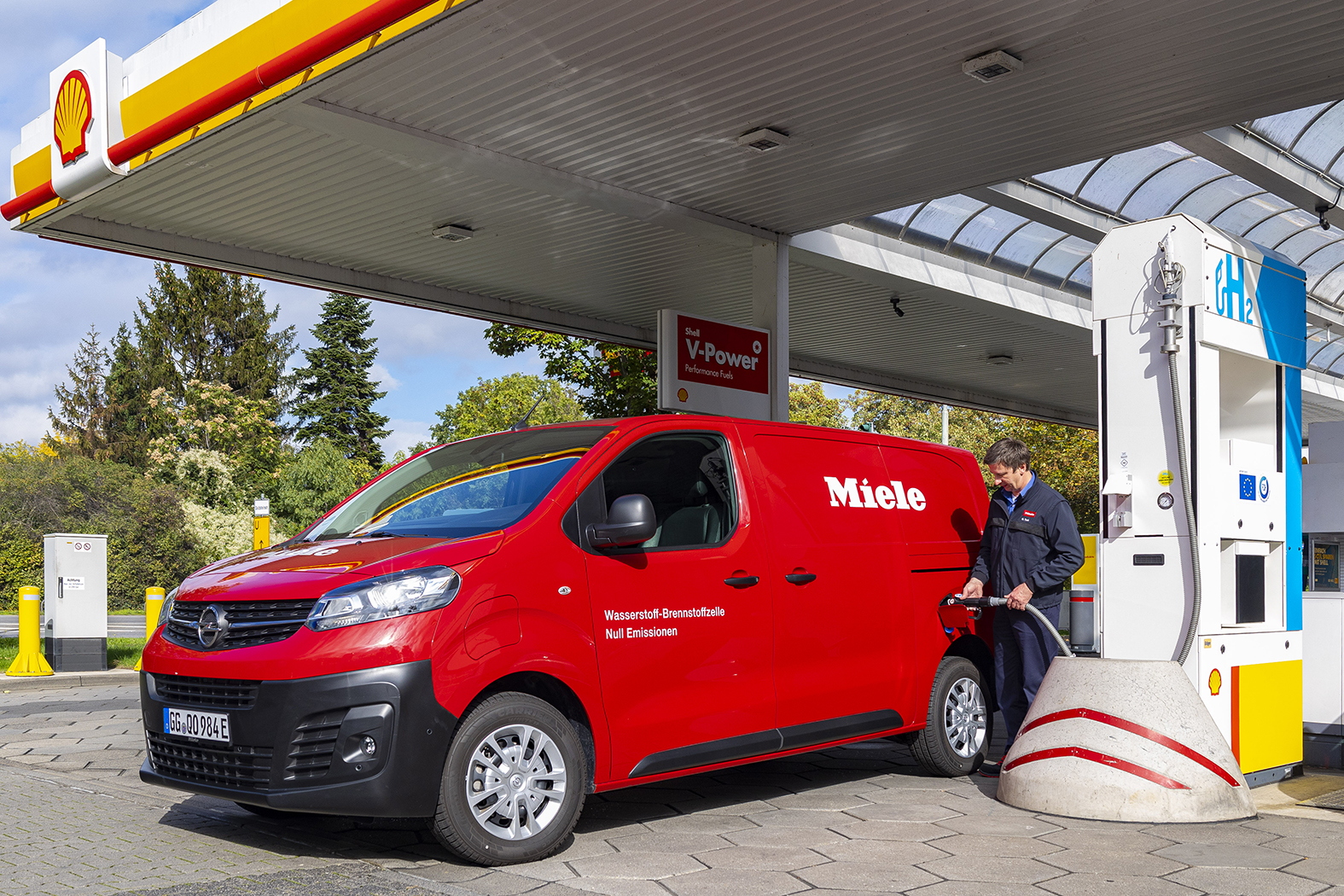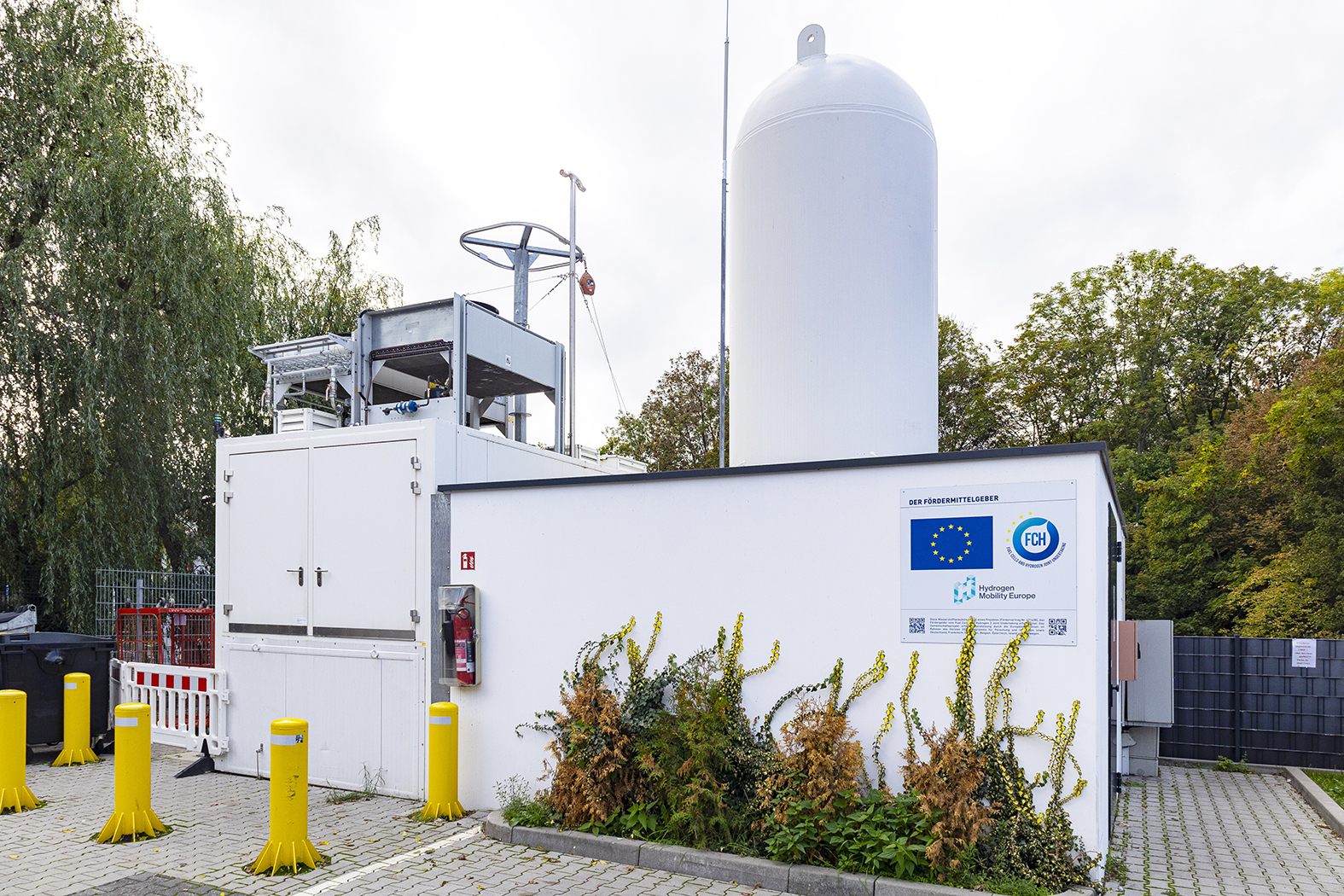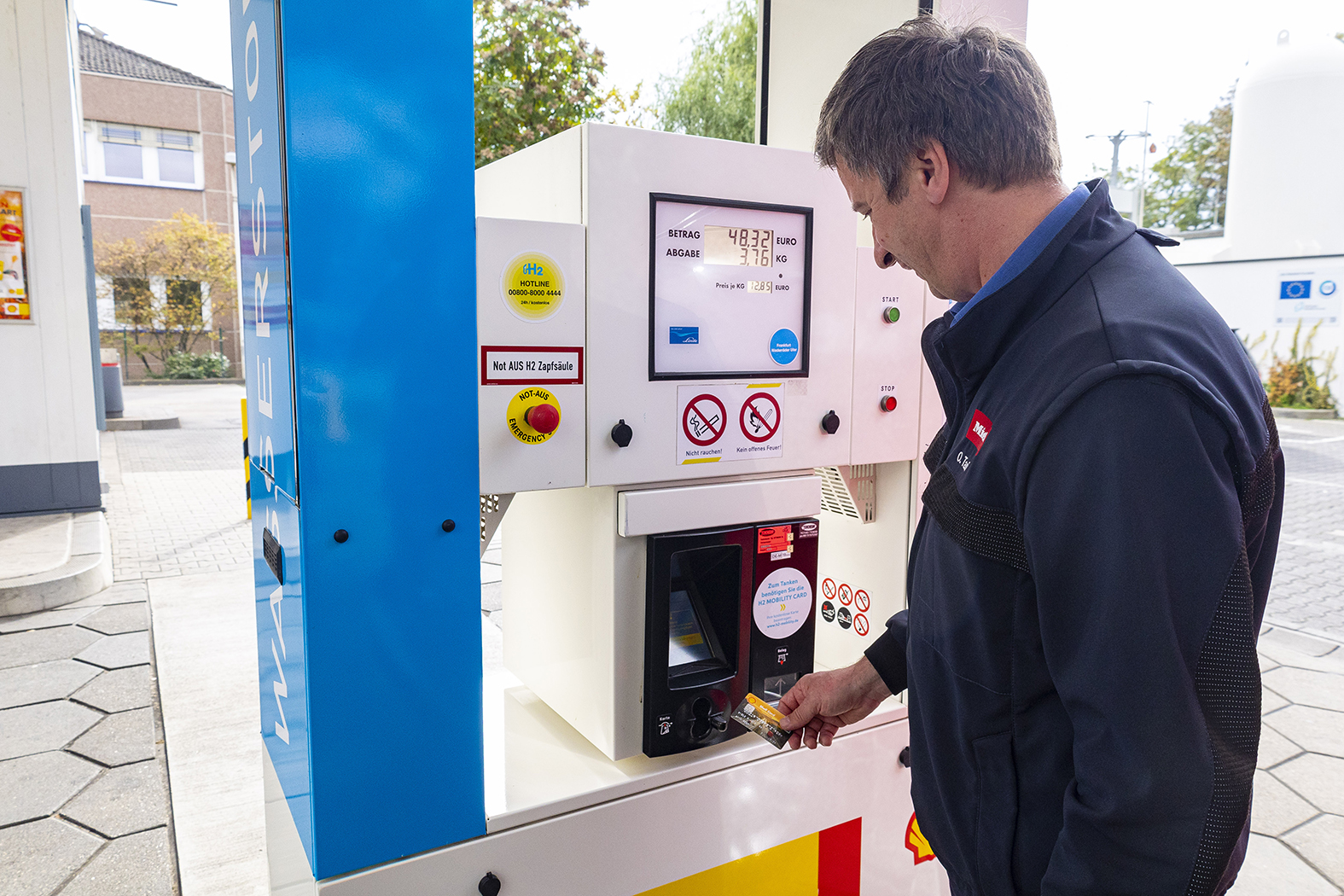 It's quick: put in the tank nozzle, press the start button – and after three minutes, the hydrogen tanks are filled.
All manufacturing sites worldwide are already CO₂-neutral, and the emissions of Miele's vehicle fleet are to be reduced by at least 30% worldwide by 2030 compared to 2019. "With the hydrogen fuel cell drive, we are closing a gap between combustion engine and classic electric vehicles, which plays an important role especially for longer distances and a high transport volume," explains Tegeder. And because long-lasting products are particularly sustainable, the devices from Gütersloh are designed so that they can be repaired. By specialists like Ognjen Tasic.
"Interest is great"
Passing hotels and corporate headquarters, the service technician drives to his last customer. The destination is a laboratory in the "Lyoner Quartier", better known as the office city in Frankfurt's Niederrad district. While he is still loading his suitcase with tools and potential spare parts for the upcoming maintenance, he gets company. "You drive with hydrogen?" asks a man who introduces himself as a master craftsman, "I think that's good – what's it like?" A technical discussion about recuperation, the 700-bar hydrogen tanks and the 100-kW electric motor ensues. "It happens to me all the time," says Tasic with a shrug, "the interest is great."
On his way home, Tasic makes a refuelling stop. It's quick: put in the fuel nozzle, press the start button – and after three minutes the hydrogen tanks are filled for another 400 kilometres (WLTP cycle). It is quite special to be one of the first to be on the road every day with a fuel cell drive, he admits. "My experience after the first few months – positive all around," he says. Even his neighbours are happy, he says. "My working day starts early. Now when I start silently at 6.30 in the morning, they don't even notice."
---
February 2023