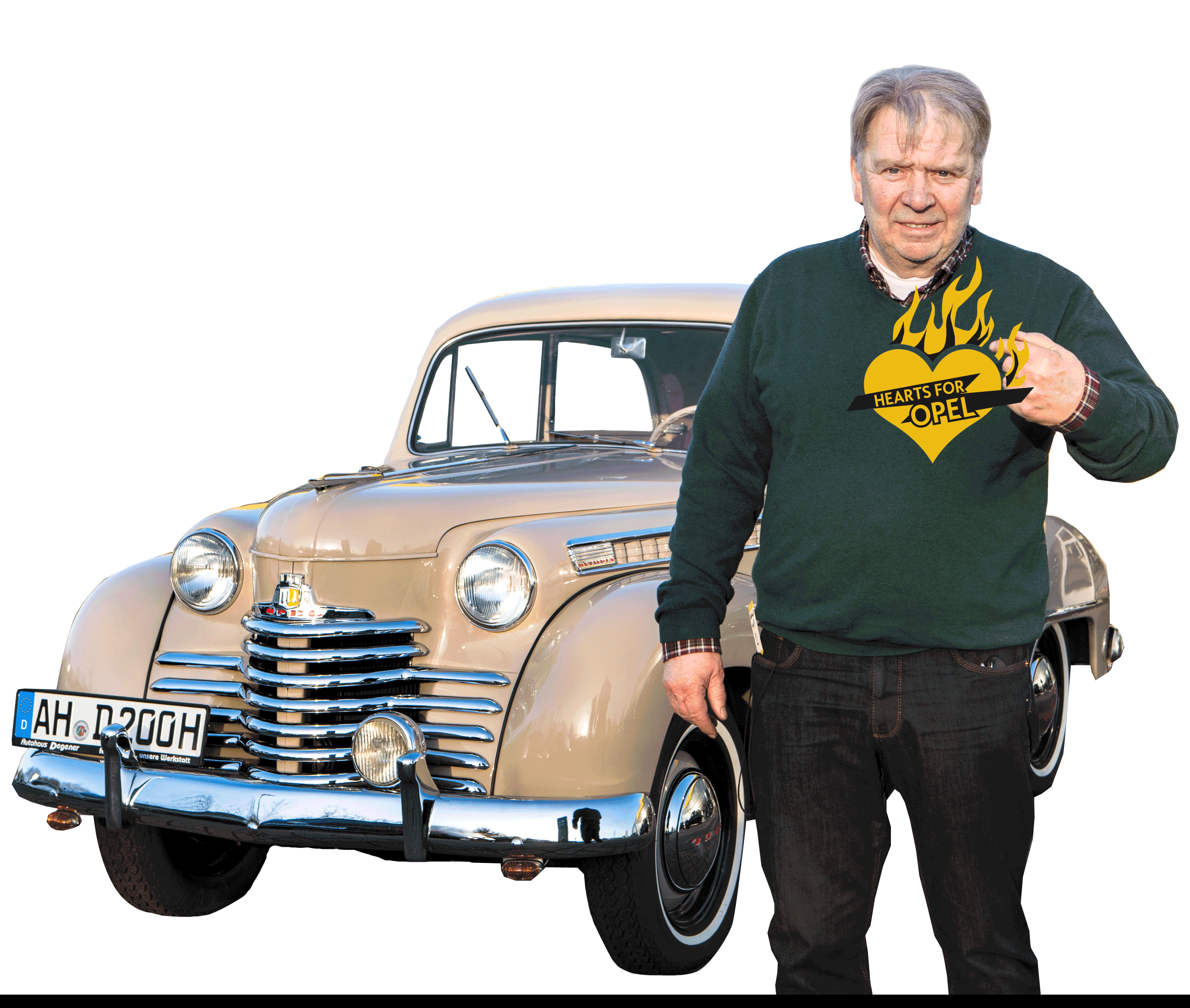 "Sometimes, I sit in one of
my cars and let it tell me its story."
– Martin Degener –
---
"Sometimes, I sit in one of my cars and let it tell me its story," says Martin Degener with a grin. Like the 1957 Opel Rekord convertible that he found in a chicken coop near Lüneburg, it was completely severed along its length. Or the Opel Blitz that played a small role in the film 'Der Koffermacher' last year. Or even his father's 1950s Opel Olympia that he secretly drove through the fields of his hometown, Vreden, when he was just a little child – not even ten years old, with a whole lot of chutzpah to make up for his lack of a driver's license.
Opel Workshop
as a Day Care Center
At 68 years old, Degener is an Opel fan to the core. "After the war, there were no day care centers here in Vreden," he recalls. "My father's workshop was my day care center." Instead of a bib, he wore work overalls. And his first Power Wheels was the aforementioned Opel Olympia; after the war, Degener's father sold and repaired cars from the Rüsselsheim-based company. He also taught the locals in Vreden how to drive in that latte-colored Olympia that Martin Degener first drove around the courtyard as an eight-year-old and later took for little joyrides across the fields when his mother and father weren't paying attention.
---
HEARTS FOR OPEL

The brand with the lightning bolt has always been popular, but there are some people who feel especially close to the Opel tradition – and even help to shape it. We will be introducing you to some of these people in the series 'Hearts for Opel.' This time, it's Martin Degener of Vreden, Germany, who has been collecting and restoring Opel vehicles for nearly half a century and sharing his treasures with visitors from all over Europe.
---
---
---
He caught Opel fever at a young age and never looked back. After school, Martin would toss his backpack into the corner and race to the workshop to tinker away on the cars. He learned to weld before he could write. He then completed an apprenticeship – to become a car mechanic, obviously – and trained as a salesman. A good combination of skills, it later turned out: After his father passed away in 1970, Degener took over the workshop and the Opel dealership and headed both until he retired. He still pitches in every now and again.
---
---
---
---
Don't Throw Anything
Away – Especially Not an Opel!
1970 was an important year for Degener in another respect, however: He started collecting classic Opel vehicles. When a customer bought a new car and traded in his old Opel Rekord as payment, Degener couldn't bring himself to scrap it. "It's just how I was raised. You don't throw anything away if it's not completely worn out," he explains succinctly. And the Rekord was still in really good shape: only a few thousand kilometers on it, the upholstery and chassis flawless. Only the metal parts showed a few signs of wear and tear. So he took the car apart, had it sandblasted and repainted, and rebuilt it from scratch. And as they say, 'appetite comes with eating:' This work sparked Degener's passion for restoring classic vehicles.
---
In the years that followed, Degener was thrilled about every Opel that he took as a trade-in for the sale of a new vehicle. He purchased his first hangar with an attached workshop just outside of Vreden. In his free time, he tinkered away on Opel vehicles: He restored Olympias, Rekords, Kadetts, Admirals, Diplomats, and many, many other models produced from 1948 onward. All of them are stored in the additional hangars that he has acquired over the years. There are so many cars that some of them are stacked on top of one another, on shelves that Degener built himself. He's proud that he owns every single model produced until 1980 – and he's still a passionate tinkerer.
To Degener, the cars aren't a financial investment. "It's not about owning them," he says. "I just love restoring these cars. Even if it takes over 1,000 hours." He has the time, after all.
Detailed History by the Hangar-load
There are always multiple cars in his workshop, waiting for Degener or his friend Clemens Winking – also a hardcore Opel gearhead – to replace an alternator, weld a part, or fix some other issue. Over the decades, Degener has built up an enormous warehouse full of spare parts and a huge collection of restoration projects. In the back of his large workshop, entire chassis slumber peacefully, as though in an enchanted sleep, and there are more of them in the courtyard. The second floor is equipped with meter-long shelves holding speedometers, shafts, screws, bumpers, and chrome parts.
Degener is always pleased when Opel fans from around Europe come to visit him and his unique collection. And when they're gone, he takes a seat in an Opel Kapitän, Diplomat, or his father's latte-colored Olympia, daydreams, and lets the car tell him its story.
---
---
Last update March 2017