"Some cases are so exceptional that it is necessary for engineers to travel to the dealers in order to scope out the situation themselves during a test drive."
 Patric Belter, Head of the Customer Information Center
---
THE CIC IN BRIEF 
The CIC processes over 50,000 requests from Opel customers every year, including 24,000 complaints, 23,000 requests for information, and 3,000 infotainment cases.
The 24,000 complaints represent significantly less than one percent of the total 2.8 billion service contacts of the German Opel service partners and authorized dealers.
There are special teams for fleet customers, Ampera drivers, social media, and infotainment.
"Opel Customer Information Center, how can I help you?" Therese Laubscher smiles as she takes the call, but it's clear that the man on the other end of the line is not smiling. His voice is raised and he sounds annoyed as he explains his situation. Therese Laubscher remains professional. She patiently listens to his concerns, asks questions, and opens a case. As their conversation progresses, the man calms down and they say goodbye on friendly terms.
It's amazing: There is no shouting, no tears, and there is no sweat pouring off the foreheads of the employees wearing their headsets. The atmosphere in the open-plan office is calm and positive. It's not at all like the cliché of a complaints office. Patric Belter, Head of the Customer Information Center, has a thing or two to say about that particular expression: "Calling us a 'complaints office' really doesn't do justice to what we do here. Customer care is a far better way of describing it." Belter currently heads up a team of around 60 employees, with 41 in Rüsselsheim and the rest in Budapest and Luton.
The team members all have very different professional backgrounds. Some come from the service sector, while others have previously worked at dealerships. Others again have found their way onto the team through their love of language. Strong communication skills are what connect all of them. HP is Opel's contract partner at the Customer Information Center in Rüsselsheim. Here, a total of 33 agents deal with requests via phone, e-mail, and snail mail. The CIC shares an office in Rüsselsheim with the European Technical Assistance Center (ETAC). ETAC employees are primarily concerned with supporting Opel service partners when it comes to diagnostics and maintenance of Opel vehicles. The two units are closely linked, and the spatial proximity enables the teams to exchange ideas quickly. Every day, the agents in the CIC take between 250 and 300 calls and answer 50 to 100 e-mails. The key to every call is to find out what the customer expects and how he or she would like to be addressed.
---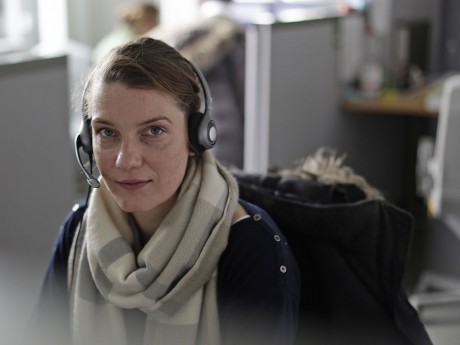 EVERY DAY IS DIFFERENT

Therese Laubscher has been working as an agent in Rüsselsheim since 1 September 2014. She studied history and politics and has also previously worked in customer care. What does she like about her job? "It's full of variety, every day is different." What does she need to work satisfactorily? "Patience and empathy. You have to be able to put yourself in the customer's position and tease out what it is they need. We get calls from people in all sorts of different moods." Customers often get in touch with their dealer and then call the CIC if they are not satisfied with the results. For this reason, the agents maintain close contact with the dealers and take on the role of a mediator in conflict situations.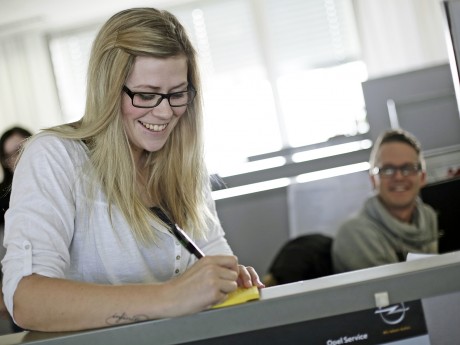 PATIENCE IS THE NAME OF THE GAME

Nadine Büßer is a Team Leader in the CIC. She has been in this role for two-and-a-half years and is responsible for employee development. She also coordinates with the management in cases of conflict. So, what's her secret? "Patience is the name of the game when it comes to talking to customers." Moreover, it's important for new employees not to take their work home with them. To this end, Büßer is always available to listen to any doubts and concerns. "It's not only our bosses who have an open door principle. For me, it means 'Come in, even if I've just taken a bite of my sandwich'," says Büßer. You can see that this approach works. Team members ignore the room dividers and exchange opinions between calls. The mood is relaxed.
---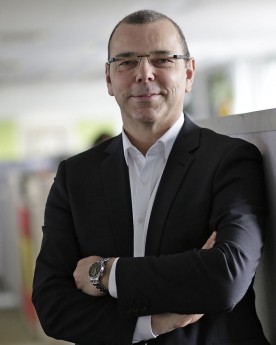 "In a best case scenario, the customer is annoyed and comes to us with a problem and in the end says: 'I'm satisfied'."
Frank Steidl, Head of the Service Center
---
HOW TO BECOME AN CIC AGENT
A high level of expertise is essential for every employee in the CIC. All new agents undergo four weeks of training, only taking their first calls after two weeks. Then it's time to begin their shifts, with a mentor providing support. The training sessions enable the new agents to gain a basic understanding of technical issues. The emphasis is placed on communication, psychology, and de-escalation. They become familiar with different types of customer and how to approach each one correctly.
Frank Steidl, Head of the Service Center, says: "Our relationship with the dealers is very constructive. They're our partners on site and the first point of contact. We're a team, working together to serve customer interests."
The majority of requests concern goodwill, invoice verification for repairs, technical issues, or requests for information about the company. "The CIC is the interface to the inside and the outside," says Patric Belter. The agents assume responsibility for coordinating tasks, act as communicators, consult with experts in specialist departments, and provide contacts to the dealers. Some cases are so exceptional that it is necessary for engineers to travel to the dealers in order to scope out the situation themselves during a test drive.
Why do tempers flare when cars are involved? Therese Laubscher thinks she knows the reason why: "This is where two key issues come together: the favorite child of most Germans and money." Sometimes you have to distance yourself from your counterpart's anger, but not too much. "The most important thing is that the customers know that we're taking them seriously and that we want to work with them to find a solution."
Despite high-quality training, it is always possible that new or difficult situations will arise. That's why the team comes together for 15 minutes every morning to bring each other up to speed before the next shift begins. Either way, the doors to the bosses' offices are always open. They are on-site in the center to get an idea of day-to-day operations and they are available to all employees.
NOT ALWAYS GIVEN A THUMBS UP

In principle, all of the agents can process all issues. However, there are special teams for special tasks. For example, the Executive Team assumes responsibility for requests directly intended for the board of directors. They are in direct contact with the board of directors to some extent in order to coordinate answers. The Social Media Team responds to customers that raise their concerns on social networks.
The CIC surveys customers after they have called the center. The surveys are a key tool for employees to improve the service they provide. Frank Steidl, Head of the Service Center, says: "We ask customers for their view on the solution. It goes without saying that we don't always get a thumbs up. In a best case scenario, the customer is annoyed and comes to us with a problem and in the end says: 'I'm satisfied'."
Naturally, motivation to report positive dealer experiences is not very high. That's why everyone in the CIC is always happy to hear news of satisfied Opel owners who have reached a high kilometer mark or are celebrating the anniversary of their beloved car.
The positive and professional mood of the team rubs off on the customers. According to Patric Belter, "Customer care mainly deals with things that haven't gone according to plan. When we speak to customers, we're either starting from zero or we're already in the negative. Despite this fact, we manage to serve more than half of our callers in such a way that they leave the conversation on a positive note. This is what motivates us to continuously improve."
Text: Sabrina Künz, Photos: Alex Heimann