Lebende Legenden sind facettenreich, so auch der GT von Opel: Diese Collage enthält den Serien-GT, den GT Conrero, den GT Concept, den GT Gerent, den Experimental GT und den GT Irmscher (v.l.), allesamt auf der Techno Classica 2016 in Essen ausgestellt.
---
OPEL AT THE
2016 TECHNO CLASSICA 
---
The 28th annual Techno Classica, held in Essen, Germany, from 6 to 10 April, sealed its reputation as the world's largest trade fair for classic and cult cars with over 2,500 vehicles on display, 1,250 vendors from more than 30 nations, 200 club booths, around 25 manufacturer presentations, and 190,000 visitors. Opel has been participating in this trade fair for nearly 20 years. This time around, Opel's presence at the event revolved entirely around the GT: The crowd got to see five historic versions of the two-seater coupé at once. These models included the GT Experimental (the original GT from 1965) and the red Series GT. The crowd also admired three refined versions of the vehicle: Conrero, Gerent, and Irmscher GTs. Last but not least, visitors also got to see the star of the show: the new GT Concept.

The gates to the world's largest classic car trade fair have just opened, and one thing is immediately clear: The vendors in attendance at the Techno Classic in Essen need to offer something truly special in order to get the pulses of the crowd racing. The Opel booth in Hall 2 did just that – with panache. One visitor to said booth confesses that his heart is aflutter. Open-mouthed Jürgen Hechler from Cologne, Germany, circles the models from the lightning-bolt brand for minutes at a time, then rubs his chin and says: "You can tell just by looking how it would feel to drive these babies. It's probably the next best thing to flying."
THE DEFINITION OF COOLNESS
He's making a playful reference to the ad slogan that's currently heralding the Opel vehicles on display here. These vehicles made Hechler's heart race, and most of the other visitors to the booth reacted just as emotionally as he did. These fans' reactions showed that their fascination with the GT's purist, groundbreaking, and historic design features is still running strong. Industry experts agree that hardly any other car reflects the spirit and style of the late 1960s and early 1970s as faithfully as Opel's GT sports car does. They also agree that, to this day, hardly any other car embodies the concept of coolness as well as this one does.
––––
"You can tell just by looking how it would feel
to drive these babies.
It's probably the next best thing to flying."
– Jürgen Hechler, visitor to the Opel booth –
––––
Opel simultaneously presented five historic versions of the two-seater coupé at the Techno Classica. These models accompanied the true star of the show: their younger brother, the new GT Concept, which had already been presented at the Geneva Motor Show and was now celebrating its German debut in Essen. "We wanted to take up the GT philosophy and write a new chapter in GT history," says Friedhelm Engler, Head of Advanced Design at Opel.
STILL FRESH AND SEXY
In doing so, Opel designers faced a conundrum: How should they approach the living legend that the GT represents? And what exactly keeps the GT, which is now over 50 years old, coming across as fresh and sexy? To find answers to this question, Opel Post spoke with Techno Classic attendees who are passionate about the GT models on display in Essen.
---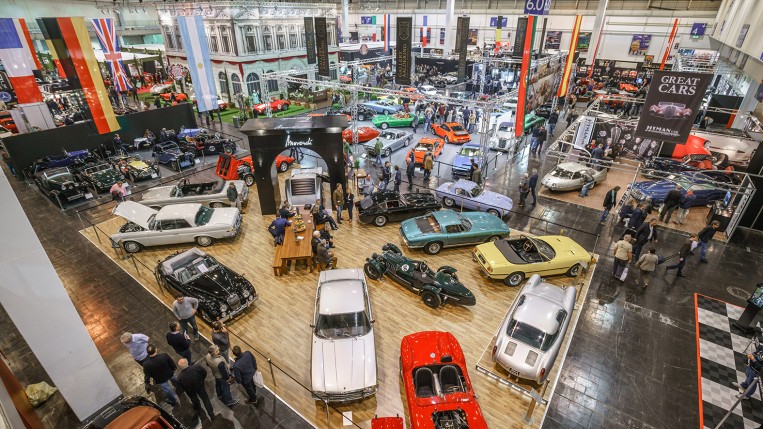 ---
GT Concept:

Awe, Excitement, and Selected Design References
---
The story of the new GT Concept began in the summer of 2014. Friedhelm Engel and his team noticed that visitors at the festivities surrounding the design center's 50-year anniversary were very preoccupied with the GT: "We had put clay models and sketches made by design greats such as Erhard Schnell and Hideo Kodama on display." Nearly all of the anniversary celebration attendees, including non-Opel employees, were "absolutely fascinated" with the work and ideas produced by Opel creatives from that era, particularly the cult coupé. Today, Engler recounts that "At some point, we raised the following question internally: Is the spirit of the GT still alive? And could a new model get people excited?"
The answer to both questions was 'yes,' despite the design team's awe and trepidation before the magnitude of the undertaking, according to Engler. In his opinion, the secret to the Experimental GT's appeal lies primarily in its look; "And the recipe for that look's success consists of three main ingredients: proportion, proportion, proportion." Engler finds that most timeless, quality designs impress with clean and simple lines. He wanted his new GT to have just that. As such, this new design would have a similar feel to its cult predecessors: confident, bold, and visionary. It's hardly any wonder, then, that the GT Concept only includes a few design references to past models: its long hood, lack of a hatch, and central dual exhaust pipe. Apart from those features, this new sports car has a look all its own.

---
Experimental GT:

Opel Suddenly Takes a Gamble

---
Back in 1965, as Erhard Schnell's design caused furor at the International Motor Show (IAA), Gisela Jahn was just about to get her driver's license. "Back then, that vehicle represented a real break with tradition," she says. Jahn was occasionally allowed to drive an Admiral that belonged to her older brother. "The Opel brand was known for staid and chic car bodies," she recalls. The new, sassy sports car design rolled out from Rüsselsheim, Germany, represented "a real gamble."
But the gamble paid off, as Jahn summarizes: "It was high time for a sporty little number that could offer a racy look and good driving performance at a reasonable price." When Opel put the silver study on display at the IAA, the brand made waves in the media and was suddenly seen as laid-back. "That was a move in the right direction. Today, the Opel designers are clearly making that kind of move again."

---
GT:

A Momentous Deal

---


The GT and Heiner Schnorrenberg (52) have a mutual history that goes back to the early 1970s. When he was 16, Schnorrenberg and his father Heinz made a deal: "Instead of getting a motorcycle, I'd get a GT." This was the beginning of a beautiful friendship between man and vehicle. And whenever the younger Heinz needed spare parts or technical advice, the elder Heinz, who was the head of an Opel dealership in Grevenbroich (located in the German state of North Rhine-Westphalia), would quickly come to his aid.
Heiner Schnorrenberg loves GT design, and he quickly fell for the Series model. "The designers and engineers did a great job of fine-tuning the version made for the masses," he says. "The Series GT's body is even more striking, without coming across as lurid." Indeed, the front end of the car was expanded and the front overhang was shortened. Meanwhile, a muscular, convex intake passage gave rise to a flatter hood. "Also," the GT fan adds, "the angular headlights of the Experimental GT gave way to round 'sleepy' eyes that gave the new coupé an unforgettable face."

---
GT Conrero:

He Converted on the Way to His First Communion

---
Maurice van Sevecotte's (51) first memory of a GT has a festive element to it – and, as was the case with Schnorrenberg, his father (Kamil) was involved. Kamil, who was actually a devoted Kadett B driver, drove his son to the latter's first communion in a new GT. "That was the best ride of my life to date," the Belgian says today. "From that point on, I was very closely involved with that car." So closely that, as a teenager, he collected 1:43 scale model kits of that coupé. "One day, I saw a striking, blue-and-yellow racecar version of that model." Van Sevecotte found that fast car even more interesting when he learned of its background: It had been made by the Italian tuner Virgilio Conrero.
"I was captivated by that GT model's unique look as well as its history," says van Sevecotte. He decided to buy a GT Conrero for himself. But when he found out that there were only four Conrero models in the world, "I fell into a funk." For years, van Sevecotte tailed trade fairs, newspaper announcements, and classic car clubs. Finally, he found one of the cars in Italy – or, to put it more precisely, he found what was left of one. It was a scrap car without an engine or transmission. He spent eight years hunting for the missing pieces, working to restore his pride and joy. "My first drive in my GT Conrero topped everything I've every experienced, even the drive to my first communion."

---
GT Irmscher:

A Cinderella Moment

---
Kris Ruelens (46) worked just as hard as van Sevecotte did to recreate his own GT, an Irmscher model. In its heyday, this car prevailed – along with driver Peter Wolf – at races such as the Swiss Grand Prix. Later on, however, it was relegated to the scrap heap. It took Ruelens 2,943 work steps, a six-figure expenditure, and six years (2007–2013) to bring his dream coupé to life. Why did he put in this enormous effort? "Because this car was so intelligently and efficiently designed for the racetrack," he says. "And because back in its racing days, it won against the Porsche 911 and 914, even though it was the underdog. Also, because it's uniquely beautiful."
Ruelens' passion for the GT Irmscher began with a poignant Cinderella moment. "I was five at the time, and I was playing with some other children in my grandma Céline's garden," he recounts. "A car drove past, which seldom happened in that village, and we all looked over the hedge to the street. And that's where I saw them: those round, perfectly shaped rear lights." Nobody knew what the vehicle was called. Ruelens searched and searched, but it took him years before he recognized that rear view in a car magazine. "I've been a GT man ever since."

---
GT Gerent:

Famous Past Owners and Racing History

---
Olaf Moldzen appreciates cars with character. In his opinion, GT vehicles have it, "And they're even more interesting if they can also tell an exciting story…" Moldzen owns many such storytellers. One of these once served as Opel's demonstration vehicle at the 1968 Turin Motor Show, while another once belonged to the German soccer legend Manfred 'Bend' Kaltz. Moldzen is also impressed by the GT Gerent, which was made by master motor sport technicians.
The GT Gerent, or the 1971 'Group 4 Vehicle of Annex J' still wins races today. In 2015, it was awarded the Youngtimer Trophy, which is given to the best two-seater car in the class. "Even though it was pitted against vehicles with greater displacement, the GT piloted by Marco Wolf and Ulli Gerent still prevailed." Moldzen closely follows his favorite car's successes. The next race will be a big challenge: At the end of May, the GT Gerent will take part in the 24-hour Classic at Germany's Nürburgring.

---