Master tailor Hummel was Opel's first customer. A Rüsselsheim native, he was interested in technology. In the fall of 1862, Hummel took delivery of a new sewing machine, which had been hand-finished over several weeks. This first sale marked the beginning of Opel. As a sign of the quality workmanship, Hummel would not replace the original machine for another 40 years. By this time, this growing company with the young engineer Adam Opel at its helm would be known throughout the world for its bicycles and cars.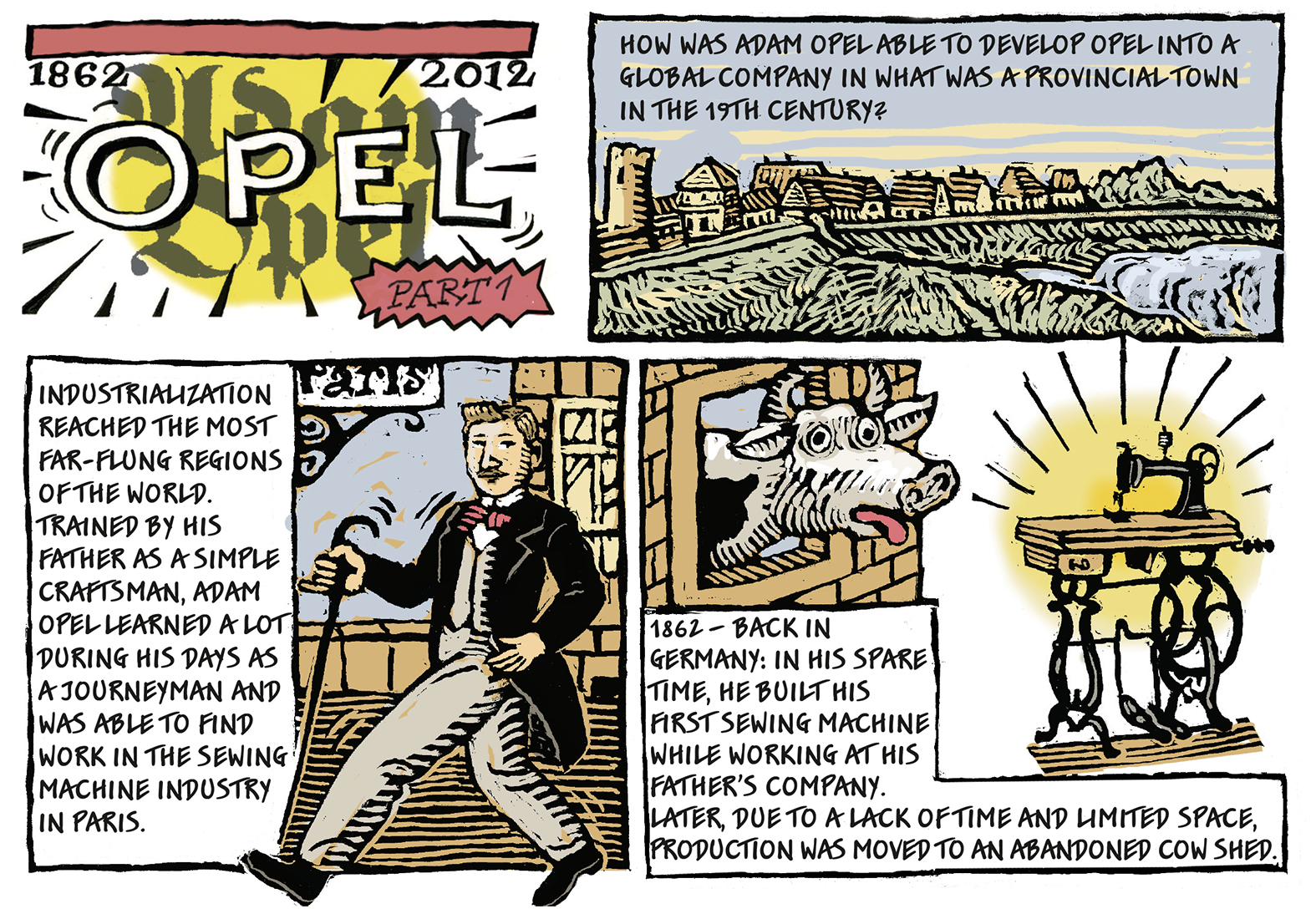 Industrial Revolution Adam Opel caught his first glimpse of the newly invented sewing machine in his five years as a journeyman traveling around Europe. Having spent some time in Liege and London, he eventually landed in Paris, where he was to find employment at F. Journeaux & Leblond, the largest sewing machine manufacturer in the world. Back in Rüsselsheim, Adam Opel's rapid rise through the ranks of business would begin in an empty cow shed. He had inherited the building from his maternal uncle, who would also loan him the money to start the company and purchase the necessary tools, equipment, and raw materials. In 1862, the 25-year-old Adam Opel left the workshop of his father, Philipp Wilhelm, which had by now grown too small, to launch his first business. In the beginning, business was poor and there was little demand for his products in the Frankfurt area. It was not until the war between Prussia and Austria broke out in 1866 that things started to turn around. The military needed massive numbers of new uniforms for its soldiers, and it needed them fast. On 10 April 1863, the company placed its first advertisement in a local newspaper, the Gross-Gerauer Anzeiger: "The mechanic and Rüsselsheim's own Adam Opel offers custom-built sewing machines of all types at fixed and low prices." The industrial revolution had arrived in Rüsselsheim.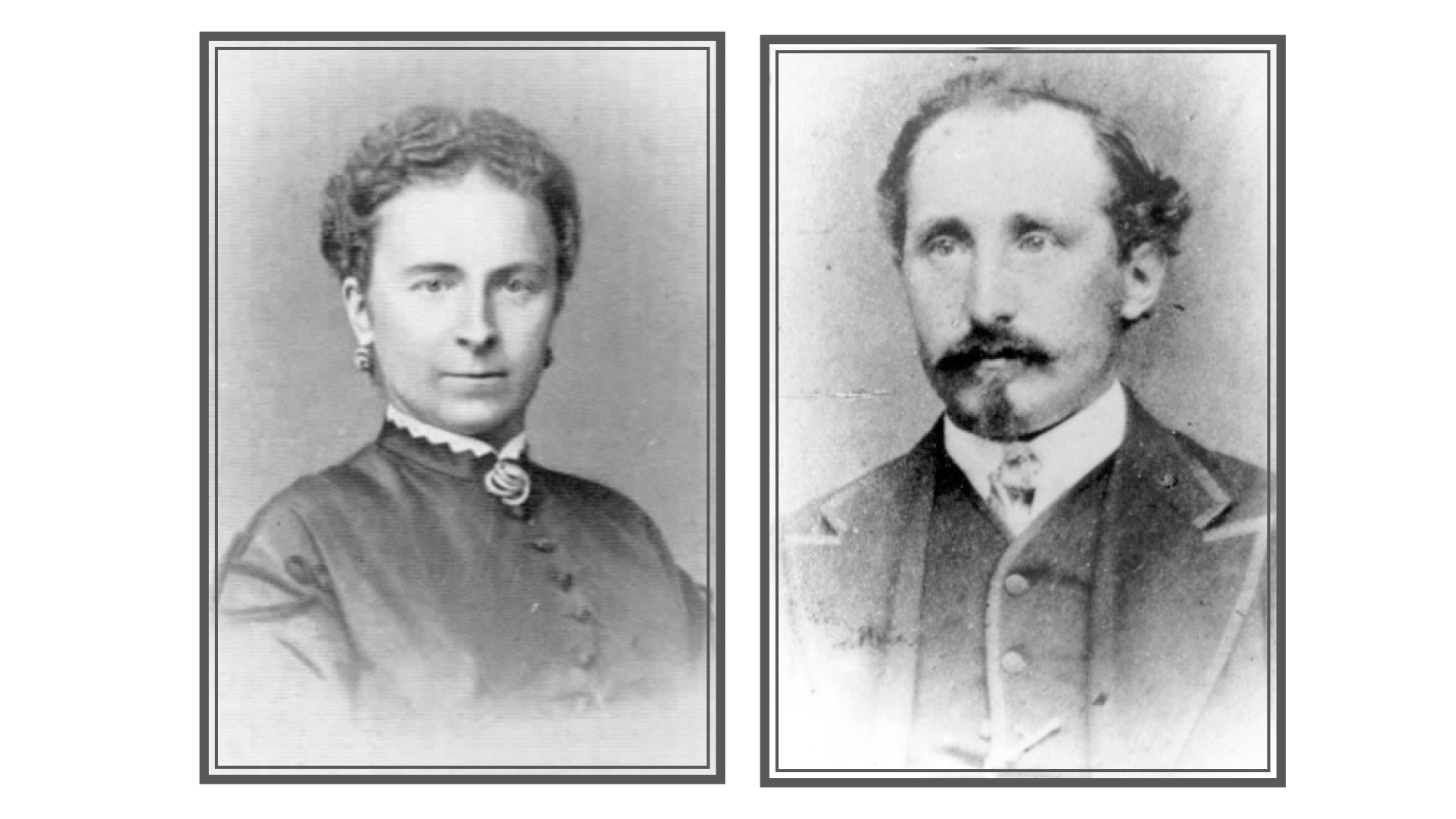 An Expanding Company Peter Schäfer and Adam's brother, Georg, were Opel's first employees. The company would grow quickly from this small base. In summer 1867, Adam Opel bought land near the -Rüsselsheim train station for the company's first production and administrative premises. Having the station right in front of the factory gates gave the company access to world markets. On 17 November 1868, Adam Opel married Sophie Marie Scheller, who bore him five sons: Carl, Wilhelm, Heinrich, Friedrich, and Ludwig. Upon his return to Paris in 1884, Adam Opel saw the first high-wheel bicycles, so-called penny-farthings. Two years later, Opel's sewing machine factory began to produce bicycles, and so began the next chapter in the company's history.
Social Solidarity
In its early days, the Adam Opel sewing machine workshop employed just two employees. Ten years later, this figure had grown to 100 and, by 1889, to over 1000. By establishing a factory health insurance plan in 1872, the company's founder was ahead of his time and a true social visionary. This insurance plan was a forerunner to today's company health insurance funds and was proof that Opel viewed its employees as its capital. It would be another 11 years before the public health insurance fund was launched in Germany.