––––––
The 'pressing plant 4.0' is not too far off from becoming a full-fledged reality. Individual elements of it are already proving their mettle in everyday operations.


––––––
Dr. Niels Koch has a vision of a pressing plant in which production no longer involves reworking steps; that produces the smallest imaginable volume of waste cuttings; in which each piece of sheet is cut and formed at the ideal level of quality; in which premium quality can be programmed into the systems and thereby predicted with 100 percent accuracy; and in which the presses are able to independently respond to changing requirements and implement continuous improvements.
Does Dr. Koch's vision represent an unachievable utopia? Hardly. And actually, it's no longer just a vision, either: It's a very concrete outline of how the 'pressing plant 4.0' will function. Engineers have long been working hard to implement this concept. Moreover, at the pressing plant in Rüsselsheim, Germany, several elements of this vision for the future are already proving their mettle in everyday operations. By the end of this year, additional major steps will be taken towards realizing the pressing plant 4.0.
---
---
Niels Koch, part of Advanced Manufacturing Technologies (AMT), is responsible for developing new technologies for Opel pressing plants. Under the direction of Dr. Petra Krammer, the entire AMT department works on conceptualizing and realizing the 'smart factory,' in which people, machines, tools, and resources will be perfectly networked and work together.
––––––
Coin-sized, integrated sensors and scanners make the presses 'smart.'


––––––
In the future, casual observers will notice fairly little of this change in pressing plants. That's because the outward appearance of the gargantuan press lines will barely change. Instead, decisive measures to improve continuity and quality will mainly be taken by modifying the presses' electronic setup. The volume of data required to make these changes will occasionally be supplied solely by coin-sized sensors and scanners that will be built into the systems.
---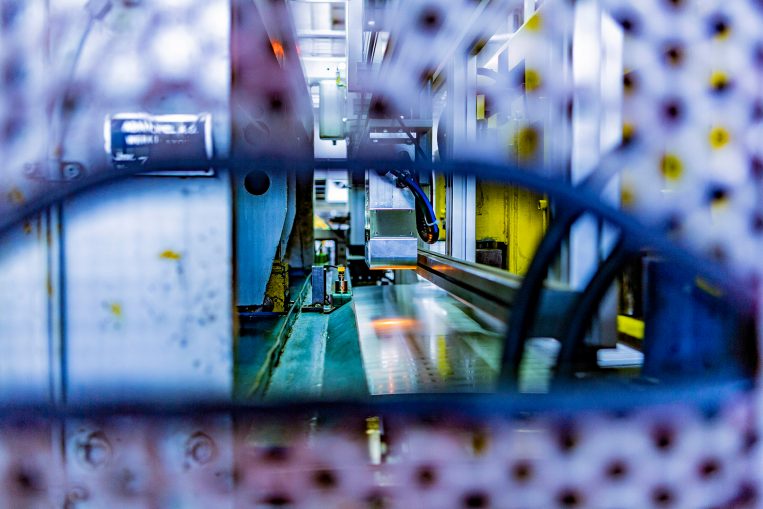 ---
Incoming material inspection lies at the heart of this Industry 4.0 innovation. The 'coils,' meaning the large rolls of steel that are delivered to the pressing plant, are, naturally, produced by suppliers adhering to set tolerance values. "Until now, we didn't know a lot about changes that occurred to the coil surfaces during transport or storage, or during the application of oil," explains Koch. "For that reason, in the pressing plant 4.0, we need to start by gathering absolutely precise information about the quality of every single plate before we start with cutting and forming."
Sensors and scanners for precisely measuring oil application and sheet thickness are already installed in Rüsselsheim. A method for determining the material properties of the metal strip has already been successfully tested, and is slated for installation in the pressing plant this year. Also, all information should be accessible on every single piece. For this reason, each plate will be endowed with code before it makes its way through the presses.
––––––
Each plate is endowed with code before it makes its way through the presses.
––––––
Some of the innovative methods that the advance developers designed have now been registered for patents. Students preparing for their degree projects are providing support for basic research. Before anything becomes hardware in the pressing plant 4.0, it's simulated with the help of a 'digital twin.'
---
---
––––––
The machines independently issue notifications when maintenance work is required.
––––––
The data collected during incoming material inspection enters into the program that then controls the entire further process, especially fine-tuning of the tools for further processing. Other units installed into the workflow are also able to send notifications to Maintenance as soon as they recognize a need for maintenance work – and can also suggest a corresponding solution. This predictive maintenance represents one aspect of the independent learning that systems in pressing plants of the future will feature.
A pressing plant with internal networking
During the final construction stage, the pressing plant data is networked with the adjacent manufacturing areas. That's because precise information about sheet metal quality lays the ideal groundwork for 100 percent accurate processing in chassis construction and, subsequently, a perfect paint job.
And thus the smart factory is being assembled, piece by piece. By the end of the year, a few more pieces will have been added. "Smooth implementation would have been impossible if it weren't for the valuable support from the pressing plant and production planning employees in Rüsselsheim," says Koch, expressing his gratitude to his colleagues.
---
May 2018