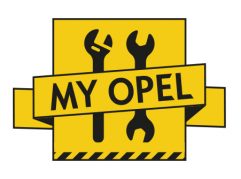 Employees open their
garage doors for us

Which model do you have parked at home? Write to us: opel.post@opel.com
Despite its metallic gold paintwork, the Corsa A seems almost meek when compared to the rest of Gerhard Wohlfart's fleet of historic Opel cars, which is at anchor at his residence on Ginsterweg in Rüsselsheim, Germany. A few meters away from the Corsa, a 1974 Diplomat B poses in all of its glory. It was once Chairman of the Board John P. McCormack's company car. The grounds' various parking spaces also host, among other classics, a 1951 Opel Kapitän and a 1938 Admiral. His 1988 Senator, however, is currently situated in a garage in Wiesbaden.
Opel enthusiast Gerhard Wohlfart doesn't, however, base his affections for his treasures based on their glamor. He cherishes every one of his classic cars. And he won't tolerate even a bit of negativity when it comes to his Corsa A. "My Corsa gave me the least trouble out of all of my cars. It's always been loyal and reliable." Other cars, such as the Senator, took years of restoration. He bought the first-generation Corsa as it was from the Autohaus Riedl in Bischofsheim, drove it away, and has only had to carry out routine maintenance ever since.


"My Corsa gave me the least trouble out of all of my cars. It's always been loyal and reliable."
That was five years ago. "I loved the tinted windows. It was also a four-door model – not that many of those were made in the first generation," Wohlfart explains. "You practically never see models like this anymore." The Corsa A was actually meant to be a gift for his grandson Anton's 18th birthday.
NEVER LET HIM DOWN
But when his grandson left for Hamburg to study hospitality, Wohlfart didn't quite know what to do with the new car. So he kept the Corsa, and has since driven an additional 15,000 kilometers in it. The 55 hp motor has never let him down, and it's also quite economic, Wohlfart emphasizes: "The Corsa only consumes six liters per 100 kilometers – no more." Economic motors, good aerodynamics – the hatchback sedan boasts a drag coefficient of 0.36 cw, and its lightweight construction is still paying off.


A sensational success
As the "Kadett's younger brother," the Opel Corsa A made its debut with a short length of 3.62 meters, an incredibly low drag coefficient of 0.36 cw, and rally car-style wheel wells. Head Designer Erhard Schnell sketched a sporty compact car with an angular design that could also win over "the man of the house." At first, it was just a two-door hatchback or notchback model. Production of the five-door model started in 1985. The Corsa A evolved into an acclaimed bestseller, with 3.1 million models sold.


Even at 75 years old, Gerhard Wohlfart is still an Opel fan through and through. His home and garage don't just house historic vehicle models – he also has an old Opel Frigidaire refrigerator and an Opel sewing machine, and his walls are plastered with signs, emblems, certificates, and photos, all related to "his" brand. Wohlfart's home is practically an Opel museum.
OPEL IN HIS GENES
His connection to Opel has grown in the truest sense of the word. The retiree worked in production line maintenance for the company for 40 years. His father was loyal to Opel for 30 years. Even his stepfather worked for the company. "A total of 16 family members worked for Opel in the 1970s," Gerhard Wohlfart remembers with a grin.
He goes to Opel meetups regularly, bringing along the appropriate car. He has several upcoming appointments with the Diplomat B in 2019, as the model is famously turning 50 this year. But Gerhard Wohlfart rarely has to worry about booking hotel rooms. The camping enthusiast owns two classic campers that harmonize perfectly with the rest of his vintage vehicles. After all, driving and visual pleasure go hand in hand.


The Wohlfarts' official go-to car is an Opel Grandland X.
What does his wife have to say about his intense passion for cars? "I'm very lucky in that regard," says the Opel retiree. "She's always with me, whether I'm going to conventions or browsing parts markets." As if on cue, Wohlfart's wife Renata returns from a shopping trip – in a red 1999 Corsa B. "We bought this one two years ago from an acquaintance who had just purchased an Opel ADAM." The compact car serves as a practical everyday car along with a 20-year-old Astra, which is also still in tip-top shape. The Wohlfarts' official go-to car, however, is a Grandland X. After all, the couple wants to experience what the brand currently has to offer as well. And, of course, they are also looking forward to the sixth generation of the Corsa, which is coming soon. "I really am quite excited," says Wohlfart. "The Corsa sets standards again and again with each new generation."
---
May 2019