Opel, the reliable one. Nothing has changed in this respect. If many miles of service and reliability are what you are looking for, the brand with the iconic bolt is always among the best.
The horseback rider and his Astra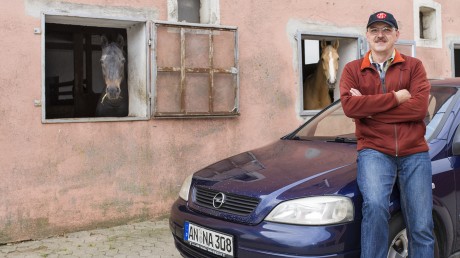 On the back of a horse is not the only place where Frank Bezanis finds happiness on earth. The 55-year-old measurement and control technician from Herrieden in Franconia is an enthusiastic amateur horseback rider, but he feels every bit as much at ease behind the wheel of his Opel Astra. "I have always been a die-hard fan of the brand. The Astra is already my sixth Opel," he says with some pride. Rightly so, since the Astra 2.0 DTI 16V – now nine years old – has never let him down and has clocked up a respectable 509,000 kilometers. "It has the first engine and the first transmission," says the horse lover with admiration. No major maintenance work has been required apart from regular inspections, and the control chain of the valve train is maintenance-free. Only the high-pressure pump of the common rail injection system needed to be changed a year ago, and even it had held out for 400,000 kilometers. Otherwise, the Astra has always run reliably without any trouble or error messages.
The kilometers quickly add up for Bezanis, who drives from Herrieden to his place of work in Nuremberg and back every working day. He then makes a trip to the stable to take care of his horse, clean out the stall, and put out the feed, which he always transports in his Astra. "The trunk is really very spacious, so I don't even need a trailer." This means that Bezanis drives his car 150 kilometers every day during the week. When he was still actively participating in western riding tournaments, he drove even more on the weekend. "My wife is also a horseback rider and we used to drive to competitions in southern Germany," he recalls.
The long distances were what made him choose a diesel model as his sixth Opel. "The improvement in consumption is really noticeable when driving this many kilometers," says Bezanis. "The cheaper fuel costs and lower consumption quickly made up for the higher purchase price." The technician knows what he is talking about. The predecessor of his current Astra was a gasoline model, which also held out for a record distance of 325,000 kilometers, at which point the TÜV inspections organization decided that it was time to let it go.
His next car will also be a diesel, and another Opel, of course. "Perhaps an Antara or a Mokka – both practical cars, considering our hobby." But he still holds on to a dream he has had for a long time. "If I could own any car, it would be an Opel GT," he says. "I have loved it since I was a child because of its exciting design, and I would go to any length to restore this classic from the bottom up."
 
THE MASTER BELL-MAKER AND HIS ASTRA
A great driving team: master bell maker Hermann Schmitt and his Astra 1.7 CDTI.

Brockscheid. Population: give or take 200. Located in the Eifel region, the small town is surrounded by maars, crater lakes formed during an age of volcanic activity. Despite its small size, Brockscheid is known throughout the world. There are two bell foundries located here, out of a total of five that remain in all of Germany. One of them is run by the Schmitt family, and senior manager Hermann Schmitt has been a dedicated Opel driver for years. He bought his current vehicle, an Astra 1.7 CDTI 16V with 100 hp, at the Knötgen Opel dealer in the nearby town of Daun on 12 May 2005. The odometer passed the 500,000 kilometer mark in March 2012. "I drive between 100 and 300 kilometers everyday from Monday to Friday. We have to prepare the bell for casting on-site with the customer, take measurements, and provide a quote. It all adds up," explains the sprightly 73 year-old, in the sing-song accent of the Eifel region.
The master bell-maker treats his Opel with the utmost care. "Even the man at the TÜV inspection station was surprised when I arrived at his shop last year," he says with a smile. Needless to say, Schmitt was able to drive off the lot with a fresh sticker, with the overall assessment reading 'no defects.' The odometer in his Astra now shows more than 541,000 kilometers, and the car is still in tip-top shape despite its many miles. In other words, he has no need to look for a new car. Schmitt is particularly happy with the mileage he gets with the robust four-cylinder diesel engine. "I recently traveled from the German-French border all the way to Bordeaux on a single tank of gas. That works out to 4.5 liters per 100 kilometers," he says. The other vehicles in the Schmitt fleet provide an equally high level of satisfaction. A Corsa, a Zafira, and a second Astra make the family operation mobile. An extra nice touch: All of the Opels owned by Giesserei Schmitt are on view at 14 Glockenstrasse, with 'Glocke' being the German word for bell. "Whenever anyone wants to come and see how a bell is made, they also get to take a look at my Opel with 500,000+ kilometers on it."
BACK HOME: MANFRED RUNZHEIMER AND HIS CORSA

Master electrician Manfred Runzheimer lives in a small town close to Biedenkopf but his workplace is located 165 kilometers to the south. He works at Industriepark Höchst and really loves his job. But as someone who was born and raised in central Hessen, he doesn't want to leave his home, especially if this were to mean only coming back for the weekends. That is why he drives 165 kilometers to the Rhine-Main region every morning, and then drives 165 kilometers back home in the evening. That adds up to almost three hours on the road every day, but Runzheimer is happy to put the miles in if it means he gets to spend the evenings with his family. He did not choose a mid-range car such as the Insignia for his journey to work; instead he prefers to cruise down the Autobahn in a Corsa Sport 1.3 CDTI with 75 hp under the hood.
He bought his Corsa C at Müller Opel in Biedenkopf in 2002. There have been a few incidents along the way: two accidents (that were both not his fault) and a loose connection in the dashboard, which affected engine start-up. The car got over that hurdle when there were 400,000 kilometers on the odometer. After a while, simply knocking on the instrument panel was no longer enough to remedy the problem. "When the warning light came on again when I was on the way to work one day, I thought to myself, if the engine stalls now, I'll never get it going again." So he turned the car around and drove non-stop to the Müller Opel's workshop, which got him out of a jam. "That meant I didn't have to call the towing service, and I think it was better just to sacrifice a personal day." Manfred Runzheimer has now clocked up 710,000 kilometers in his Corsa. "That is slightly more than the distance to the moon and back," he says. He is certainly used to long-distance journeys but there was still a slight disappointment. Just before the odometer ticked over to 700,000 kilometers, Manfred let his wife Anne take the wheel; he wanted to celebrate the milestone with a glass of bubbly. But the gauge didn't roll over from 699,999 to 700,000 km; it went back to zero! Nobody, not even the odometer supplier, expected a compact car to reach this kind of distance. It was simply not prepared for such a large number. Runzheimer had already put quite a few miles on his previous car. His first Corsa, part of the B-series, managed to last 545,600 kilometers.
THE BUSINESS TRAVELER AND HIS CALIBRA

Thomas März has not only proven that diesel engines are extremely good for the long haul with his Calibra 2.0. "I really like driving, and I haven't just been on business trips with the Calibra; I have also made the journey to southern Italy on a number of occasions," says the former amateur soccer player. He even got hold of his Calibra due to his involvement in the sport. "Our club sponsor was an Opel dealer, and he made us a very attractive offer when it came to buying a car." That is how the sports coupé with an unusual Neptune-green metallic paint job ended up in the 48-year-old car enthusiast's garage. That was way back on 13 September 1991.
The man and his car would not part ways for another 15 years, after 777,000 kilometers and countless unforgettable moments of driving excitement. "I just couldn't let go of that car. Originally, I only wanted to drive it for one or two years, back when it was a really sporty car," says März. Then all of a sudden he had 100,000 kilometers on the odometer and thought to himself, it can do more. "I wanted to see if it could make it as far as 200,000 km." It ended up being much, much more. "But as is usually the case with this kind of mileage, the air-conditioning system couldn't be serviced after 400,000 kilometers, since the old coolant had been pulled from the market. I thought OK, it's not worth it any more." But then came another 378,000 kilometers – with no air conditioning. In 2006 Thomas März said goodbye to his beloved car. The native of Wiesbaden didn't have the heart to take it to the junkyard and instead headed with old faithful toward Rüsselsheim, where the Calibra could go into retirement as part of the Opel Classics Collection. It may still have a future yet. "The car is in full working order except for the clutch and some slight damage to the paintwork," says Stefan Vietor, modern and vintage car specialist at the Opel Collection. On the inside, it is still in impeccable condition. It ticks all the boxes for taking to the road again one day, possibly in vintage rallies and classic car meet-ups. There is still a chance that the aging Opel really could reach the million mark.
RANKING OF THE KILOMETER KINGS
Calibra 2.0
on the road since September 1991
777,000 km
Owner:
Thomas März
Corsa Sport 1.3 CDTI
with 75 HP
on the road since August 2002
710,000 km
Owner:
Manfred Runzheimer
Astra 1.7 CDTI 16V 
with 100 HP
on the road since May 2005
541,000 km
Owner:
Hermann Schmitt
Astra 2.0 DTI 16V 
on the road since 2005
509,000 km
Owner:
Frank Bezanis