A sketch is a means of expression, which doesn't mainly depends on accuracy, but on distinctive representation. And it is an art. One that Erhard Schnell still masters perfectly today. Dressed in black, the 87-year-old design legend shows up the Opel Design Center in Rüsselsheim. The Center celebrates its 50th anniversary, the first time ever Opel employees are allowed to enter the otherwise strictly blocked off halls. Erhard Schnell drops by on a flying visit to. "Today's work doesn't differ from work in those days," he says looking at the drawing table. As for Schnell, at the beginning of the creative process the hand-drawn sketch is indispensable. Only the equipment has changed, he points out. "Back in the days there were pen and sheet, now there are high-tech computer programs – but those programs need creative input."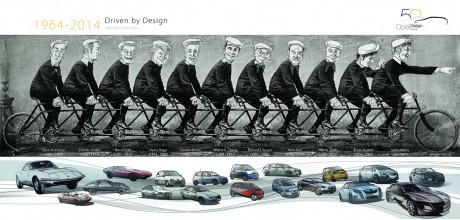 Erhard Schnell has drawn epoch-making icons like the GT, CD, GT2, TECH1 or the award-winning Calibra. Many of the designs are preserved. A selection adorns the walls of the Design Studio. Some of sketches reflect the spirit of the age. Behind a futuristic vehicle, that appears to float, a rocket is rising into the sky. "The mid 60's were a decade of a ubiquitous fascination with the possibilities of space travel, the sketches reflect the zeitgeist," says Schnell. This very day he is the master of quick-striking lines: "I have transferred my work to my home. I design my garden or my house. And I often paint in watercolors. I'll probably never be able to keep my hands off it." On the occasion of the 50th anniversary of the Design Center Schnell has combined all creative Opel heads of the past decades on a bicycle. Schnell: "In reference to the famous photo showing all five Opel sons on a Quintuplet."
Hundreds timeless sketches have emerged over the past five decades in the Opel Design Center. Exclusively for the readers of Opel Post here is a selection of the best design sketches to download.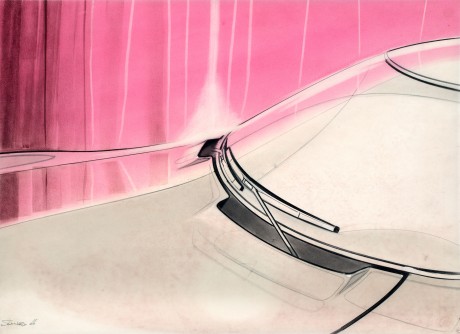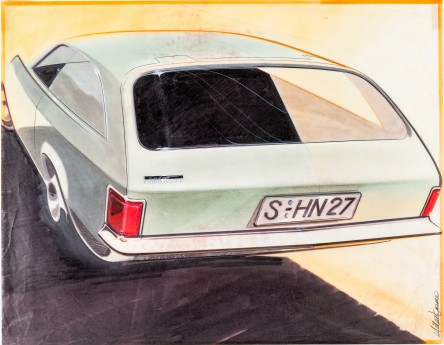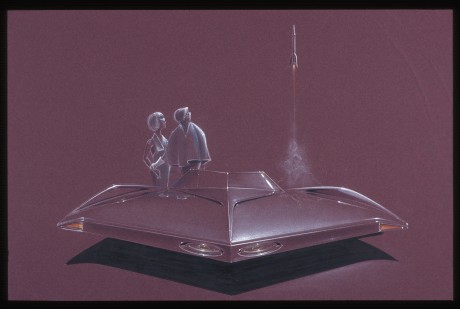 The best in their field
In 1952, the 25-year-old Erhard Schnell started his impressive career at Opel after an apprenticeship as graphic designer and after completing art studies. In 1964 he became head of the newly established Advanced Studio.
The department in the N10 offered the opportunity of uncoupling from the daily design work in order to deal with concepts that should not roll on the streets tomorrow or the day after, but to develop ways and opportunities for products that could arouse the interest of the customers several years later. This task made ​​the Opel Design Studio unique in Europe.
The Opel Design Center has developed into a European school of automotive design that radiated a magical appeal to the best in their field. Apart from Schnell there were among others Anatole Lapine, George Gallion, Charles M. 'Chuck' Jordan, Herbert Killmer, Chris Bangle, Murat Nasr or Hideo Kodama.