"When the fireworks show ends and the chorus of horns from over 20,000 cars begins, you get absolute goosebumps."
Sven Glöckner
founder of the Opel event


A cat has nine lives. The Harz area has a few more. From Aschersleben to Wanzleben – 'leben' being 'life' in German – there are at least a dozen towns that end with 'leben'. But for all Opel fans, there is only one 'leben': Oschersleben. The town in Saxony-Anhalt, just a stone's throw from Magdeburg, is the Santiago de Compostela of the Opel scene. Every year legions of Opel fans make a pilgrimage there in early summer.
www.youtube.com/watch?v=nZSHxKCoMI8
Highlights of the 20th anniversary on video
In 2015 again over 60,000 fans came in more than 20,000 Kadett, Vectra, Astra, Insignia and other Opel cars to enjoy themselves and of course celebrate their cult car brand. The vast majority of visitors stayed the entire four days – everyone wanted to be there for the emotional highlight at the end of the huge party. The closing fireworks show is always accompanied by all the cars' hazard flashers blinking. "The effect alone is super. Then when the fireworks show ends and the chorus of horns from over 20,000 cars begins, you get absolute goosebumps," raves Sven Glöckner, who should know. He is the founder of the Opel event in the Harz region that celebrated its 20th anniversary at the weekend.
---
 Seeing and being seen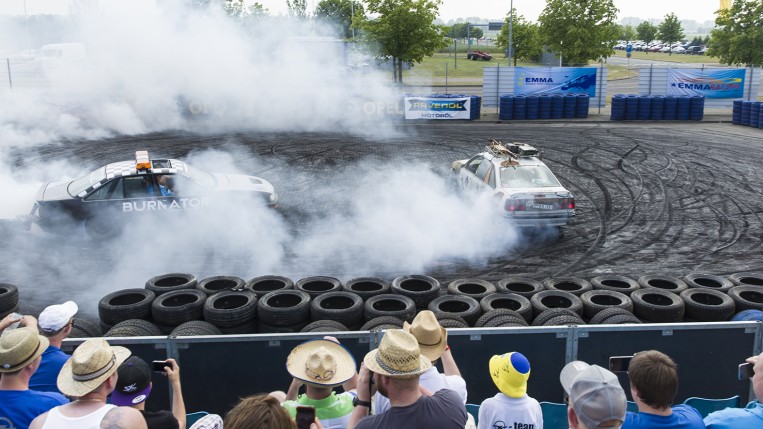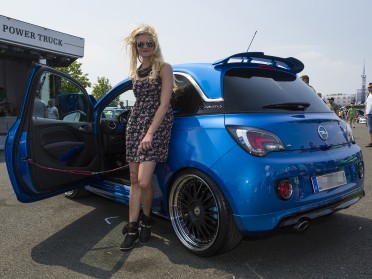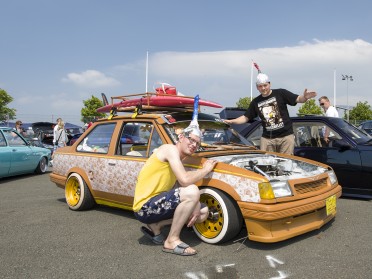 ---
The Opel fans came from all over Germany as well as Switzerland, the Netherlands, Spain, Great Britain, Denmark and other Scandinavian countries. From Thursday to Sunday young and old, male and female Opel friends turned the grounds of the Oschersleben race track into a huge party zone. Their tents were lined up around the track, where the pedal was put to the metal as evidenced by wild engine noises and squealing tires. Under a brilliant blue sky and at temperatures hovering around 30° Celsius, fans stood along the track marveling at the scene – or got comfortable on camping chairs, discussing the newest Opel products as they enjoyed grilled hotdogs and beer.
"The Opel fan culture is unique," says driving legend Joachim "Jockel" Winkelhock, who won the prestigious 24 Hours of Le Mans race in 1999 and who is always a very welcome guest in Oschersleben. As a matter of fact, the Opel community is one big family, with the emphasis on family. Whoever just associates hp fanatics burning down their tires in the "Burnout" competition when thinking about the event was obviously never there. The tent lawn for families is as full as all other camping spots every year.
---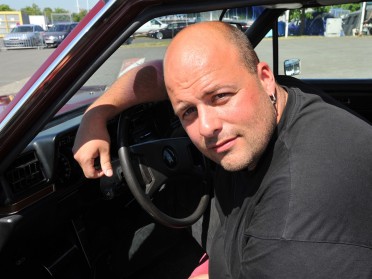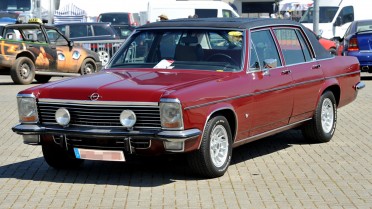 It only took Sebastina Linner from Bad Lauterberg in Lower Saxony a little more than one and a half hours to get to Oschersleben. He presented his 1976 5.4-liter V8 Opel Diplomat B with 230 hp. Mileage: just 68,000 kilometers. What is the Diplomat's fuel consumption? "No idea. I don't care," says the proud owner. He searched for exactly this car for ten years. "When I had the money, I couldn't find the car. When I found a car, I didn't have the money."
Then a few months ago everything finally came together: enough money and the perfect offer at the same time. Sebastian Linner paid 5,000 euros for the car and then put 2,500 euros more and endless hours into its restoration. Only the sunroof in still in old, unusable condition. "I'll manage that too." It helps the Opel fan that he is a car mechanic. Will he be here next year? "Absolutely."
---

"We met in Oschersleben in 2002 and meet here every year."
Marcel Lehmann

The organizers proudly point out that the party is always a peaceful event every year, regardless of its size, and that the police are very seldom needed. "Otherwise the people wouldn't keep coming back," they say. And in fact, if one asks a guest if it is their first time in Oschersleben, the answer is only very rarely "yes". Most people were already there a number of times, and more than a few have been to all 20 gatherings. Deep friendships have been formed.
Like for instance the group around Marcel Lehmann from Brandenburg, a dedicated community of fans from Germany and Switzerland. "We met in Oschersleben in 2002 and meet here every year," says Lehmann. Almost 20 people – ranging from four-year-olds Lou and Nic, eight-year-old Lea to a grandfather – belong to his group of friends. Like the Lehmann family, they live in Herzberg in Brandenburg, or come from Lugau in the Erzgebirge region, Berlin, or Morschach, Schaffhausen or Uzwil in Switzerland. By the way, little Nic won the soap box derby held by Opel, which made not only the young driving talent happy and proud, but also his parents and friends as they applauded his victory.
---
Opel day program: go for a drive, look up, nuture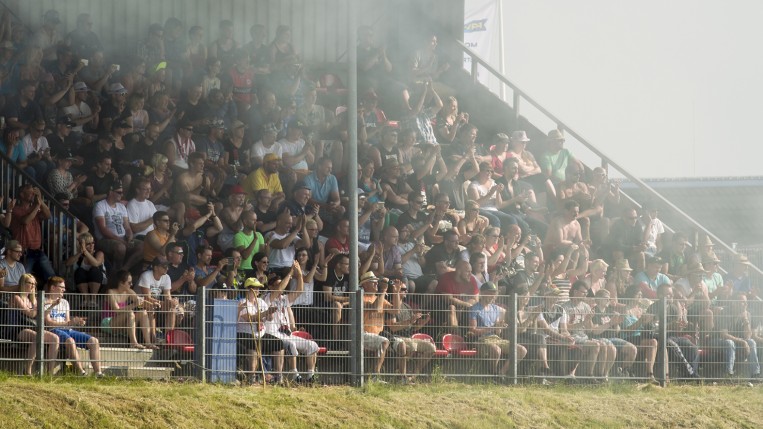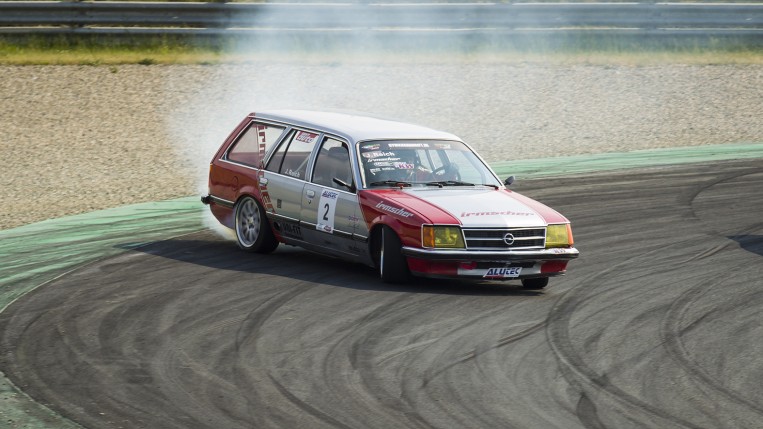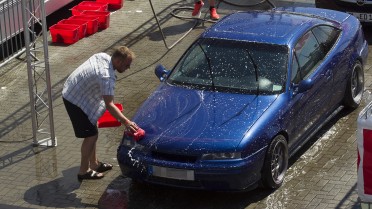 ---
Felix Heimann from Leipzig, in Oschersleben with his girlfriend Nancy and some buddies, has now been to 13 Opel events. "Nancy and I have 14 Opels," says Heimann and explains his sophisticated system of registering and unregistering the vehicles, which allows the supermarket employee to use every car at least once a year without it being a financial burden.
Also obviously not a first-time visitor is Christian "Pongo" Pongratz, better known as the only real "Burnator". Pongratz, who comes from Cham in Bavaria, won the public-vote "Burnout contest" for the fourth time.The competition objective is to burn the rubber of the tires down to the rims as quickly as possible. The "Burnator" came to "Osch", as he calls the small town, with two ultra-styled Opel Senator B as well as 70 tires for training, shows and the final contest. And why Opel? "Opel is simply cult." Got it.
---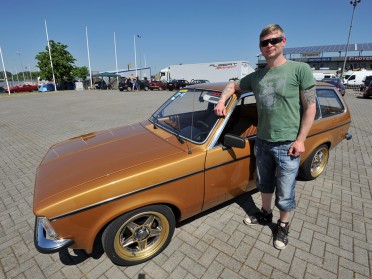 Boy Steijvers from Spijkenisse near Rotterdam needed just over five hours to reach "Oschi". It's his fifth time here. This year with his "new" Opel Kadett C station wagon with deluxe trim from 1978. According to the invoice that the Dutchman has with him, the car cost 16,553 gulden new, around 7,524 euros. That was a long time ago.
Boy Steijvers looked for the car for seven months. He finally bought it for 4,250 euros – from the original owner! Now he owns five Opels: three citys as well as a station wagon and a coupé. Will he come back next year? "Absolutely."
---

 "This is a real Opel paradise here."
Jens Brunner

New in Oschersleben was Swiss Jens Brunner from Megglingen, north of Bern. "This is a real Opel paradise here," raved the young man with an excited, almost tremulous voice. His eyes are still shining, because he just won an OPC bag at the Opel quiz by correctly answering the last question. His mother was already an avowed Opel enthusiast. "I grew up with cars and grew into Opel," he says, explaining his love of the Rüsselsheim brand.
Brunner is one of the fans who could get through the four days in Oschersleben with just four words: those are "super", "killer", "awesome", and "absolutely". In response to the question how they think the Opel community and the individual events fit together, the response is "killer", "super" or "awesome". And to the question if they will come again next year, "absolutely". Does Jens Brunner want to drive 830 kilometers again in 2016 to be a part of it a second time? "Absolutely."
---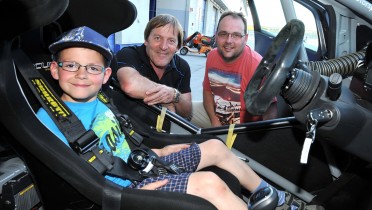 Alexander Schindler and his eight-year-old son Julian from Bavaria were at the Opel event for the first time. It took them around five hours from their hometown Mering, south of Augsburg, to Oschersleben. "Our whole family drives Opel," says Schindler senior. His wife and Julian's three younger siblings had to stay at home. They are still too young for such a large event.
But Alexander and Julian will bring home lots of stories and prizes. They were series winners of the Bobby Car and soap box derbies held by Opel. Highlight: Jockel Winkelhock chauffeured Schindler senior over the Oschersleben racetrack in an Opel Astra OPC Cup. Will father and son come back again next year? "Absolutely."
---
 Text: Tommy Schmoll, Photos: Werner Popp