The choice has been whittled down to Uruguay or Argentina, the result of many conversations and discussions that ran into the early hours. Alexandre Herrero Crespo and Sonsoles Ramírez are immigrating to South America. Admittedly, they do not want to. However, what they do want is to finally take control of their lives again. The graduate in commercial law and the qualified teacher are 28 and 30 years old, respectively. Their grueling job hunt has gone on for far too long. "Let's wait and see what happens today," says Alexandre Herrero Crespo with a shrug. It is 8:15 a.m. opposite the Cathedral of the Pillar in Zaragoza, the capital of the Aragón region in northeastern Spain. The couple waits for a shuttle bus to take them to the Opel plant in the neighboring town of Figueruelas and hopefully a step closer to some career prospects.
---
The participants have their CVs and
their ambitions tucked under their arm.
---
The kick-off for the very first coaching day marks a special premiere. This is the commencement of a European project initiated by Opel and General Motors for reducing an excessively high level of youth unemployment. The motto is 'In charge for the next generation in charge.' It is 40°C in the shade as 420 participants board the shuttle buses. They have their CVs and their ambitions tucked under their arm. The dream of finding a job, and not just any job but one that matches their profile, seems closer at the Opel plant, the biggest in Europe, than it has been in the past months or years.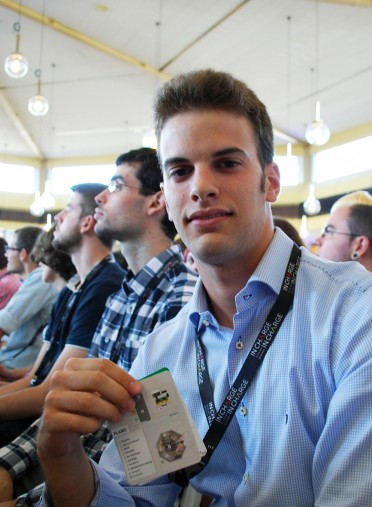 Alejandro García (22)
Taking part in the coaching day at Saragossa has already paid off for Alejandro García, a 22-year-old mechanical engineer. The young graduate has landed an internship at Continental, the German tire and technology group, after an interview partially conducted in German. "I'm over the moon," he says. He is grateful to Opel/GM for the invitation, which "helped open important doors to him."

Appointment with Spanish King FelipeVI.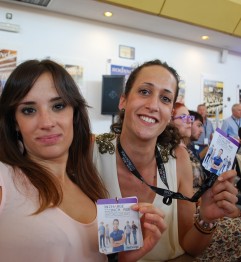 Marina Ons Vidal (26, right) and
Claudia Ferrero Baranda (27)

"We, the young generation, are qualified. But there are no professional jobs, let alone regular work." Marina Ons Vidal, aged 26, studied law. At a job interview for attorneys, where "over 20 candidates were competing for one position," the INAEM (Aragón Employment Institute) invited her there and then to the Opel coaching day. Her friend, Claudia Ferrero Baranda, a 27-year-old graduate in corporate management, interjected: "We're disillusioned." Yet at the same time they are grateful for the chance to be here in Figueruelas: "At least they care about us." The event certainly proves this.
"I would not stand here today if in my youth society had denied me the opportunity to find work," says Karl-Thomas Neumann, GM Executive Vice President & President Europe, in his opening speech, in which he emphasized: "We cannot accept youth unemployment." Companies, politicians, and educational institutions need to take action. Above all, the "future of Spain and the whole of Europe is at stake." Thus identical coaching events will take place in Portugal, Italy, Hungary, and Poland between now and the end of 2016.
---
"We cannot accept youth unemployment."
Opel-CEO Karl-Thomas Neumann
---
The Head of Communications for Opel Spain, Fernando Saiz, appears to be impressed by the high level of cooperation. It was Neumann who personally contacted the heads of 22 companies and groups of international renown from Spain, Germany, and the rest of the world to invite them to become co-founding members, as well as select participants from Spain and the region of Aragón. "Everyone immediately agreed and nobody declined." Guests included notable global players, like the car rental company Sixt, "who opened a branch in Saragossa especially for the occasion." Continental, the banks Ibercaja and Deutsche Bank, the world-leading brake manufacturer Brembo, the Spanish manufacturer of home appliances B/S/H, Telepizza, and the consultancy and headhunting service Kienbaum also accepted the invitation.
NEVER GIVE UP HOPE
"Youth unemployment leads to huge economic and political consequences. It's our responsibility to address today's generation of youths, as they will be at the helm in the near future," emphasized Antonio Cobo, Managing Director of GM Spain. Youth unemployment is at almost 50 percent in Spain, which is just beginning to show signs of recovery from the severe financial crisis. After countless setbacks and internships, many of the invited participants are struggling not to give up hope in their search for a job suited to their high qualifications.
---
---
Take Daniel García, 22, an engineering graduate from Zaragoza, who "would love to start his career at B/S/H Balay, Spain's leading manufacturer of home appliances." García specializes in electrical engineering, and would ideally "like to work there while studying for my intended master's degree." Carlos Conesa Alfranco, 22, studied financial business administration and has already completed several internships. He now just wants one thing: "A permanent position. It doesn't matter where, but ideally in an international corporation." This is something that most of the coaching day participants wish for. Starting a career in Spain is exceptionally difficult and contract conditions and wages have significantly worsened after the crisis, especially at small, local companies.
---
Starting a career is exceptionally difficult and contract conditions and wages
have significantly worsened after the crisis.

---
However, finding a job was not the only objective at the coaching day. More importantly, the event aimed to give the younger generation the chance to enter onto the job market, and offer them hope. This of course benefits both parties, as Neumann highlighted at the end of his speech. Win-win situations are always the best anyway, and here potential employers have the opportunity to recruit valuable employees from a large pool of highly-qualified, talented young people. This strategy has clearly paid off because a dozen internships and a handful of trainee programs were awarded at the first coaching day of its kind.
GOOD START THANKS TO COACHING DAY
Paloma Collar, a 25-year-old industrial engineer from Saragossa, was one of the lucky few who managed to impress Continental in the job interview, and will soon begin an international trainee program. "It was a very in-depth, long, and complex job interview – in English of course." She is "delighted" and has hopes for a career in Germany or Switzerland, where her sister lives.
---
---
We meet with Alexandre Herrero Crespo and Sonsoles Ramírez again at the end of the event. What insight have they gained from today? "Hope," they respond. They made valuable contacts and took on board the advice, such as that from Ulrich Schuhmacher, Vice President HR & Labor Director Opel Group: "Believe in yourself, be proud of what you can do, and be patient." What about their plans to immigrate? "We've put them on ice for now," says Sonsoles.
Argentina and Uruguay have been ruled out for the time being, also an outcome of an initiative that has made a promising start in Zaragoza.
THE PARTICIPANTS…
…were selected from 800 applicants in close cooperation with the regional careers service, the INAEM (in Spanish: Instituto Aragonés de Empleo). They are between 20 and 35 years old and possess a wide range of qualifications gained from their chosen course of studies. There are of course many engineers present, who ideally hope for a position at Opel or simply in the general automobile cluster in the Aragón region. However, graduates in law, business, and social sciences were also invited.
DEPENDING ON THE PROFILE…
… participants were divided into seven groups, each with a different tour program that all of course included a visit to the plant. The vast majority of them has recently graduated from the university or successfully completed their vocational training program (called formación profesional in Spanish). Some are just about to begin theirs. People who have already begun working are also there to find out about opportunities to change direction or cultivate their current career prospects on site in Figueruelas. They can also find out about improving their chances in the online job search and training possibilities at workshops run by INAEM Community Manager Juan Martínez de Salinas Murillo.
STANDING ON THE SIDELINES…
… is something that Christoph Metzelder, the former soccer player for Real Madrid and Borussia Dortmund, knows all too well, not least because he spent many years watching from the bench due to injuries. He is the founder of the Christoph Metzelder Foundation, which works to offer children and young people from disadvantaged family backgrounds career opportunities through educational programs and grants. "Education is essential," he stated. He provided valuable motivational tips in his speech, which he delivered in nearly flawless Spanish. "The job market is the problem. Never give up the fight. You need to rise to the challenge."
Text: Jan Marot, Photos: Jan Marot, Opel
Last update: July 2015