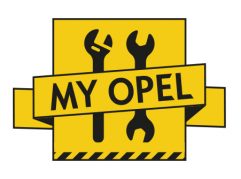 Employees open their
garage doors for us

Which model do you have parked at home? Write to us: opel.post@opel.com
As soon as he turns the key in the ignition, Eleftherios Mattheakis's garage erupts with a sound akin to that of a great beast being roused from hibernation. The growl comes from deep in the bowels of the machine, and you can feel the vibration in the pit of your stomach. "In winter, when it's cold, you feel it even more," its owner says, smiling. "Then the whole garage shakes."
Even though, this particular beast doesn't look all that dangerous. In fact, it looks like an Astra G convertible – which is exactly what it is. It was built in 2003 and is fitted with the kind of 2.0 liter 16V turbo that fans of old-school Opels love. The brainchild of legendary engine developer Fritz Indra, the 190 hp unit was growling away in Calibras and Omegas way back in the 1990s. But that growl never quite got under your skin like this one. So what happened to this car? Our smiling host turns out to be more than just a proud owner.


Eleftherios Mattheakis didn't just tame this beast – he created it. "I installed new software in the car and gave the internals a complete overhaul," the Greek explains. "I fitted a new con-rod, reinforced the clutch and the bearing, fitted bigger injectors and a 76-millimeter exhaust …" The list goes on. According to the 43-year-old, it all adds up to an Astra G with 480 horsepower. Risky? Not if you know your tuning. And Mattheakis doesn't just know how to get the job done; he understands the technology behind it, too.
Opel flows through the veins
He spent much of his youth in a car workshop a stone's throw from his home in Königstädten, a district of Rüsselsheim, Germany. He started off souping-up scooters. Then came mopeds, then the first motorbike, and then his first car. And when he began his training as an electronics engineer at Opel, it was soon obvious which brand would become the object of his favorite hobby. To be fair, his choice didn't exactly come as a surprise, given that his grandfather and both his parents had worked for the Rüsselsheim manufacturer. All three have now returned to the family's ancestral home of Crete.

"Even after 25 years,
I haven't got a single point on my license."


His mates had the same passion for souping-up engines, but they tended to prefer more expensive brands and, as Mattheakis explains, "I didn't want to get left behind." So, to keep up with his friends, he bought himself an Astra F, later moving on to an Omega. "I wanted to show the others what an Opel was capable of."
When he became a father, the tuning specialist began to focus on more family-friendly models. Squeezing 105 hp from a 1.2 liter 16V Agila engine was just one of numerous projects. Fifteen years later, he still owns the car, despite having had a number of offers from its many admirers. "I won't let it go. Why would I? It costs pennies to run and never breaks down." The Agila is a miracle-worker when it comes to space too: "I've had a washing machine and a tumble dryer in it at the same time. I'd like to see someone else try that with a car this size!"
---
Technical Data
---
Modifications Since 2005, starting performance 192 hp/250 Nm, now 500 hp/550 Nm 
Engine Originally a Z20LET, converted to run Z20LEH piston and piston-head cooling; balance shafts removed; Cat Cams steel con-rod; Glyco sputter bearings; APR bolts; DBilas air filter box/air intake manifold/intercooler; C18XE camshafts with adjustable cam sprockets; Walbro fuel pump with additional tank; 630-ccm injectors; EFR7163 turbo-charger; Friedrich 3-inch exhaust unit with HJS catalytic converter; lightened flywheel; Sachs high-performance clutch; DBilas custom set-up
Transmission Modified to X20DTL, new synchronizer rings, PhantomGrip differential
Chassis Original apart from one strut brace (not currently installed) 110,000 km since initial registration, summer use only
Suspension KW coilover. Version 3, adjustable traction and compression stages; harder bushes on sub-frame; thicker stabilizer from a Zafira 
Brakes Converted to run Porsche Boxster S (986) brake units, with Audi R8 calipers for the handbrake; steel flex lines throughout auf Porsche Boxster S (986)
Interior Apexi exhaust temperature, oil temperature, air temperature and boost pressure gauges, door panels fitted with GroundZero 16" speakers and sub-woofers in the trunk (2-kW Ground Zero Nuclear Power amplifier)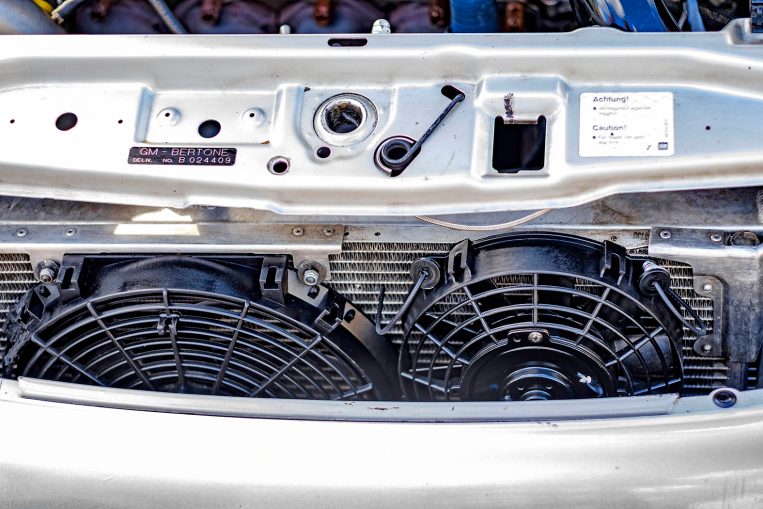 "Slowly creeping up on a high-powered machine from Zuffenhausen, then putting your foot to the floor … that's a lot of fun."

Apart from that, several Zafiras have already served the family, which has now grown to four people. Dad worked his magic on them too, leveraging his grown expertise. After he finished his training in electronics, Mattheakis went on to study mechanical engineering, specializing in vehicle technology, before teaching design theory at university. He now works for Opel's after-sales team.
a Masterpiece of tuning
In 2013, the time came for him to complete his very own tuning masterpiece. He discovered the aforementioned Astra G convertible, complete with red leather seats, in Munich. As it turned out, its previous owner had done some serious 'personalization' of his own. "He was a music fanatic. There were two sub-woofers built into the trunk, and you needed an extra battery to power them in order to prevent the alternator from collapsing every six months." Mattheakis was looking for a different kind of sound – the ultimate engine note.






And here it is – a 480-horsepower convertible. One wonders if he can ever actually take this monster out on the road. And if he can, where on earth does he go in it? "Now and again I go out onto the A5 Autobahn towards Kassel, early on a Sunday morning. There's plenty of space on the road then," says Mattheakis. Not that you could ever call him a Sunday driver. "I've never actually crossed the 280 km/h mark, even though the transmission computer tells me it should be able to push past 300."

Nevertheless, there comes a point where enough is enough, even for him. "I could tune the car up to 700 or 800 horsepower, but you can't use that kind of power on the road anyway," says the Greek, who obviously knows what he can do and when he needs to hold himself in check. Teasing out the maximum speed at all costs is missing the point anyway. "Slowly creeping up behind one of those high-powered machines from Stuttgart or Zuffenhausen, then flooring the throttle for a second and seeing the other guy's face as he works out he's just been blown away by an Opel – it doesn't get any better than this!"
"I could tune the car up to 700 to 800 horsepower, but you can't use that kind of power on the road anyway."
That doesn't make him a road hog though. Mattheakis is actually a very careful driver – and he can prove it. "Even after 25 years, I haven't got a single point on my license." He has only been caught out by a speed camera twice, "I was 5 km/h over the limit both times." To be fair, getting into mischief on the road wouldn't exactly go down well at home. His wife, Chrisoula Alevizaki, is a lawyer – and specialises in traffic law. It is therefore also a matter of family honor to be on the road in an exemplary manner.
---
June 2019