Opel factory driver Marijan Griebel faced a true Herculean task in the final race of the FIA ERC Junior Championship series in Latvia. It came down to this: He had to finish first in the Rally Liepāja in order to secure the title. Nothing else would do. It was all or nothing – and the odds were clearly stacked against him.
---
---
Griebel, a 27-year-old police inspector hailing from the small town of Hahnweiler, had experienced a blow to his confidence following a minor slip-up in the Barum Rally in late August in the Czech Republic. This cost him any chance at securing top spot at the venerable asphalt race, where Griebel and his ADAM R2 were favored to win since his dominant performance in winning on the paved course in Ypern, Belgium. The first chance at taking the championship came and went. On paper at least, this was the easier of the two races.
And now to the race itself: The Rally Liepāja is a very fast and challenging gravel course encompassing 13 special stages covering roughly 200 kilometers. The potential for mistakes lurks around every corner. Adding to the challenge were high-profile entrants like Opel team colleague and fellow title contender Chris Ingram as well as other superfast gravel specialists from Scandinavia and the Baltic region. Griebel put his odds of victory at "no more than 15 or 20 percent. I knew that I had to give 100 percent in each special stage and not make a single error if I wanted to win the title." The strategy was simple yet clever: Don't think, just drive to the limit. "It worked brilliantly," said the driver himself, stunned at his victory. "The situation going into the race, coupled with the high class of competition, meant this was not the time for overthinking anything. That had been my mistake in the Czech Republic. But I've learnt my lesson well."
---
The Rally Liepāja was unrivalled in terms of drama. After the first stage, which featured seven special stages covering more than 100 kilometers, Griebel was right in the position he wanted to be in at the top of junior category. Though he was ahead of Chris Ingram, who was also competing for the title, it was only by the slimmest of margins: 0.7 seconds. All things considered, the narrowest of leads. Julius Tannert in the third works ADAM R2 was trailing by just five seconds, with the top seven cars separated by a mere 15 seconds. All this meant that victory was far from secure. The pressure remained immense. Griebel admitted that he'd "never been in a race where the top drivers were so closely bunched together."
Griebel and Opel:
Teaming up for Success
Marijan Griebel is a role model of sorts for the program to develop junior rally drivers jointly run by Opel and ADAC. In 2013, he took top spot in the junior category in the ADAC Opel Rally Cup, the most competitive one-make rally series in Europe. Griebel was then signed to the ADAC Opel Rally Junior Team. Now, as a member of the Opel works team, he would become part of the impressive success story that is the ADAM R2. In his first year as an Opel works driver, Griebel enjoyed unrivalled success in the German Rally Championship on his way to winning the title in his division.
In 2015, he and team colleague Emil Bergkvist, riding in their 190-HP ADAM R2s, were right up there with the big boys in the FIA ERC Junior European Championship for the first time ever. The Swede won the first European Championship title for Opel in 33 years, while the German took 3rd place overall in the junior rally series. Losing to his teammate pushed Griebel to work even harder. "Emil is an incredibly talented driver and has a wealth of experience driving on all types of surfaces that goes beyond his years. I had only competed in one gravel race at that time and still had to learn how to push the car to its limit on this slippery surface. I learnt a lot going into 2016 and, for that reason, believed in myself and in my chances at winning the championship. I feel I have never been as fast as I have been this year."
Opel Motorsport Director Jörg Schrott praises his young protégé for his hard work: "Marijan works with an unbelievably high level of attention to detail, exhibiting both tremendous professionalism and a full commitment. He's also a great team player who knows that success only comes by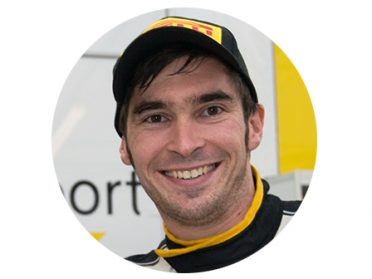 working as a team. He's raised his game over the years and deserves great respect for what he's achieved. The show he put on in Latvia, where he drove to the absolute limit under immense pressure for two days without making a single mistake, was truly amazing. He deserves the title in this year's European Championship more than any else."
Marijan returns the compliment: "I've been part of the Opel motorsport team for four years now. In that time, I've been able to see much of Europe and have had the honor of working with one of the best teams on the rally circuit. The Holzer Motorsport team was nothing but professional and encouraging. They are also good friends, and we've experienced many ups and downs together. Winning the title in the way we did is the best thing I could ever have imagined."
Even when Chris Ingram was forced to retire from the race in special stage 11 due to a problem with his alternator, Griebel and co-pilot Pirmin Winklhofer (21, Pocking) were still feeling the pressure. There was only a sliver of a gap separating the teams and one thing remained the same: If Griebel failed to win the race, the title of European champion would have gone to Ingram.
And then came bad news: The back right tire was experiencing a slow leak on the transport stage leading up to the 13th and final special stage. There was a spare in the ADAM R2's trunk, but it was made of harder compound than the other three tires and, to make matters worse, it was a right tire, meaning the tread pattern direction was wrong. That was a real problem considering the last stage was also the third-longest of the rally at 23.05 kilometers. But taking an all-or-nothing approach proved to be the right decision in this case. As Griebel put it: "My thought was this: We've made it this far and using a right tire on the left side wasn't going to stop us now. That being said, the car was a real handful in right-hand bends, that's for sure."
When Griebel and Winklhofer crossed the finish line, they knew they had clocked a good time. Despite this, Alex Forsström (Finland, ADAM R2) and Miko-Ove Niinemäe (Estonia, Peugeot 208 R2) were still within striking distance of the two Germans and had yet to complete the race. There were minutes of nervous anticipation, waiting for them to cross the line. Then the results were in: Forsström was slower and Niinemäe was faster, but only by 1.5 seconds. Victory was theirs! The Opel factory drivers could no longer keep their emotions in. "I was completely overjoyed and a heavy burden was lifted off of my shoulders. I so desperately wanted to win the title and had worked so hard over the last few years. Now, having secured victory, I was over the moon."
---
---
Marijan Griebel is the first German to win the European rally championship since Armin Kremer did it in 2001. And now the story comes full circle. Here's why: Kremer just so happens to be one of the junior rally driver's closest mentors and backers. "It's a great story," says Marijan with a smile. "My father was working as a team mechanic when Armin became German rally champion back in 1996. That's when I got to know him at the age of seven. Since winning the 2013 ADAC Opel Rally Cup, Armin has been there to help me out with his wealth of experience and with financial backing as well. And not only that, we have since become good friends. He's really a great guy."
And we know someone else just like him.