"I want to be number
one in the world."
– Selina Dal –
Red clouds of ash swirl upward under the force of the blows. Selina Dal swats the yellow ball of felt stoically and powerfully back over the net. Suddenly, an expressive pause. Attack mode. The 14-year-old opens the game. She backs her opponent into a corner and scores the point with a precise volley. Her opponent, Uwe Wingert, can only watch the ball go by. He nods happily.
Later, in the conference room of the facility where the tennis department of TV Rüsselsheim-Hassloch is based, the athletic advisor emphasizes the young athlete's exceptional playing intelligence as one of her biggest assets. "Selina comes to grips with her opponent very quickly. She plays cleverly. She also has a very good feel for the ball," Uwe reports. Training is over for this afternoon. Showered and dressed in a blue hoodie, Selina sits with her father at the conference table. There is almost a shyness about her. Interviews are uncharted territory for the young woman – so far, anyway. For she has a clear goal in sight: "I want to be number one in the world," she says with the same confidence that filled her as she drove the ball over the net back on the court.
---
---
"The stronger her opponents become,
the more her ambition grows."
– Murad Dal –
Selina Dal wants to become a tennis pro. She knows that talent alone is not enough. That's why she spends up to five hours a day on the training grounds. She has won several championships in Rhineland-Palatinate and Hesse and is number one in her age group in German tennis, but to develop further she now has to play tournaments throughout Germany and abroad on a regular basis. As a result, her father and trainer Murad Dal drives an Astra provided by Opel all over the entire republic. "Opel is in attack mode. So are we," says her father. "It's a perfect match." "And apart from that," adds Selina, pulling her chair closer to the table, "Opel is a cool brand. When I turn 18, I really want to get an ADAM." "In red," she adds decisively.
---
And the new Astra threatens top-of-the-range cars in much the same way as Selina knocks her opponents from their positions one by one. At the age of eight she was already entering her first competitions, known in German tennis as 'Meden Tournaments.' The Mainz native soon dominated the competition in her age group so completely that she began competing against players two or three years older than her. Yet she still managed to win various titles playing against them. Selina debuted in the women's category at age twelve, the same age as tennis legend Steffi Graf when she played against adult opponents for the first time.
"I grabbed a racket"
How does a young person discover they have a special gift for the sport? Coincidence often plays a part. Selina was six years old when she went to the tennis court for the first time with her nine-year-old sister Dilara. "Instead of just standing there, I grabbed a racket. Even though it was really heavy. Then I started hitting the ball over the net. Again and again," she recalls. She got to know the sport incredibly quickly.
---
---
COOLNESS IN SPADES
Talent and ambition are just two of Selina's advantages. She also has a certain coolness about her. "Before matches I play with a Game Boy until they call me up." Even during a match, nothing makes her lose her cool. "I love hard matches where you have to fight for every point."
STEFFI GRAF DROVE AN OPEL TOO
At the facility belonging to the tennis department of TV Rüsselsheim-Hassloch, she was first noticed by Opel's Chief Marketing Officer Tina Müller and Opel's Vice President of Government Relations Joachim Koschnicke, both of whom train there. This led to her first contact with a brand that had already been driven by the icon of German women's tennis. In 1988, Opel issued the 'Steffi,' a special edition of the Corsa. That year, the 'Countess' (Graf  being the German word for count) had won the four most important tennis tournaments in the world, including Wimbledon, and had received an Olympic gold medal.
---
---
Selina now has the next big step ahead of her. As of this fall she will be attending the private Palatinate High School in Mannheim, where she will be taught in a class made up entirely of athletes – a chance Steffi Graf herself took advantage of roughly 30 years ago.
FIRST TRAINING, THEN SCHOOL
"Only five or six students attend each class, and I can study online if I'm playing a tournament or getting ready for one," Selina reports. But it isn't easy. "You have to be so disciplined. I'm never able to sleep in in the morning, anyway." The day certainly does begin early for her, usually with two or three hours of training. Classes come afterwards.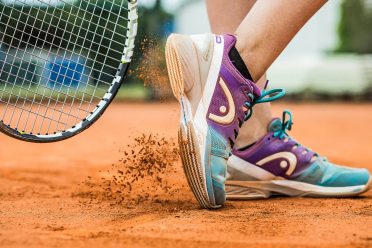 ---
---
IN 2017 SHE GOES INTERNATIONAL
At the start of 2016 Selina was still ranked 332nd in the German women's ranking. Since then, she has secured herself the 200th position. By 2017 she plans to work her way to a two-digit ranking. International tournaments are also part of the program, because only there can she collect points for the world rankings.
Although she spends a lot of time on the tennis court, Selina feels like a totally normal teenager. Her favorite subjects? Apart from sports, she loves English and music. In her free time she meets with friends or chats with them on WhatsApp. Any more questions? Selina looks at the clock. "I have to hit the court. Footwork training," she says apologetically. She is working towards a major goal. The best in the world are waiting.