Wolfram Eikemeier
It's a dream moment for anyone who loves the wonders of nature: encountering a humpback whale. The five-person expedition team had floated up to the twelve-meter-long marine mammal in a rubber boat, coming to a stop beside it. The occupants of the boat freeze in awe; only their fingers twitch on the shutter buttons of their cameras…and suddenly, the beast dives below the surface.
"Where did it go?" someone whispers.
An Indian nature photographer is part of the group; he is using a drone to observe the scene 'live' from a bird's-eye point of view. And then he says, very quietly: "It's right underneath us."
---
---
If the whale surfaces now, all the boat's occupants will be plunged straight into the water. It's a horrifying thought, despite the crew's protective gear, and despite the satellite telephone lying ready for them to make an immediate call for help – because we're on the Johan Petersen Fjord in East Greenland, 2,600 kilometers from the North Pole. The water here is no warmer than three degrees Celsius.
However, no one on board panics or looks afraid. The members of the expedition simply realize "that this is a bit riskier than a resort vacation," as Alexandra Stengel puts it. She works in seat development at the Rüsselsheim Engineering Center; her partner Wolfram Eikemeier works in vehicle safety. Both of them are in the boat as part of a 'Northern Explorers' tour.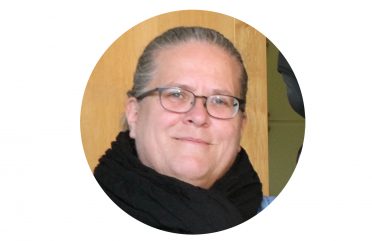 Alexandra Stengel
–––––
"It's a bit riskier than a resort vacation."
–––––
---
---
"Riskier than a resort vacation" might be the biggest understatement in this whole article. As part of the expedition, the two Opel development engineers had the opportunity to test out a new ice camp in East Greenland; the dive center set it up recently and hopes to make it available to paying customers starting next year. Even Greenlanders describe the eastern part of their country using the word 'Tunu,' which means something like 'back side.' The group will spend a week in the tiny village of Pupik, with no running water or electricity, let alone smartphones or Internet reception.

Instead, they can enjoy pure, unspoiled nature: rugged and surprisingly flowery landscapes, icebergs, the Northern Lights – and humpback whales. For a trip like this, the organizer has to select special participants – ones who know how to appreciate and assess an exceptional excursion like this one. Wolfram Eikemeier was in Belarus last year, where he shot beluga whales with his underwater camera, so he already had a reputation as an agreeable customer.
---
---
After all, diving is Wolfram's greatest passion. It was Alexandra who first prompted the child safety seat expert to start diving 14 years ago. "Even when I was a child, I used to watch Jacques Cousteau films, and I always talked about going diving myself. Alex encouraged me: You should just do it!" He took his first diving trip to one of the traditional tropical locations, but then he became fascinated with cold-water diving.
–––––
Wolfram Eikemeier and A

lexandra Stengel 

love to travel to unspoiled corners of the earth, where civilization has left little to no mark.

–––––
Alexandra Stengel, on the other hand, has a passion for nature and landscape photography – she has such an eye for her subjects and such impressive technical skill that it's impossible to tell her pictures apart from those taken by professional photographers. She also loves to travel to unspoiled corners of the earth, where civilization has left little to no mark.
---
–––––
So how did their encounter with the humpback whale end? "It was OK! He just floated along under our boat, totally at ease."
–––––
---
Naturally, the two of them always pick vacation destinations that would never occur to anyone else. For example, next year, the couple are traveling to Chile, to the European La Silla Observatory. The tour is only being offered to three hundred visitors – and Alexandra Stengel managed to snag two tickets.
So, how did their encounter with the humpback whale end? "It was OK! He just floated along under our boat, totally at ease," they explain. On the other hand: "Our week in East Greenland was so incredible that even being plunged into the icy water couldn't have ruined it for us!" •
---
Photo gallery: Fascinating ice formations

---
---
October 2018