–––––
"I just couldn't handle the time pressure
of both jobs anymore."
–––––
Tim, when you joined Bonfire around three years ago, you were also working in final assembly and finishing at the Rüsselsheim plant. What has changed since then?
Quite a bit! The band no longer plays second fiddle, so to speak, because I just couldn't handle the time pressure of both jobs anymore. Bonfire played around 100 concerts in 2017, many of which obviously happened during my working hours at Opel. Over the long term, life as a musician just wasn't compatible with shift work, so I left Opel in early 2018.
Is there anything you miss from your time at Opel?
Tough question! (laughs) But seriously, there are lots of things I miss: the employee meetings, the historic buildings, the cafeteria. I always had a lot of fun with my colleagues; we were a great team. I was the youngest, but I always thought that was kind of cool. Things were no different in the first bands I was in, and it's the same in Bonfire, too. I fit in right away there, as well.
What's life like for you now that you're a full-time musician?
It's definitely a lot of work. It's not like you just play shows and spend the rest of your time partying. I essentially went into business for myself, and I'm also setting up my own music school as a second source of income. I give private lessons there, mainly for drums, but also for guitar and bass. And I've set up my own studio at home where I can record my own songs and work on pre-production tracks for the band.
---
---
Would you say you're living your dream?
Probably, yes. I definitely feel very fulfilled. I never wake up and think, "Oh man, I really don't want to go to work today." That's because it doesn't feel like work. After all, in the band, we say, "We're going to play," not "We're going to work." It's mostly a great, easygoing life, although it can sometimes be stressful. The difference is that I can plan out my work day myself. Being your own boss is a great thing.
Do people stop you on the street more often these days?
I'm not exactly Justin Bieber, but it does happen sometimes. I usually get asked what my life is like, how I liked a certain city we played at, or how the last tour went. It's nice that so many people are interested in my career. But when I'm offstage, I actually don't like to be the center of attention – and just answering questions all the time can be exhausting, too.
That's good to know, but I still have a few for you – how has your playing changed since you joined Bonfire?
It's changed immensely; the much larger workload alone has made a huge difference. Playing music involves physical strain, and the drummer is the one who sweats the most on stage. My playing style has always been very dynamic – or, to put it another way, very loud. I don't think that has changed much. But my timing has gotten much better, partly because we practice with a metronome now. And I've often been told that I have a recognizable playing style.
–––––
"The tour will be tons of fun and a great experience, because we'll be joined by lots of the stars of the scene."
–––––
Speaking of strain: Your tour schedule in November has you playing 20 shows in 20 days. How stressful will that be for you and the band?
It's going to be very stressful, especially since we play for three hours every night, we're on the road all the time, and we have to be fresh and ready to play again the next night. But it will be tons of fun and a great experience, because we'll be joined by lots of the stars of the scene. This sort of tour is uncharted territory for all of us, and I'm really excited to see how the fans will respond.
You're hitting the road with some big names from rock history – like former Survivor singer Dave Bickler and former Toto frontman Bobby Kimball – and playing their greatest hits together. How did you prepare for the tour?
On this tour, each star sings his own songs, accompanied by our authentic Bonfire sound. Shortly before the tour, we rehearse on our own for two days, then another day with the stars. We usually discuss the whole show from start to finish, the order of the songs, who announces whose stage entrance, and so on. We've also recorded the songs in the studio already, because on October 19, we'll be releasing a CD under our label AFM with all 32 songs from the tour. We had to finish the entire recording within just five days, which was quite a feat; it was mentally and physically exhausting, particularly because we were still playing shows with our own songs every evening. But now I can relax and look forward to this very special tour.
---
---
–––––
"I don't really need to relax, because I don't feel like my life is stressful."
–––––
---
Tour schedule
---
02.11.18   Fischach
03.11.18   Weimar
04.11.18   Fürth
05.11.18   Frankfurt
06.11.18   Oberhausen
07.11.18   Bremen
08.11.18   Berlin
09.11.18   Paderborn
10.11.18   Ingolstadt
11.11.18   Balingen
12.11.18   Saarbrücken
13.11.18   Alsdorf
14.11.18   Hagen
15.11.18   Würzburg
16.11.18   Alsfeld
17.11.18   Freiberg
18.11.18   Pilsen (Tschechien)
19.11.18   Magdeburg
20.11.18   Leipzig
21.11.18   Hannover
Which show of the tour are you looking forward to most?
Frankfurt, for sure. I used to go to Batschkapp all the time, even in its old location. Lots of my friends and acquaintances will be there. Ingolstadt will also be a special show. That's where Hans Ziller (Editor's note: founder and singer of Bonfire) is from, and it will be my first arena show. I'm also really looking forward to our show at Columbiahalle in Berlin, and in Freiberg on 17 November, since that's my birthday. Generally speaking, this sort of tour is uncharted territory for all of us, and I'm really excited to see how the fans will respond.
What do you look forward to most after a show?
The after-show parties! (laughs) But these days, they aren't as wild as they used to be. I drink a beer to relax, dry off, have a smoke, and let the adrenaline wear off. The five of us guys hang out for a little while, just us. Later on, we go out to sign autographs or talk to the crew. But the first few minutes after a show always belong to the band. We're a big family, which is no surprise – we see each other much more often than our own families, after all.
Since you joined Bonfire in December 2015, you've met a number of famous people in the scene. Who do you remember most?
Udo Dirkschneider, the singer of Accept, for example, or Doro Pesch – she's known as the queen of metal. Bobby Rondinelli, the former drummer of Rainbow, is another one. He's a legend and a really nice guy, very down to earth, even though he was part of scene's heyday in the 80s and has been in the business forever. I think that's awesome.
Which of your idols would you still like to meet?
Oh, good question. (thinks) Maybe Mikkey Dee from Scorpions, Scott Travis from Judas Priest, or Phil Collins. I'd ask him where he gets his ideas! Or Chester Thompson, who used to play live drums for Genesis. I'd be interested to know how he felt about replacing Phil Collins on his own instrument while Collins was up front singing.
At concerts these days, some audience members always have their smartphone in their hands to take photos or videos throughout the show. Does that bother you as a performing artist?
I don't have anything against it per se. For lots of people in the audience, the show is a special moment, and they want to capture that memory. But when you're entirely focused on recording everything, you're not really experiencing it in the moment, obviously. And of course, that can also affect the overall mood of the event. I also think it's interesting that today, people tend to hold up the flashlights on their smartphones instead of lighters.
Do you also like to listen to music to relax?
That depends on the phase we're in with the band at that moment. If we're recording our own album, I don't have time to listen to other music. But I don't really need to relax, because I don't feel like my life is stressful. When I'm home, I sit around on the couch with my girlfriend and drink a glass of wine. Or I sit down at my drum set and play – I just jam; I don't practice or try to play a specific song.
Could you ever imagine – despite your successful musical career – maybe returning to Opel one day?
That's another tough question! (laughs) Even setting Opel aside, it's always difficult to go back to working for a company after you've been self-employed. Human beings are creatures of habit, after all. And I've come to really love being my own boss. So I'd like to keep making music for as long as I can.
Thank you for taking the time to do this interview with us.
---
If you'd like to enter to win two tickets for the concert on November 5 at Batschkapp in Frankfurt,
just answer the following question:
What year and under what name was the Band 'Bonfire' originally founded?
Dead line is on October 24. Click here for the terms and conditions of participation.
---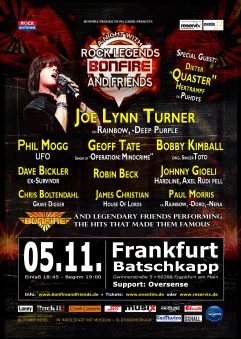 Bonfire and Friends: A Night with Rock Legends
The three-hour show is packed with rock anthems like 'I Surrender,' 'Hold The Line,' 'Africa,' 'Eye Of The Tiger,' and 'First Time,' as well as an homage to Deep Purple with songs like 'Child In Time' and 'Smoke On The Water.' On this tour, Bonfire will lend these hits its own style and sound, as the band did on its cover version of 'Sweet Home Alabama.'
---
October 2018