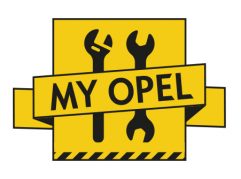 Employees and Opel fans
open their garage doors for us

Which model do you have parked at home? Write to us:
opel.post@opel.com
"This is my beauty," says Dominic Cybulski, grinning as he shows off his Opel Omega. Ponderous rainclouds hang heavy over Dortmund, and raindrops dance over the finish. The lovingly applied paintwork gleams just like a violet lollipop. "Yeah, I know," adds the Opel fan, "the color is a controversial choice." Cybulski received the car in 2009 as a gift from his father, who was very ill, but he found the original silver to be a bit boring for his taste. "I wanted to honor my father and keep my memories of him vibrant, so I knew I had to pick an extraordinary color."
Cybulski thought about it for a long time, and then inspiration struck at an Opel convention. While there, he saw a violet Corsa A and fell promptly in love with the hue. With the help of a friend working as an automotive painter, he was able to mix just the right shade: violet with a generous pearlescent luster. Even the rims got a new coat of paint, a custom shade of warm gold.


Tuning is like doing a cannonball off the three-meter board. You either love it or you hate it. And for a few people, that love runs deep.
Dominic Cybulski plans each detail meticulously – excessively, some might say – but for him, tuning is more than just a hobby. It's more of a lifestyle that allows him to express his individuality and creativity – and, no doubt, a bit of a rebellious streak. Tuning is like doing a cannonball off the three-meter board. You either love it or you hate it. And for a few people, that love runs deep. As is traditional in the tuning scene, Cybulski has given his Opel Omega a name: Iron Violett. The 'first name' was borrowed from his favorite heavy metal band, Iron Maiden.
The 1999 Omega B is Cybulski's biggest project to date, and his newest car. All of the others he has owned have been older. Even his regular ride, the one he uses to commute to his job as a law clerk at the district court of Schwerte every day, is a 1991 Opel Calibra.
Why does Cybulski love modern classics? "I love the old technology," he says. "I can tinker with it myself, and I love the direct handling you get with these cars." He is particularly enamored of the Opel brand. "I probably got that from my father, who only ever drove Senators, Monzas, and Omegas," says Cybulski, pondering the roots of his affection for the brand. Inspired, he adds, "Not to mention the cars have far more attractive contours than, say, VWs or BMWs."
When his mother gave him her Astra F when he was 18, it not only marked the beginning of his history with the Opel brand, but also sparked what would become his passion for tuning. He rebuilt all seven of his Astra GSis according to his own specifications.
And for the past ten years, Cybulski has spent nigh on every free moment working on his father's Omega. His workshop is his double car garage in Holzwickede, a town in the eastern Ruhr region. The garage is also home to his wife's prize Kadett convertible GSi – some of his devotion to tuning has rubbed off on her over the years.
---
Technical Data
---
Model Omega B
Year of production 09/1999
Engine 2.0 16 V
HP (kW) 136 (100)
Color Pearlescent violet
Vehicle description Friedrich Motorsport front apron, JMS rear apron extension, RDX side skirts, RDX rear spoiler, Mattig headlight bezels, Astra F GSI hood scoops, nozzles set under the hood, black tail lights, Irmscher radiator grill, Vectra B I500 steering wheel, wheels: ASA AR1 8×18 ET35 front with 15-mm tracking plates, ASA AR1 9×18 ET35 with 25-mm tracking plates, Recaro sports trim with newly upholstered Nappa leather in black/beige, Recaro seats finished with Greek letter OMEGA, doormats in black/violet, and violet footwell illumination.


The list of 75 additions and modifications now fills a crowded A4 sheet of paper.
The list of 75 additions and modifications now fills a crowded A4 sheet of paper. And the TÜV inspectors now know him by name. Cybulski is highly conscientious, making sure every modification is officially sanctioned and listed in his vehicle registration.
In the engine compartment, he has not only added mirrors to the inside of the hood, he has also painted the paneling, covers, and hood struts violet and beige, and accented some parts with tiny skulls using a specialized procedure. The interior is modified, too. Violet lights illuminate the doors and footwells when you enter the vehicle. The steering wheel came from a Vectra B i500, and the Greek letter Omega proudly graces a number of surfaces, including the seating, the steering wheel, and the speedometer. The instrument panel also bears the name of the car, 'Iron Violett.' Some of the dashboard elements are painted to match the exterior, while others are beige.


Cybulski loves to take his car on excursions, but it's not the right ride for longer trips. The trunk has no space for luggage. As is traditional in the tuning scene, he has completely redesigned it. A skull grins out from inside the open trunk lid. The luggage compartment contains a massive subwoofer. And violet hands reach up from below. He has even dedicated a part of the space to his father, who passed away in 2018. Enthroned on the left side of the trunk is a transparent plastic engraving of a portrait of father and son.
"This car will never leave our family," says Cybulski. And how long does he want to keep working on the Omega? "As long as I can still work a screwdriver."
Although Cybulski has developed a real affection for this car, the jewel in the crown of his tuning career to date, he's got another dream waiting in the pipeline: a Commodore A Coupé. "It's the only Opel without a B-column, and it really exudes that magnificent muscle car feeling," he beams. "Maybe one day," he trails off, with a doting glance back at his Omega.


---
November 2019