The Astra OPC
Like its predecessor, the Astra H OPC, the Astra J sports version is based exclusively on the Astra GTC. It boasts a 2.0-liter turbo engine with direct fuel injection that delivers 206 kW/280 hp and generates a torque of 400 Nm. The Astra OPC goes from 0 to 100 km/h in 8.1 seconds and reaches a maximum speed of 250 km/h.
"Aaaand action!" The district roads surrounding the community of Schmalenberg – home to 750 residents – are usually fairly quiet on Sundays. So it's somewhat hard to miss an Astra OPC speeding into view, soundtracked by the roar of its two-liter turbo engines. But on this particular morning in this particular part of the Palatinate Forest, nobody is to be seen apart from a couple of cows grazing in a field next to the road. That's also why nobody – except for the cows – raises their head as the power Opel screams past. The car is being followed by a camera drone that also soon overtakes it when the driver eases their foot off the gas pedal.
Is Daniel Craig behind the wheel shooting scenes for the new James Bond film? Not quite. Patrick Stenger is the one burning rubber in the Astra OPC, while his friend Adalbert Bukowski is the person operating the drone. And neither of them is in the movie business. They are, in fact, employed in the industrial trade at the Kaiserslautern plant. Making videos is just a hobby, but it has become their favorite one – and fast.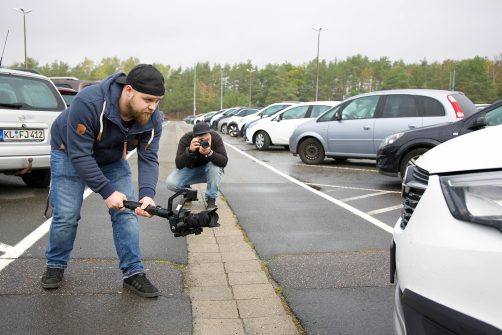 Stabilization feature included: A gimbal, held here by Adalbert Bukowski (left), allows the operator to move the camera manually without blurring the images.
In a rare turn of events, Patrick Stenger (left) and Adalbert Bukowski are in front of the camera rather than behind it.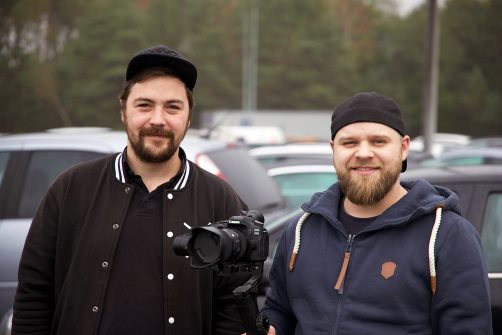 Stenger and Bukowski first met last year at the Kaiserslautern Classics, the major vintage car show that takes place in the heart of the Palatine. A number of classic Opels are presented there each year, too. Both were in attendance with single-lens reflex cameras on hand so they could capture the sleek, chrome models on film in the most imaginative way possible.
Taking inspiration from "Car Porn"
Eventually, Bukowski thought to himself "it's pretty stupid if we take basically the same photos." So he decided to switch his camera to video mode and started filming. He then used a basic, freely available editing program to put his first video together at home. He took inspiration from short films such as those that tireless moderator and entrepreneur Jean Pierre Kraemer uploads to his website "JP Performance."
Kraemer is one of the most creative minds among the vloggers on YouTube who focus on cars, and more specifically, tuned vehicles. These types of videos are known as "car porn." They are characterized by hard cuts, slick transitions between detailed shots and long shots, fast and slow panning shots, and the use of a wide range of other visual effects – all set to cool background music.
Car porn
The term "car porn" was coined by the tuning scene and stems from the words "car" – which is self-explanatory – and "porn," which, despite its relation to the adult film industry, has a different meaning in the automotive industry in that it refers to a fascination with tuned vehicles and their features. So this means a "car porn" video is one in which a vehicle is put on show and this is then reflected in the video accordingly.

↑ Video: OPEL Astra OPC | CarPorn

---





"I think I would stop enjoying it as much if I were to do it professionally."
_____
Adalbert Bukowski
Bukowski initially uploaded his debut video to Facebook and soon received a request from one of his followers asking him to produce a video in the same vein using his car. This video was then screened at a festival, which in turn led to the next order. So Bukowski und Stenger joined forces and became a film team – and their own expectations grew from shoot to shoot, too. This resulted in their equipment receiving an upgrade. They bought a camera with a high-quality 35-millimeter sensor, a drone, and a gimbal – a camera tripod with extremely fine motor capabilities that allows the camera to be moved without blurring the images. And it goes without saying that Bukowski now uses a professional video editing program as well.
A few weeks ago, the pair had the idea of training their cameras on something completely different: a car made by the brand they work for. So they went to the vehicle pool at the Kaiserslautern site and asked whether they could borrow an Astra OPC for a shoot over a weekend. They got the green light. And the Palatinate Forest surrounding Schmalenberg acted as their film set.
Fresh eyes spot the details
The shoot took three days and involved a single-lens reflex camera, an action camera, and the drone, while the editing process took a further five days. Bukowski was reluctant to do all the editing in one session: "You also need to take a break from the material and not look at it for a couple of days, and then come back to it with fresh eyes. That way, you'll notice new details that you can improve," says the 27-year-old, giving a glimpse into his work. But despite the lofty expectations he and his team colleague now have of their videos, Bukowski sees himself as an amateur and wants to keep it that way: "I think I would stop enjoying it as much if I were to do it professionally."
The pair are still active on the "car porn" scene. You can watch Patrick Stenger and Adalbert Bukowski's videos on their  "Catching Pixel Productions" YouTube channel – including the one featuring the Astra OPC.

---
October 2019