There are people who drive Opel cars time and again, and there are people who stay loyal to the brand with the lightning bolt logo. And then there's Giulio Amodeo, the foreman of our pressing plant in Rüsselsheim, Germany. Opel has been securely parked in his heart for a long time – since 1980, to be exact. That's when Amodeo traded in his Alfa Romeo for an Opel Commodore.
–––

The 67th Opel is already ordered


– a new Astra
–––

Ever since, Amodeo has taken delight in (very) frequently buying or leasing vehicles for himself and his family through the 'Employee Sales' program. This month, Amodeo is picking up his 66th – we repeat, his sixty-sixth – model, an ADAM Glam for his niece Rita. That's the 12th Opel that he's either driven or gotten a family member to drive in 2015. We here at the Opel Post Editorial Office are impressed, and have been inspired to create a special kind of year in review. Presenting: 2015 with Amodeo and his fleet.
---
DID YOU KNOW?
Make it as Giulio Amodio: Not only employees, but also family members can benefit from the attractive terms of the Opel leasing for employees. You can purchase any number of leasing cars fort he family. What is more: when purchasing a new vehicle current and former employees of the Adam Opel AG always receive an exclusive employee discount of 20 percent – for life! As a regular customer Giulio Amodeo can enlarge the discount up to 28 percent when buying a vehicle. All details on the terms of the "employee sales program" can be found here (in German).
---
 The end-of-year review
---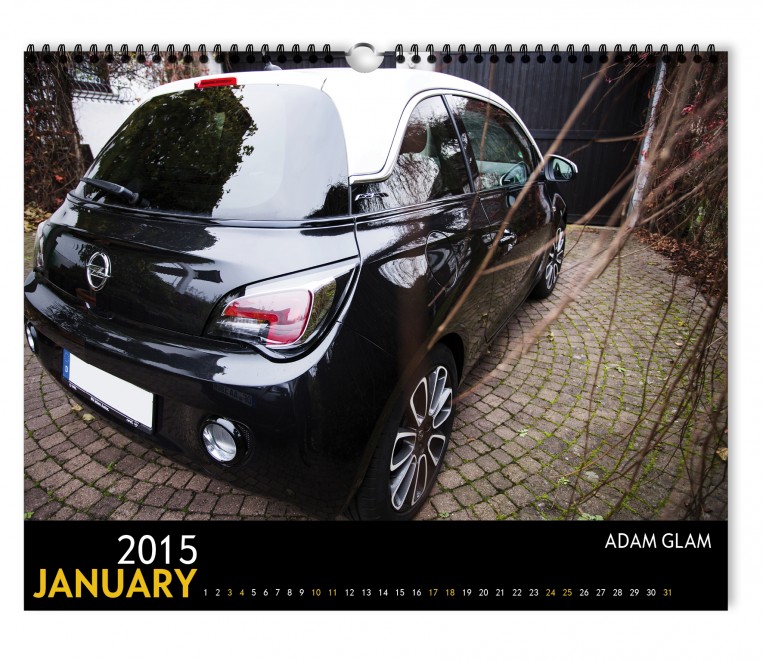 JANUARY
Previous Year's Balance Sheet and the Best Car of 2015
---
---
Opel starts the year with good news. Things are going uphill, and the balance sheets prove it: In 2014, the company experienced its strongest sales performance in years. 1.076 million cars were sold in Europe, corresponding to a three percent growth, or approximately 35,000 cars. One of the engineers of this success is a key player in the compact car segment: the ADAM.
–––
In 12 countries
Opel increases the market share
compared to the previous year

–––
This model scores in terms of statistics – 130,000 customers have chosen this city car so far. It's landed titles, too: For the second time in a row it's won the Auto Motor und Sport reader's award for best customizable car in the mini car category.
Amodeo has a soft spot for winners. He leases an ADAM Glam 1.4 (100 HP) for his daughter Angelina.
---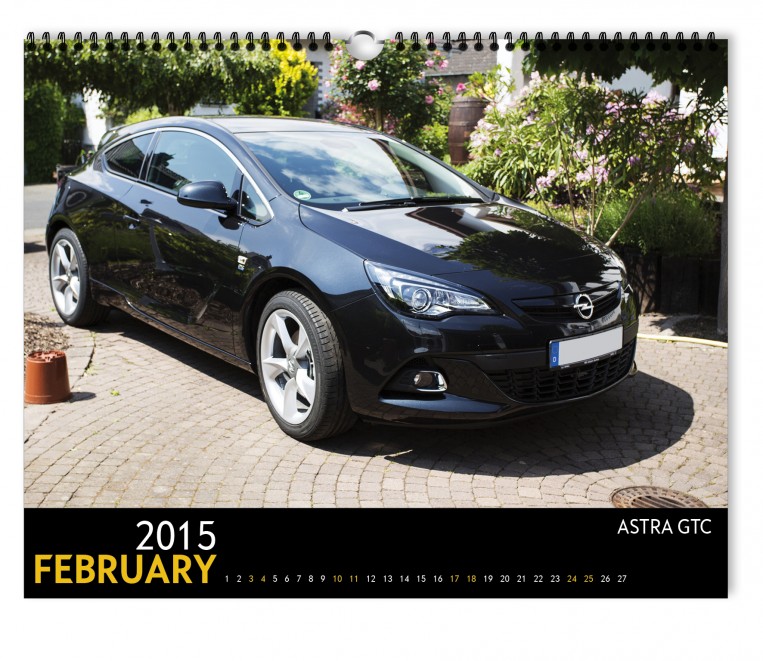 FEBRUARY
Karl, Choupette, and the Awards
---
---
Karl Lagerfeld – fashion designer, photographer, icon – opens an exhibition on the 2015 Opel photo calendar in Berlin. For this project, entitled 'Corsa Karl and Choupette,' the master photographer put his Burmese cat, Choupette, in the limelight inside a new Corsa. The star-studded opening of the exhibition in Berlin was huge. 
It's not all pomp and pageantry. At the 2015 Blogger Auto Awards, the Corsa pockets the title 'Auto der Vernunft' (Car of Reason). And that's not the only distinction Opel earns this month. ADAM and the Zafira Tourer are each crowned '2015 Wertmeister' for being the vehicles that best retain value in their respective classes.
–––
Opel gains 18 first places at award ceremonies
at the beginning of the year

–––
Amodeo wants a car that's used to winning awards, all famous cats and reason aside. He's interested in a model that guarantees "what I really enjoy when I drive: action." He buys himself an Astra GTC with a 200-HP turbocharged gas direct injection engine.
---
MARCH
Heidi, flinc, and the European Junior Rally Championship
Commuting can be worthwhile – for the driver's wallet, for the environment, and for parking lots. With this in mind, Opel introduces the 'flinc' ridesharing service to Rüsselsheim, Germany, where 13,000 people go to work each day. Amodeo, who drives in from Seligenstadt, in East Hesse, Germany, thinks this is a good idea, but is preoccupied with a different matter on his way to work: Which Opel would be best for his niece Rita?
---
–––
flinc:
The number of trips on offer is increasing from month to month.


Currently there are 1,200 in December.



–––
---
He's impressed by the 190 HP ADAM R2. It's currently being driven in the European Junior Rally Championship (FIA ERC Junior). Rita, however, has a different favorite. As a fan of Heidi Klum's TV show Germany's Next Topmodel (an Opel partner), she's interested in a very special member of the ADAM family.
Amodeo is a family man, and happy to fulfill his beloved Rita's wishes. Besides, it's not like Rita will be taking part in the Rally championship. She's got glamorous tastes, so she gets an ADAM Glam.
APRIL
Rita, Rescue Services, and a Compromise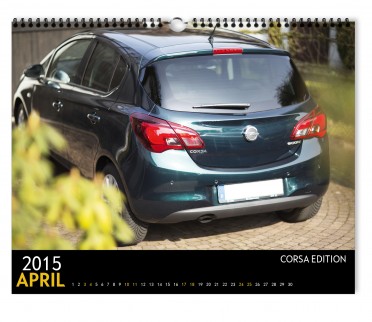 It's the month of the Mokka. This small SUV, featuring a strong, 1.6-liter turbocharged diesel engine and four-wheel drive, is recommended as an operational vehicle for technical accident assistance at the 15th RETTmobil in Fulda, Germany, the leading trade show for rescue services and mobility. Moreover, the expert organization Dekra and trade journal Firmenauto also name it the 'Firmenauto des Jahres 2015' (2015 Company Car of the Year).
---
 –––


"Everything is upgraded at the Corsa OPC, and I mean everything. We've managed to take a quantum leap. In other words: We're going to eat our competitors for breakfast!"



–––
---
Amodeo is happy about that, but he's also got his mind on another model: the Corsa. The fifth-generation Corsa is now available in an OPC format. As a motor sports fan, Amodeo is thrilled by this roughly four-meter-long bundle of power and its mighty turbocharged engine (152 kW/207 HP). However, this month Rita wants a car that's perfect for everyday use.
Amodeo is ready to compromise when he gets Rita her Corsa. Instead of the bold, muscular OPC version that he loves, he sticks to her wishes and chooses the 'Edition' option, which tackles everyday drives with 90 HP.
---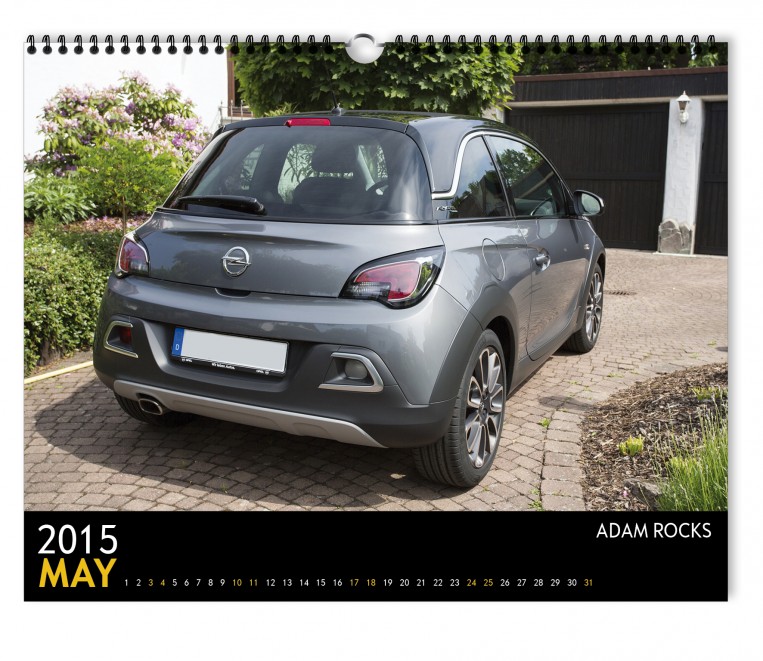 MAY
OnStar, Astra, and Muscles
---
---
People are talking about the new Astra everywhere – in trade media outlets, on Internet forums, inside the Opel cafeteria. It's about to be officially introduced. Test drivers trick the car paparazzi with camouflaging on both the inside and the outside of the model. Curiosity and anticipation for the next generation of this compact bestseller are mounting. Amodeo can't wait. The new Astra also comes with Opel OnStar, a personal online and service assistant. This system, which is already scoring big with North American customers, supplies the vehicle with Internet access and includes features such as 24-hour emergency call service and roadside assistance.
–––
Eleven friends: the new Astra
and his predecessor as OPEL POSTer to download.
–––
Amodeo finds this all-inclusive solution practical, and he calls the Astra K's comparatively much lower weight a "big bonus for people like me, who prefer to travel fast." He pre-orders the vehicle for the coming year. It's only May, though, and a month without a new Opel isn't that good of a month for Amodeo. Angelina's family expresses interest in finding a muscular ADAM that's perfect for spring.
Amodeo knows what to pick. He leases a powerful, athletic model: the ADAM ROCKS.
---
JUNE
CarUnity, KARL, and Summer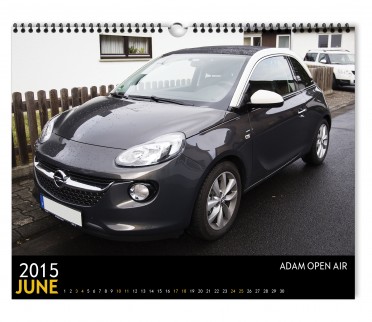 'He who shares, drives better' – that's the motto underlying Opel's carsharing community, CarUnity. A free app of the same name lets all users rent out their cars, or rent the vehicle of their choice – and not just Opel models. Amodeo finds the concept exciting, "because this way we not only present ourselves as a car manufacturer, but also as a mobility service provider."
–––
CarUnity cars CarUnity cars
can be checked out
and booked online.

–––
The new model entering the market this month also fills Amodeo with pride. "The one-liter, three-cylinder engine and the outstanding IntelliLink Infotainment System truly make the KARL the ideal beginner's car in the compact car segment," he says. This month, it's Amodeo's sister-in-law who turns to the Opel foreman for help. She needs a city speedster with that special summer feeling!
Amodeo doesn't need a long time to decide. He quickly opts for the ADAM 'Open Air,' which features a swing-top folding fabric roof that opens electrically.
JULY
Used Car Program, Sabrina, and an Increase in Sales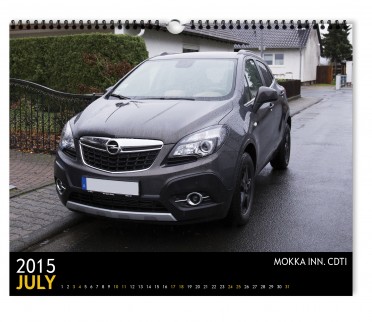 Amodeo is very satisfied, since Opel is selling well. For example, the brand is declared customers' first choice for used cars in the latest issue of the monthly trend report Autokäuferpuls. A representative survey finds that the company is far in the lead – even ahead of some premium brands. This is thanks to the 'Opel-certified used car' program, founded about two years ago.
–––
Launch in Saragossa: The project initiated by GM/Opel is called
"In charge for the next generation in charge".
The goal is to reduce youth unemployment.
–––

Apart from that, in July the colleagues put a lot good thing in motion. 2800 starters at the Opel company run in Rüsselsheim make for a record number of participants. In addition, 21 Opel teams at the Rüsselsheim plant come together for the internal Soccer Championship, which provided lot of fun an action. Opel also scores in the field of car registrations: The Mokka took first place in the SUV segment of the Kraftfahrt-Bundesamt (Federal Motor Vehicle Transport Authority) list.
Amodeo likes to follow trends. He buys a Mokka with a 1.6 CDTI turbocharged diesel engine for his niece Sabrina.
---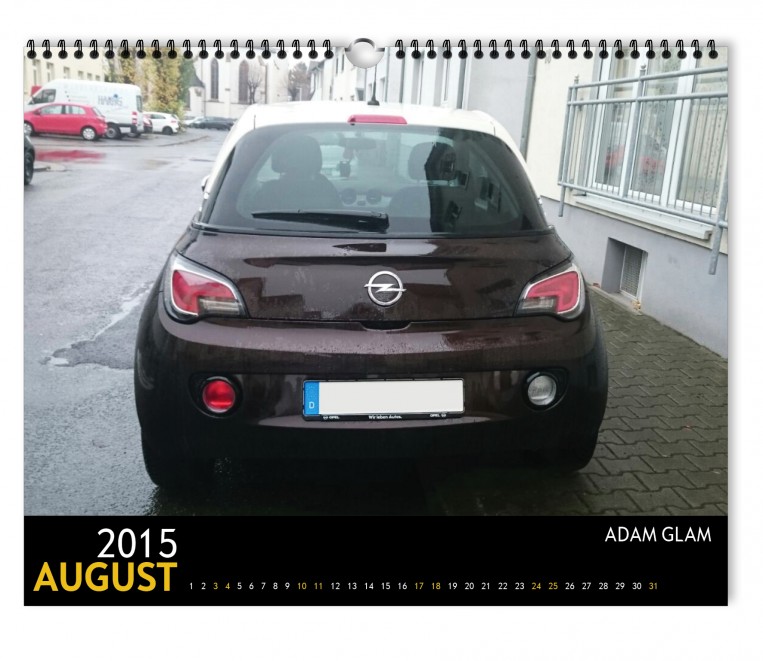 AUGUST
A Recommendation, a European Championship Title, and Sabrina (Again)
---
---
Sabrina just got a Mokka, but she wants more. Amodeo is sure that his favorite model would be a perfect fit for Sabrina and her family. "The Zafira Tourer is a large car with an efficient engine, and it retains value well," he says. But Sabrina would rather have a smaller car.
–––
In August the Global Safety Week
starts in all GM plants.
–––
She's impressed by Emil Bergkvist, the Swedish Opel factory team driver who just won the European Junior Rally Championship in an ADAM R2. She finds that car exquisite. But she'd rather have it in a more ladylike edition.
Amodeo yields to her desire and advises her to get an ADAM Glam, with an 87 HP, 1.4-liter gas-powered engine. He leases her one.
---
SEPTEMBER
A Quantum Leap, the Chancellor, and the other Inge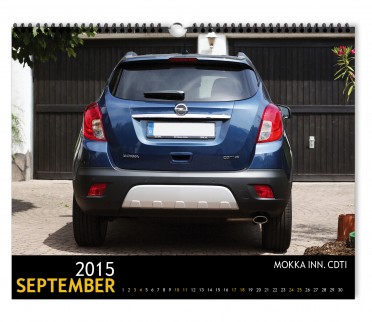 The world premiere is here: The new Astra drives up to the International Motor Show (IAA). Opel calls its debut a 'quantum leap.' And rightly so, says Amodeo: "It features numerous security and assistance systems that have no equal in the compact class." In addition to Opel OnStar, this model also features the groundbreaking IntelliLux LED lighting system.
During the IAA, Amodeo particularly enjoys the German Chancellor Angela Merkel's appearance at the Opel booth, as well as Opel's accompanying gesture. Opel CEO Dr. Karl-Thomas Neumann presents the head of state with an Astra freshly painted white as a memento, since this is the exact same shade as the blazer that Merkel is wearing that day. Opel employees changed the color of this car in next to no time using an airbrushing method. When Amodeo tells his wife Heidi about this event, she jokingly asks for a present that is just as nice.
---
---
Amodeo is up to the task, and he never jokes when it comes to cars. He buys Heidi a Mokka.
OCTOBER
Klopp, Dealers, and Isabell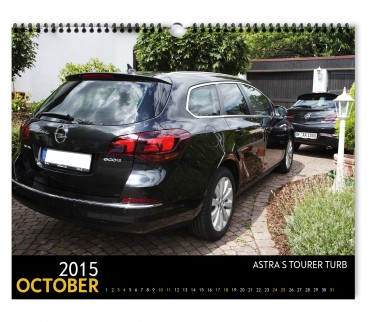 Opel foreman Amodeo is relieved by the news at a press conference in Liverpool, England. There, it becomes clear that Opel brand ambassador Jürgen Klopp is here to stay, even though the one-time trainer for the BVB Dortmund football team is taking over the Premier League FC Liverpool team. "It's great that our sister company Vauxhall is an FC partner, and that Klopp will continue to represent us," says Amodeo. Klopp is sticking around and will continue to drive an Insignia. He's only facing one big change: he needs to get used to driving on the other side of the road.
---
–––
1,200 children of Opel employees
come to the first kids@Opel day.
The Opel Post takes part with a workshop.
–––
---
In the golden autumn at Opel it is all about the Astra: 1300 journeys, 435 hours, 20,800 km – that is the result of an uniquely huge test driving action, colleagues in Rüsselsheim tested 40 new Astra cars in Rüsselsheim. Spectacular trips are also experienced by the journalists at the launch of the international media campaign for the Astra in Vienna and Bratislava. And the Opel dealer celebrate the premiere of the new Astra in their stores. The tension is huge, the subsequent echo well. The order numbers show: The twelfth representative of Opel compact class – it began in 1962 with the Kadett A – is off to a fantastic start. As of December 2015 there are 65,000 orders. Amodeos daughter Isabell also want an Astra, but immediately.
Amodeo has a solution ready, as usual. He buys Isabell the Astra J Sports Tourer, which boasts a 140-HP turbocharged gas engine.
---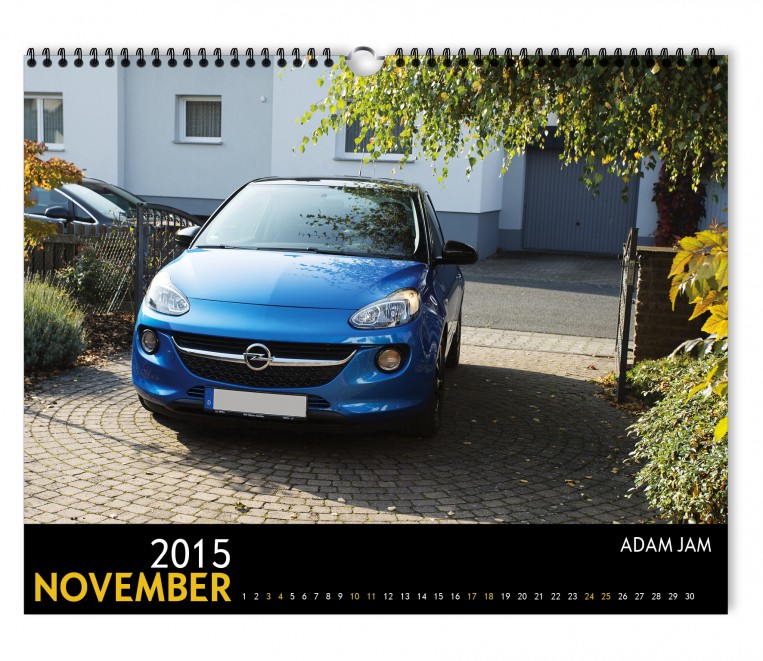 NOVEMBER
Astra OPC Cup, Trust, and a Three-cylinder Engine with 115 HP
---
---
Amodeo's recipe for fun motor sports: combine a number of identical, roughly 320 HP Astra GTC OPC Cups, 13 teams, and Germany's legendary Nordschleife racetrack. And so, the Opel Astra OPC Cup race series begins: ten races held by the VLN (Association of Nürburgring Endurance Cup Organizers) in Nürburgring, Germany. As Amodeo sees it, watching the turbocharged cars race through the so-called 'green Hell' is a uniquely thrilling experience: "The title comes down to the very last race. Nine different teams all share a place on the podium, it's crazy."
Amodeo finds another development even better. Opel wins the 16th automotive Oscar since 1976 – the Golden Steering Wheel award. Besides Opel takes fifth place in the 'Vertrauensranking 2015' (2015 Trust Ranking), and as such is the best-performing high-volume car maker. For the fourth time this year, Angelina entrusts her father with choosing a vehicle for her.
Amodeo gets it right, choosing the ADAM JAM with a 1.0-liter, three-cylinder engine. He treats Angelina to the 115-HP muscular version.
---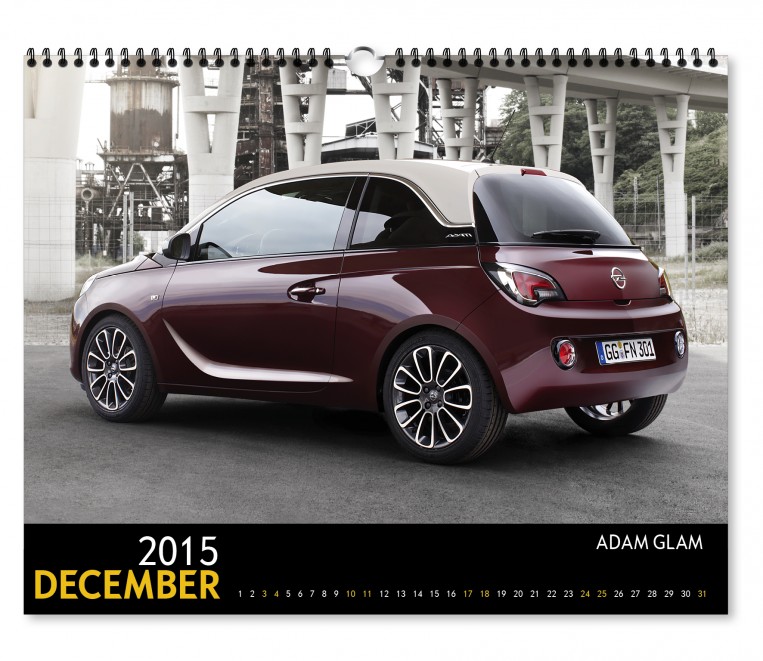 DECEMBER
The One Million Mark, #ADAMyourself, and a Tip
---
---
Already at the beginning of December the Amodeo family pops the corks of Champagne in order to celebrate these news: Opel experienced significant growth once again, smashing the one million mark in sales. As such, Opel is on its way to increase its sales and market share for the third year running. "I'm going into Christmas relaxed, thanks to this news, as well as the knowledge that we'll continue to excel in 2016 with the new Astra and other products," says Amodeo.
But can he go a month without getting a new Opel? No chance. Amodeo wants to haul out another one. It's easy to guess which one he chooses – the Rüsselsheim-based foreman is keenly interested in the brand new #ADAMyourself online campaign. The premise: Famous European lifestyle bloggers create their own highly personalized city speedsters. They call upon their social media fans and followers to do the same. Starting in the fall of 2016, the best designs will be put into production for the special edition 'ADAMyourself' model series. Moreover, the winners will become the faces of ADAM for their respective countries.
Amodeo loves the #ADAMyourself concept. He also knows who could configure an extraordinarily stylish ADAM: Rita. For the last time in 2015, he looks to his fellow workers in 'Employee Sales' and gets Rita the papers for a leased ADAM Glam.
---
Giulio Amodio is looking forward to the coming year, especially as Opel driver. One of the first cars that Amodeo has placed on his order list, is the new Astra. "It is a terrific vehicle we build. And I am sure that not only the colleagues purchase the car using the advantage of the employee conditions, but also our customers will focus on the new Astra. 2016 will be a great year for us all."
Stand Dezember 2016