A MAJOR SUCCESS FOR OPEL POST!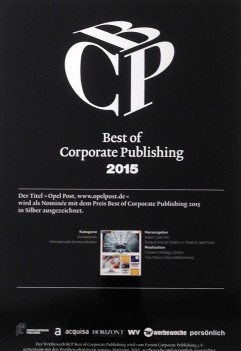 Opel Post has won the special silver prize for International Communication presented by Europe's largest corporate media competition, the BCP Awards. The prize recognizes the weekly online magazine for Opel employees, fans, and friends of the brand as one of Germany's best corporate publishing products.
The BCP Award is one of the most prestigious prizes in the global corporate publishing world, considering submissions from over 700 publications. The awards ceremony, with 28 categories and four special prizes, took place in the Old Congress Hall in Munich, Germany.