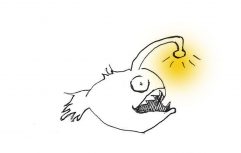 DESIGN THINKING



Design thinking was developed by David Kelley, Professor in Mechanical Engineering at Stanford University and inventor of the first mouse for the Mac. Both startups and major companies such as SAP use this method to generate new ideas. The process itself is fully geared towards meeting the customer's needs. As you can see, design in this context doesn't refer to style, but rather to the belief that all aspects of life can be planned out. In this regard, a product is not well-designed unless it fulfills the intended purpose of the user.
It's something that we all do as kids: We build a tower out of wooden blocks, only to knock it down and start all over again. Bastian Stahl is a master's student at Opel who wants to rekindle that childhood thrill of creating something out of nothing, not following established rules or structures. The method he uses in his workshop is called design thinking. "It's a good opportunity to tap unforeseen potential in employees and companies," he says. The most important tools here are empathy and intuition.
Creativity is a Teachable Skill

Lego blocks, bright colored modelling clay, scissors, and paper can all be found on a table in the Opel Creativity Room in building J. In fact, if it weren't for the strict procedures and tight deadlines, one might say there is a playful side to the approach. "The guidelines ensure that you don't get caught up in the individual steps," says Axel Scholl-Poensgen. He is just one of 25 employees who gathered at the end of November to get a new product off the ground. Now, in mid-February, the groups have a finished prototype under their belts. Not that the teams had lots of time to do so. "We found an hour here, an hour there, alongside the two workshop days each week," says the IT specialist, putting things into perspective. That's all because design thinking is geared towards producing benefits for users while also shortening lengthy processes. The teams were tasked with finding ways to making our vehicles more comfortable for customers.
---
---
For this method to produce results, it is crucial for people with different experiences, opinions, and perspectives to come together. Stahl consciously focused on taking an interdepartmental approach to putting together his team. Employees applied on their own initiative to be part of the team. This is how IT specialist Axel Scholl-Poensgen worked together with employees from the Anti-Theft, Spare Parts, and Infotainment departments to understand how to improve the comfort of cars. In doing so, the team tried to put themselves in the customer's shoes wherever possible. They not only interviewed people, but also watched what people do when they're stuck in a traffic jam or stopped at a red light in the morning.
"For certain you have to be lost to find
a place as can't be found.
Elseways, everyone would know where it was."
– Captain Barbossa in the blockbuster film Pirates of the Caribbean –
It was only then, after gaining these insights, that they began to search for ideas tailored towards a specific, fictional person or characters like Peter, a high earner who is unmarried and has no children, or Petra, who's 40 and has two kids. Drawing inspiration from Albert Einstein's quote, "Problems cannot be solved by the same level of thinking that created them," Stahl also called upon participants to examine problems, to dig deep, and to let their creative juices flow freely. That's a long way from focusing solely on utility and practicality.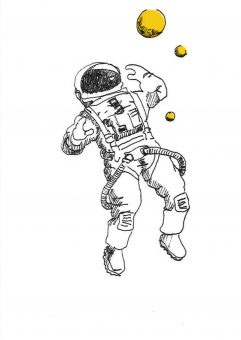 ---
A very basis prototype is created quickly during the first brainstorming session. It's made from Lego blocks, modelling clay, or whatever materials happen to be there or and seem like they would be useful. Test subjects are invited to evaluate the makeshift solution. "That way, we can find out early on if the devised solution does what it's meant to," Stahl explains. If not, another main aspect of this method is that the idea is discarded, and then it's back to the drawing board. "I've worked my entire life with the aim of making sure I was always doing everything right and by the books," states Axel Scholl-Poensgen. "Being able to enjoy the freedom to make mistakes was a radical experience."
"Being able to enjoy the freedom to make mistakes
was a radical experience."
– Axel Scholl-Poensgen –
"Between electromobility, car-sharing, and autonomous driving, the automotive sector is facing with huge changes. Design thinking can help to tap into creative potential within a company, and drive innovation," says Stahl with confidence.
In the coming weeks, the five teams from the workshop will present their results in front of the Opel board. The best ideas will be pursued, and the groups may even be allotted a small budget to work with. "It's really exciting to see what kind of ideas they were able to come up with to improve comfort inside our vehicles in such a short amount of time" says Poensgen, an IT specialist who works every day to ensure every day that Opel's computers and servers are up and running. The Opel Post will showcase the new ideas – along with the not-so-successful ones – that employees developed using the design thinking method in the near future.
---
February 2018