What makes Opel stand out as an employer? How did the career start go and what are the prospects? Under #Drivetoinspire we introduce colleagues from the women's network "Women of Stellantis". Bianca-Jennifer Gutt, "creative strategist", and Helen Walter, "goal-oriented team player", report on their experiences here.
Bianca-Jennifer Gutt (28)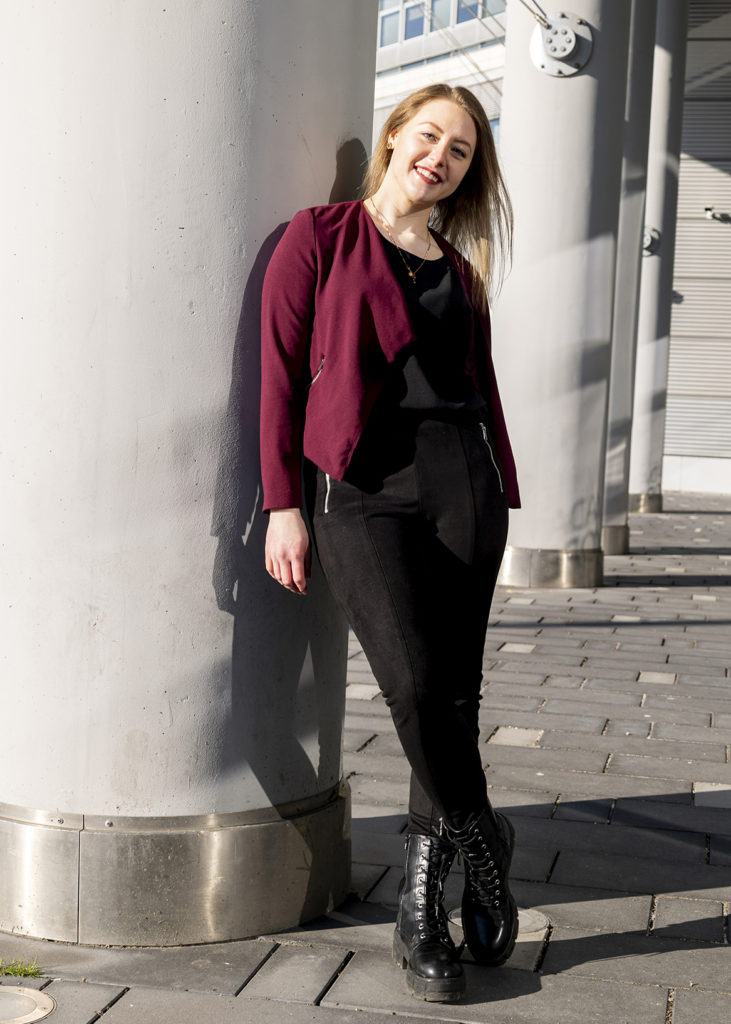 2013-2016
Vocational training as industrial business management assistant at Opel
May 2016
Further education scholarship "Begabtenförderung berufliche Bildung" (Foundation for the advancement of gifted students in vocational training)
2016-2020
Financial Analyst and part-time study Bachelor of Arts, Business Administration, University of Applied Sciences Mainz
since 2020
Future Pricing Analyst and part-time study Master of Arts – Controlling and Corporate Management, Fresenius University of Applied Sciences Wiesbaden
"Studying alongside work gives you security – at the same time you can develop your own potential."
About prospects
"When I started my professional life after graduating from high school, the feeling was there: yes, I have the potential to study. But I don't come from a family of academics. The apprenticeship at Opel as an industrial business management assistant was therefore the perfect decision: I could first test myself, develop myself and after three years it was clear – now it's time. My supervisor at the time also motivated me. So I completed the part-time Bachelor's programme. I can only recommend this course. Of course, the workload – working and studying – is high. But doable. Before I could get used to more free time, I enrolled for the Master's programme. That was two years ago. I'm currently working on the thesis. Studying part-time is perfect for me: It's a secure framework – after all you earn money – plus the opportunity to develop your own potential."
About the tasks
"It is not the case that only the degree programmes bring new challenges. In parallel, I learn and grow with my professional stations. I learned the basic tools of the trade during my training – how does a company work, what are the financial flows or how does it all relate to the product? During my time as a Financial Analyst for the Communications division, I discovered a new side of myself: my creative streak. In addition to budgeting, I experienced and helped shape the development of campaigns and launches of new models. These two skills – an affinity for numbers and creativity in combination – led me to my current job: in marketing as a Future Pricing Analyst. The big questions here are: what value does a customer attach to a model, what is he willing to pay? It's not just about reading numbers, but working creatively with them, simulating future scenarios. Challenging, but exactly my thing."
About networking
"Working in an international company is full of exciting opportunities. What I particularly appreciate about the women's network "Women of Stellantis" is the open exchange across all areas. We are currently developing topics for the newsletter of the same name in our working group, for example "Women and Finance". Here I contribute podcast and book recommendations that deepen the newsletter topics. Whether network members, mentors or superiors – there is a strong community in the company and thus role models who inspire me and from whom I learn."
Training with top prospects
In 2022, the car manufacturer with the Blitz will once again offer around 170 interested people the opportunity to train for and learn their dream job and become part of the Opel team. At the headquarters in Rüsselsheim, applicants can currently choose from numerous areas of specialisation – ranging from production mechanics, industrial mechanics, machining mechanics and stamping and forming mechanics to automotive mechatronics technicians and electronics technicians for automation or operating technology. Those who want to become industrial business management assistants are also at the right address. "Especially in the commercial sector, it is common for colleagues to follow up their training with a part-time course of study," says Carsten Brust, Head of Opel Training. Helen Walter (24)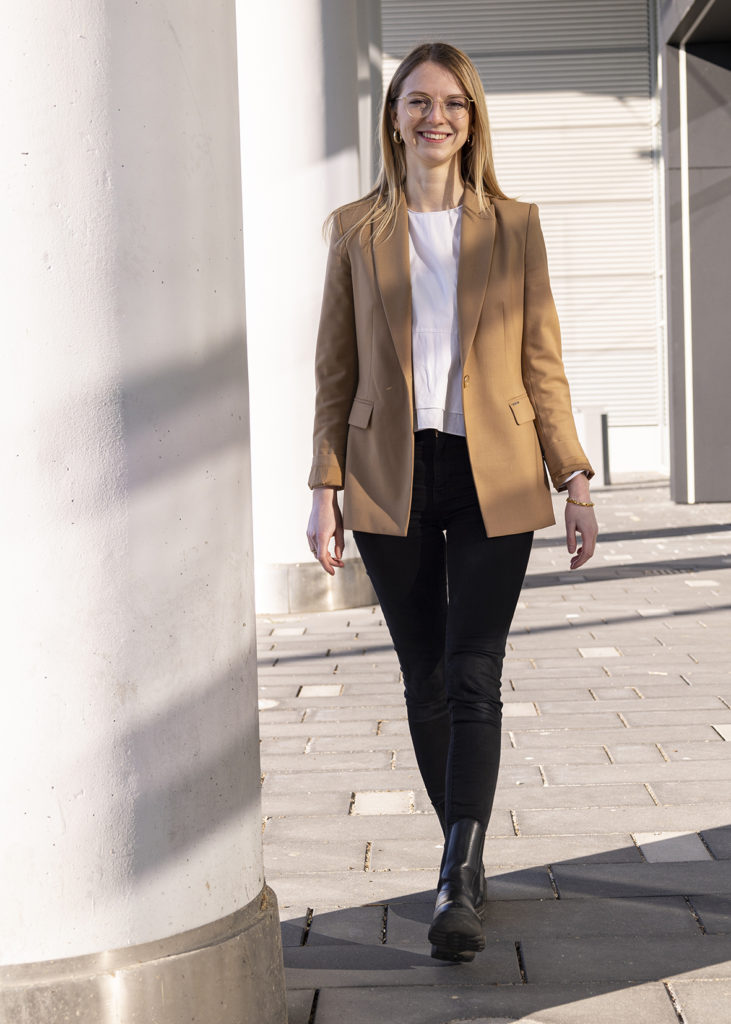 2018-2021
Cooperative study at Opel: Vocational training as industrial business management assistant (graduated best in class) and Bachelor of Science, Business Administration, Mainz University of Applied Sciences; main fields of work: Sales, Communications Opel Germany & Brand Marketing
April 2021
Further education scholarship "Begabtenförderung berufliche Bildung" (Foundation for the advancement of gifted students in vocational training)
since 2022
Launch Scenario Managerin and part-time Master of Science, Management, Mainz University of Applied Sciences
"Unlike those who studied classically, I'm already in the thick of things professionally and have a varied and demanding job."
About prospects
"I am 24 years old, have completed my education, have a Bachelor's degree in my pocket and have started a Master's programme. In contrast to others who studied the classical way and are now faced with the question of where to apply, I'm already in the thick of things professionally and have a varied and demanding job. In addition, I know that many doors are open to me in an international company. That feels very good. At the end of my school years, I wrestled with myself a lot: should I study architecture? Or would I rather study industrial engineering? Training to become an air traffic controller would also have appealed to me. In the end, a teacher advised me to do a dual study programme at Opel – the tip was spot on!"
About the tasks
"In my case, it confirms what a cooperative study programme ideally is: the theoretical knowledge from the course is combined with practical experience in the company. Both in the Brand Marketing & Strategy department and in the Launch Management Team, I learned things that were incorporated into my Bachelor's thesis. In my academic thesis, I analysed the repositioning of the Opel brand. In order to deepen my knowledge and achieve my high professional goals, I am now completing a Master's degree in Management. I've also been doing a lot in my professional life: since June last year, I've been a Launch Scenario Manager in Product Marketing. It's a newly created position. At the moment, I am particularly involved in the new Astra, from the final development phase to the implementation of the product in Product Marketing, the planning of the launch vehicles and the final production. I make sure that our newcomer is ready for customers worldwide at the National Sales Companies, dealers, importers and exporters as well as internal activities such as events and campaign shoots – whether in Germany or Martinique. In this cross-functional role, my already established network is highly relevant to efficiently tackle challenges and push through the Opel brand objectives."
About networking
"I am a passionate networker. I like to exchange ideas with others. Always have. So it was clear that I got involved in the Women of Stellantis network at the first opportunity. My role is to create networking opportunities. This includes internal activities such as the "Virtual Coffee Talks" where women can exchange ideas within the Stellantis Group in an informal way. I also organise cross-sector networking meetings. I also benefit a lot personally from the networking within the company. My mentor Virginia Ballaschk is there to help me with tricky questions. For example, when it comes to new types of projects. That motivates me and helps me to take on new challenges."
Cooperative study programmes are popular
They are practical, you have several degrees in your pocket, the best chances of being taken on, good study conditions and a regular income – it is no coincidence that cooperative degree programmes have firmly established themselves as an independent educational pathway. Since 2004, when the data collection began, the number of students pursuing dual programmes nationwide in Germany has increased from 41,000 to over 108,200. And this upward trend continues. Opel has been offering cooperative study programmes for over 20 years, and there are currently seven to choose from: applications for the Rüsselsheim location can be submitted now. What offers are there?
How can I join? You can find out more about the "Women of Stellantis" network here.
---
März 2022