"This is the best first quarter figure since 2008."

Mr. Stöver, the PACE! plan aims to increase sales of light commercial vehicles by 25 percent by 2020. Are you making progress?
Tobias Stöver: Yes! Our plan is also working for light commercial vehicles. Combo, Vivaro and Movano are in high demand: In the first quarter of 2019, we increased worldwide sales to almost 33,000 vehicles – a whopping 35 percent more than in the same period last year. This is the best first quarter figure since 2008. In Europe, our market share in commercial vehicle registrations rose by a strong 0.6 percentage points to 4.7 percent. We are convinced that we can do even better: We have the expertise and the models to continue growing strongly in this profitable market segment.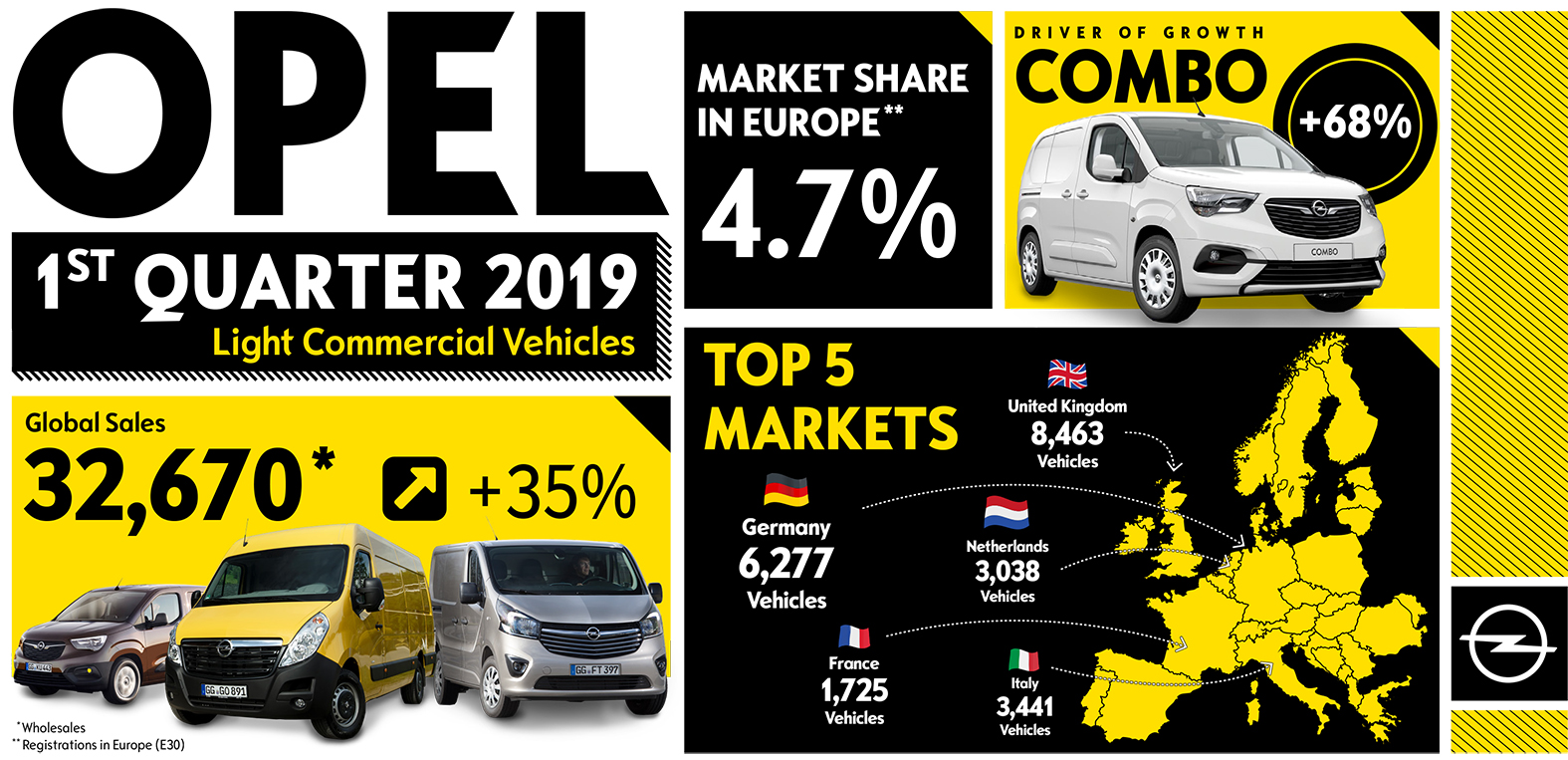 Where are things going particularly well – on which models and in which countries?
We're gaining across the board. All our models are more in demand than in the previous year: in the first quarter we recorded an 18 percent increase in sales of the Movano, a 33 percent increase in sales of the Vivaro and even an impressive 68 percent increase in sales of the new Combo. With the Combo, which has just been named "International Van of the Year 2019", we are benefiting massively from the switch to the Groupe PSA platform. Groupe PSA is also very well positioned in the commercial vehicle segment, which of course helps us.
In addition, we have increased our market share almost everywhere in Europe. All this shows that our measures are taking effect. Particularly important: All our dealers now have commercial vehicles in their showrooms and we have strengthened our marketing activities.


Pillar of the PACE! plan
In the profitable light commercial vehicle segment, Opel is attacking harder than ever before. The market share is expected to rise to the level of the passenger car segment in the medium term. Better dealer contracts (any Opel dealer can now also offer light commercial vehicles) and a completely renewed portfolio will help here.



"We have increased our market share almost everywhere in Europe."

Do you dare to give us an outlook for the year as a whole?
We are very confident for the current year. And for several reasons. Our order intake – the basis for future sales – has increased considerably in recent months. This is a clear indication that 2019 will be a good year. In addition, the Cargo version of the Combo has only recently entered the market. Although its success has already exceeded our expectations, it has not yet exhausted its full potential. In addition, the new Vivaro will provide a strong tailwind. It will arrive at the dealers in late summer and can already be ordered today. And to look a little further into the future: Thanks to the multi-energy platform of the Groupe PSA, the Vivaro will also be available in a purely electric version from 2020. I am sure that we will win many new customers with our first fully electric light commercial vehicle.
---
April 2019