Their work serves as a bridge between the Production division and ITEZ: As members of the International Technical Development Center team in Rüsselsheim, Germany, the Manufacturing Engineering (ME) employees are tasked with designing and implementing production systems at Opel/Vauxhall plants across Europe.
The team, including specialists from Advanced Manufacturing Technology (ME AMT), is regularly involved in R&D projects, focusing on lightweight chassis construction, materials, and joining technologies, not to mention energy efficiency and assembly techniques.
The aim in each of the projects is to make further improvements
to manufacturing processes in terms of ergonomics,
workplace safety, product quality, and target times.
The manufacturing engineers are showcasing the projects they are currently working on at the TechForum 2016, which was attended by hundreds of employees from other units and sites.
---
Manufacturing/Logistics
Smart Tools

---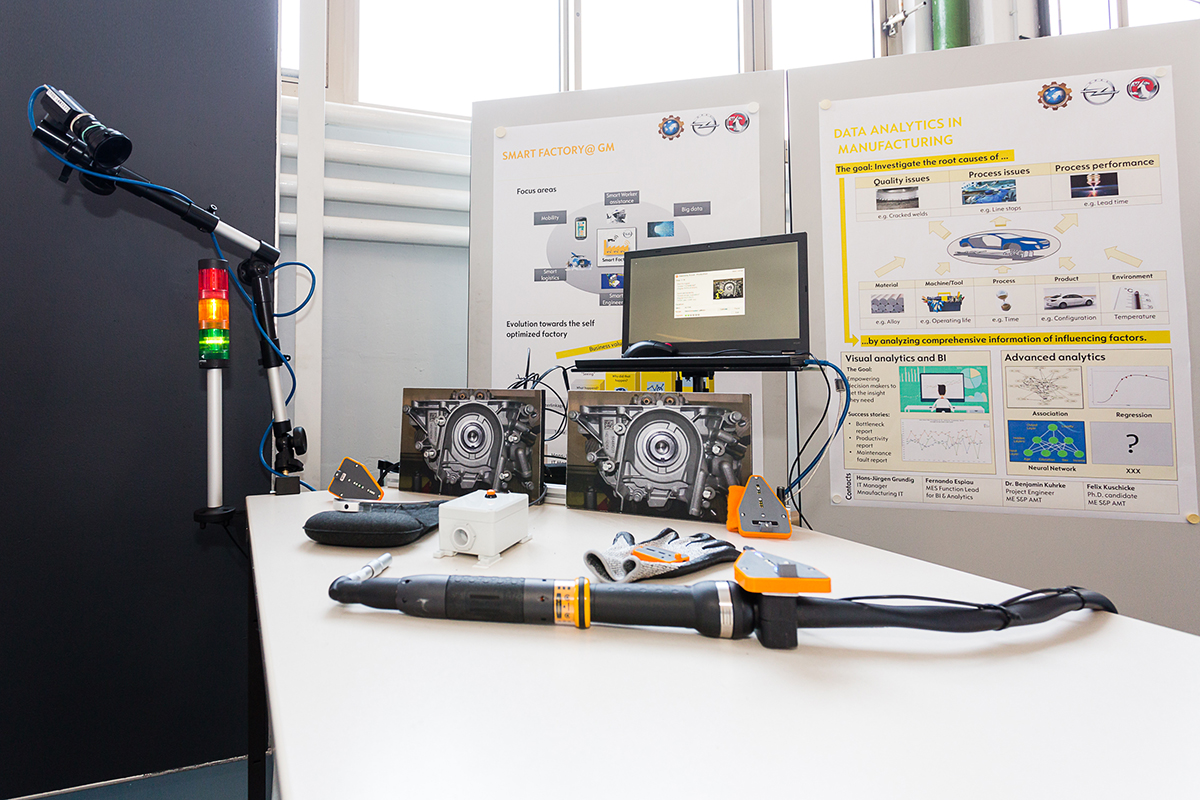 High-tech Tools
with Answers
---
"What's the next step? What is the correct procedure to carry it out? These are two questions employees in the Production division ask themselves time and again. They need clear and detailed answers to them – and that is where smart tools will be there to assist them. These electronic gadgets are portable, networked, fitted with an array of sensors, and work without cables.
Smart glasses are one example of this. Designed in the shape of sport sunglasses, they provide audio instructions as well as visual guidance on a heads-up display to staff picking orders in the logistics department and elsewhere. This includes information on when to reach for a specific part and what shelf they can find it on. Employees are also outfitted with an infrared motion tracker that alerts them when they mistakenly pick up the wrong part. Another high-tech tool (one currently undergoing testing in Kaiserslautern, Germany, where it is being used to bolt on oil pumps) can be programmed to perform a number of steps in a given order. These and other smart tools allow us to improve quality, streamline processes, and reduce the amount of paper we use."
---
Pressing Tool Engineering
Tweaked to Perfection
---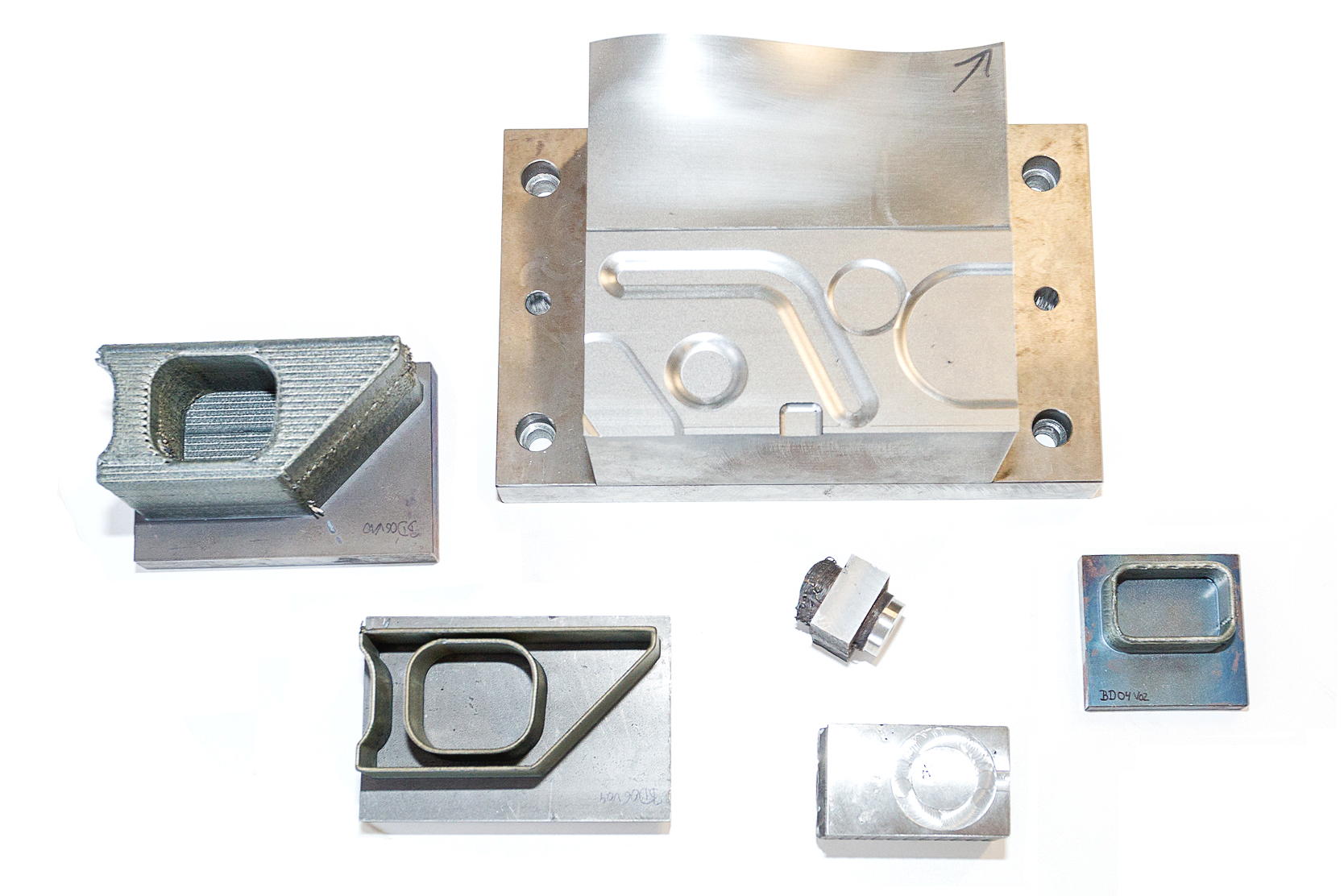 Scanning Helps
Deliver High-precision Press Tools
---
"The outer body must be free of blemishes. If it's not completely smooth, even the most minor imperfections will show up in the paintwork. That's why chassis construction is widely regarded as the most demanding field in the automotive sector. The tools used to stamp car bodies are subject to heavy wear. That's why these tools need to be designed and built to be long-lasting and deliver high-quality results in terms of the mass-produced parts.
A new method we are testing out now allows us to adjust the geometry of press tools with great speed and precision. It involves a robot-based, multifunctional system. In the first of two steps, one part of the press tool is scanned and measured. Next up, the system performs laser wire buildup welding and final machining (i.e., welding and milling) in a single step. That's where the true innovation lies."
---
Joining Technology
The Perfect Bond
---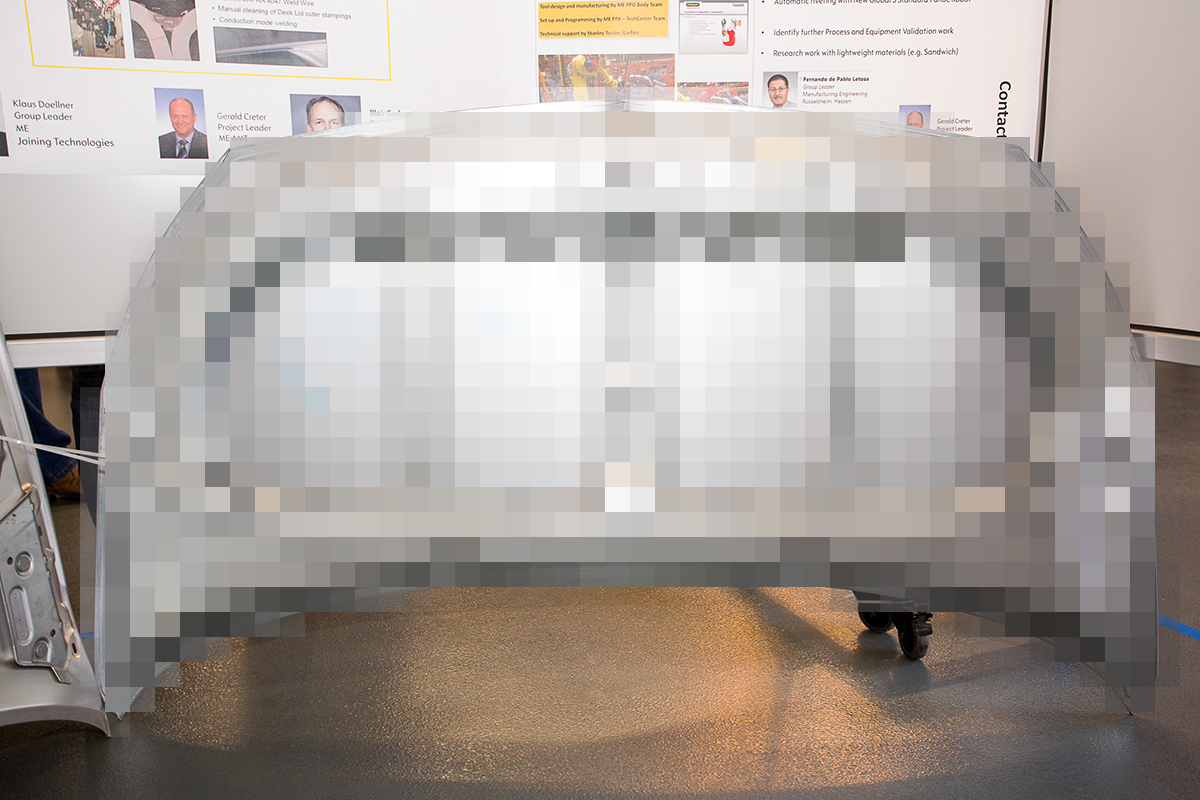 Aluminum and Steel
Joined in Perfect Harmony
---
"Lightweight construction is set to play an even larger role in future generations of vehicles. Being very strong and light, aluminum will be used more and more going forward. Once the decision has been made on what combination of materials will be used in a chassis, the next step, involving joining a non-traditional material with a traditional one (in this case, aluminum with steel), is where things start to get interesting.
Since a variety of materials is being used, traditional welding techniques are not an option. Our joining specialists instead opt for an ultra-efficient method: self-pierce riveting. It basically works as follows: A self-pierce rivet is punched through the top sheet of material and flares within the bottom layer to create an incredibly strong bond between the materials. This is all done without pre-drilled holes, which has many practical advantages in the assembly process. And if you were wondering why the photo is pixelated, there's a good reason for this: The hood being used to demonstrate the technique belongs to a future model."
---
Product Development
Auto(mating)

---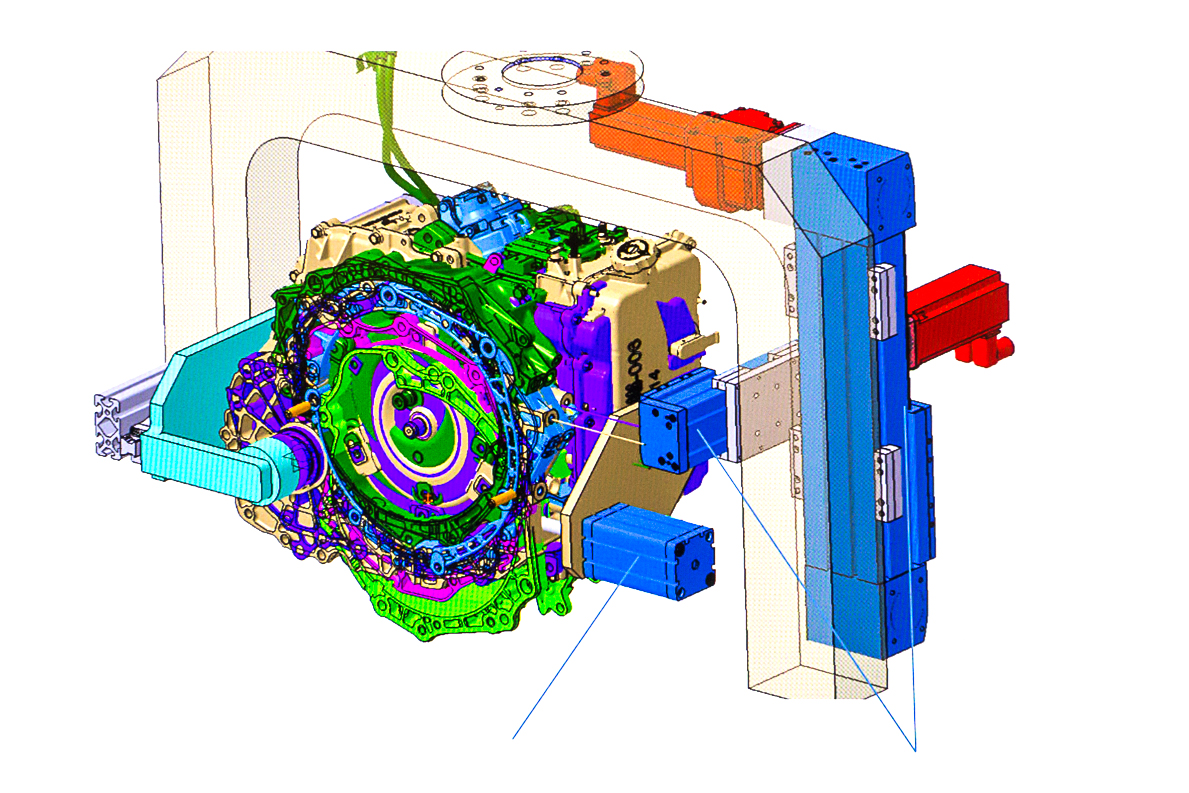 Robots that Mate
Transmissions to Engines
---
"Automakers use the term 'mate' when describing the process of installing the transmission and engine in the chassis on the assembly line. But before this can take place, the transmission and engine first have to be mated. Up to now, this was done by hand. An employee would move the transmission, suspended on a balancer, into the correct position where the bolts could be inserted. The tricky part involved aligning the gear teeth of the gearbox intake shaft with those on the engine so that they meshed. In most cases, it was necessary to rotate the transmission a few degrees before mating it to the engine.
We are looking to automate this task and have a robot take charge. With its flexible arm, it will be able to pick up and hold any of the many versions of a transmission on the assembly line. Data supplied by a laser scanning system, which is equipped with a 3D camera, is used to guide the robot into place. In the final step, the two parts are bolted together automatically."
---
Powertrain Assembly
Carrying Its Weight

---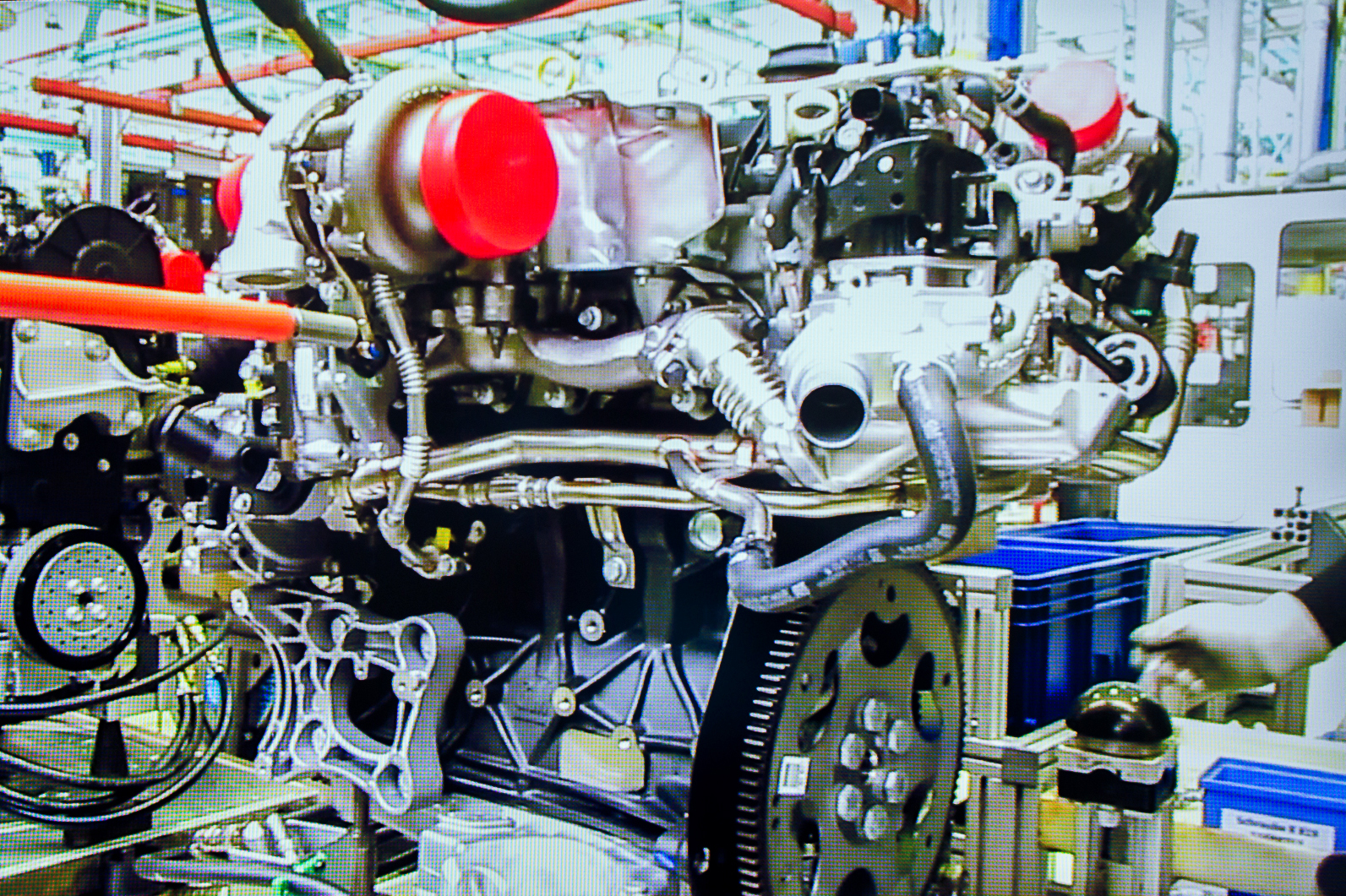 Teaming Up with Robots
to Install Turbochargers
---
"Diesel engines used to have a reputation for being economical though somewhat sluggish. This has all changed thanks in no small part to the use of turbochargers to condense the combustion air that is drawn into the engine. Installing turbochargers is considered to be tricky and difficult. This is set to change and become more efficient and ergonomic for employees, as they will soon be teaming up with robots to complete the task. The results from the first series of tests as part of an E.U. research project have shown this to be the case.
The latter perform tasks, such as lifting up the housing for the turbocharger and bolting it in place, that are ergonomically difficult for humans to carry out. The two employees, on the other hand, will take on tasks requiring a finer touch that come up in the assembly process, like placing nuts on bolts. The workstations are cleverly designed so that no one gets in each other's way, helping to ensure workplace safety."
---
Energy
An Eye on Conservation

---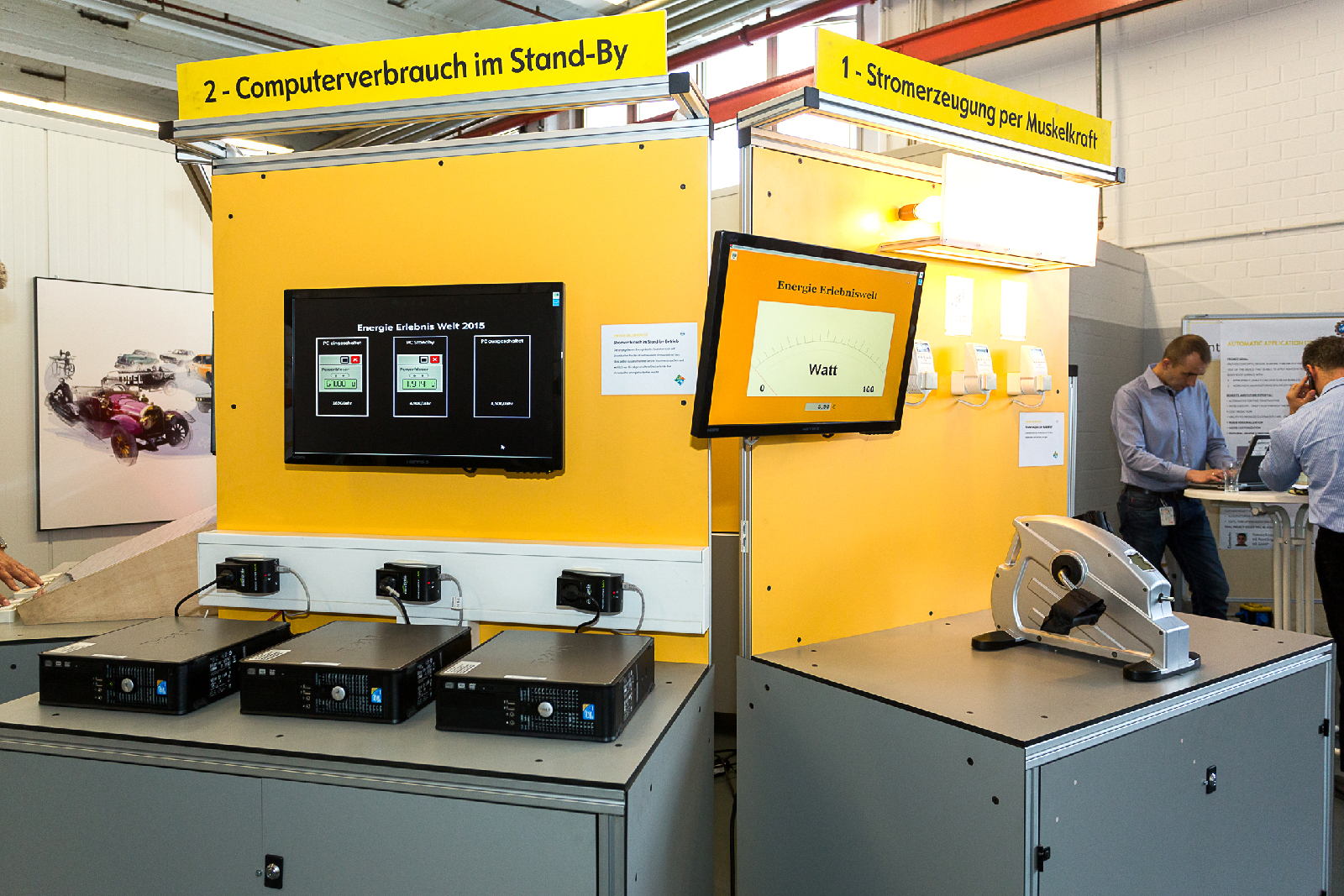 Goal of Reducing Energy
Consumption Day by Day
---
"What are the costs associated with leaks in compressor systems across the company over the course of a year? How much energy can be saved by shutting down a computer at the end of the day versus leaving it on? And what is a kilowatt hour expressed in terms of human power? These are all questions that employees do not consider on a daily basis. And that's perfectly fine. What they really should be focusing their full attention on is their work.
That being said, it is up to us to raise our employees' awareness of environmental conservation, in order to support sustainability as well as the company's bottom line. Energy has traditionally played a major role at carmakers such as Opel. Our goal is to lower energy consumption by 20 percent by 2020 over 2010 values. We are supporting this effort with a number of campaigns and programs."
Last update July 2016