Range is always an issue when it comes to electric mobility. However, there is more to it than "How far can I get on one battery charge?", says Thomas Schlüter. Especially for the upcoming summer holiday season, the Opel Program Engineering Manager is more concerned with the question: "How do I plan a long drive with the most optimal charging stops – and stay relaxed on the road in the process?"
So he started an experiment with his Opel Mokka-e: a round trip through Hesse, Thuringia, Saxony and Bavaria, via the A5, A4, A9 and A3 motorways. In ten hours he managed 806 kilometres with seven charging stops. We asked him for his tips for all those who would like to go on an electrified holiday trip soon.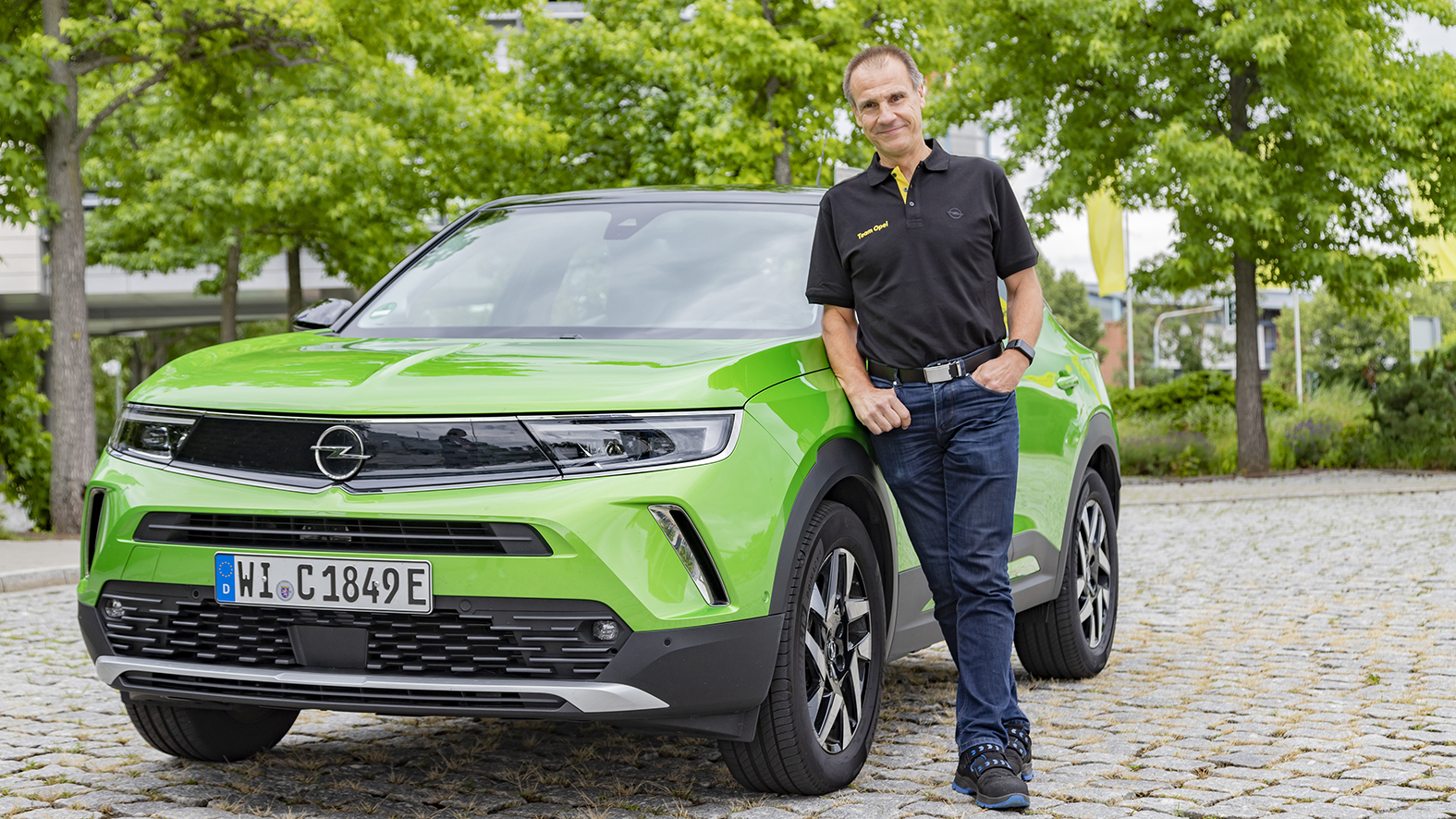 By now a man of conviction: As a self-confessed high-speed driver, Thomas Schlüter was not sure whether he would feel comfortable in the Mokka-e. "The constant torque of 260 Newton metres is addictive," is his conclusion after three months.
Tip 1
Planning pays off
"The myOpel app on my smartphone always informs me in good time when I should head for the next charging station. But before a long journey, it's a good idea to plan the individual stages a little in advance at home: after how many kilometres will I reach which charging station – and how busy are they? Having this information makes it much easier to stay relaxed while on the road. Some people are still familiar with this approach from the days when there were no navigation devices."
Tip 2
Choose the right app
"Charging card apps are now a dime a dozen. But some don't even show certain charging stations, some show even those where I can't charge my Mokka-e, some don't differentiate between 'expensive' and 'lower priced', some apparently deliberately conceal the prices. My best experience has been with the myOpel app, but also with the EnBW mobility+ app. I can easily identify the next free charging station where the kilowatt hour costs 29 cents (11 kW) or 39 cents (100 kW). This way, e-mobility remains affordable."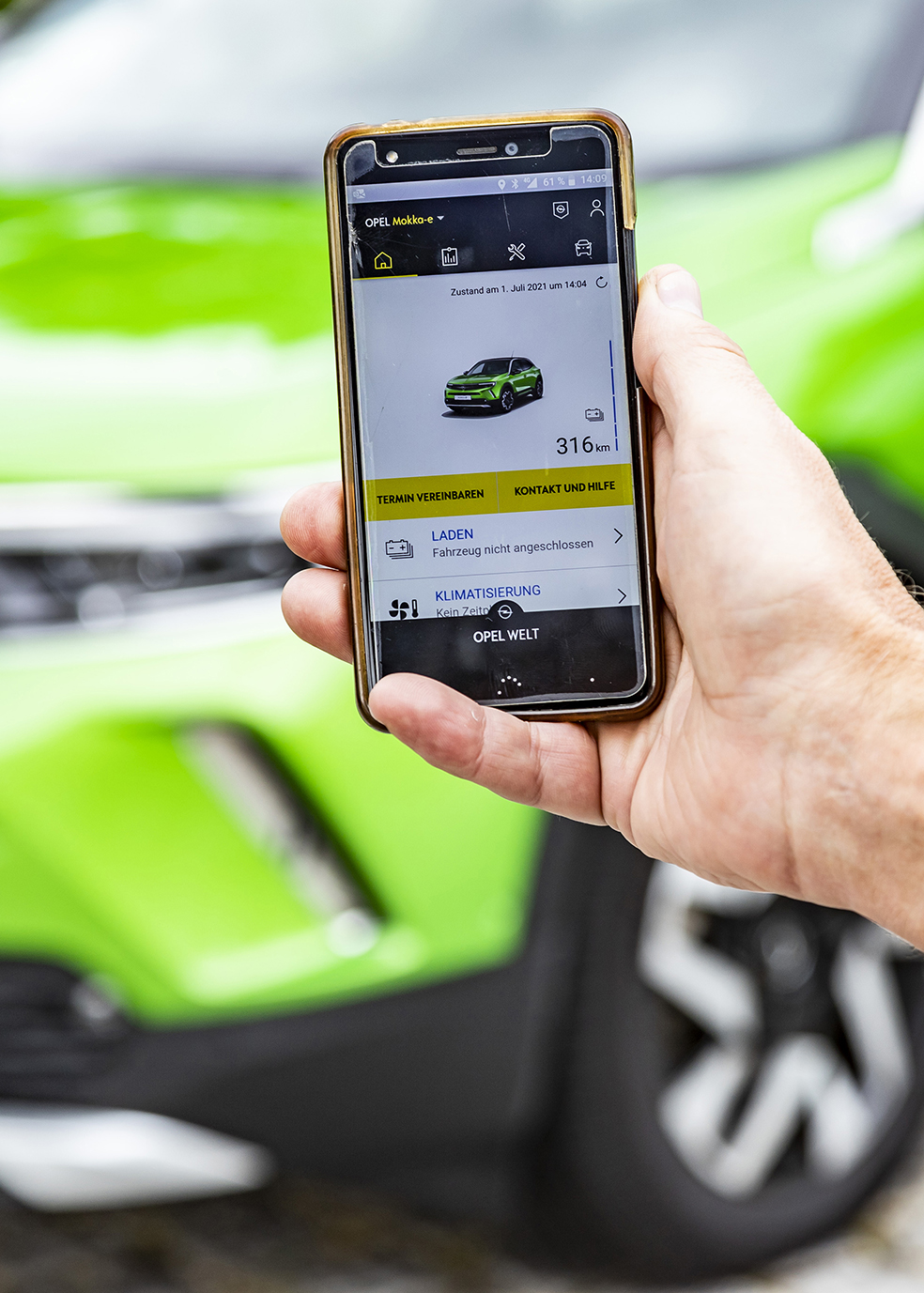 The myOpel app provides information on charging status and range.
Tip 3
The optimal charging window
"Of course, the trip starts with a fully charged battery. This means that the first 180 kilometres are covered in the Mokka-e, and in Eco mode – depending on the average speed – even 321 kilometres are possible. The most important basic assumption, which was confirmed by my test drive: the right time to recharge is crucial. Word has got around that the battery charges slower the fuller it gets, and that it is not advisable to fully charge on the road. In my experience, the best effect is achieved in this window: drive to the charging stations at 15 per cent remaining capacity and charge the battery to 56 per cent. This takes about 15 minutes. This quarter of an hour provides a range of 100 kilometres at 120 km/h cruise control. In my experience, this is the most effective combination of time and range.
A longer lunch break can be used to charge the Mokka-e's 50 kWh lithium-ion battery to 80 per cent at a minimum 100 kW DC charging station. But a leisurely lunch would have to wait. Because it takes just 30 minutes to do so. For the longer stops, a single-phase on-board charger with charging power of 7.4 kW is fitted as standard or a three-phase on-board charger with charging power of 11 kW is optional."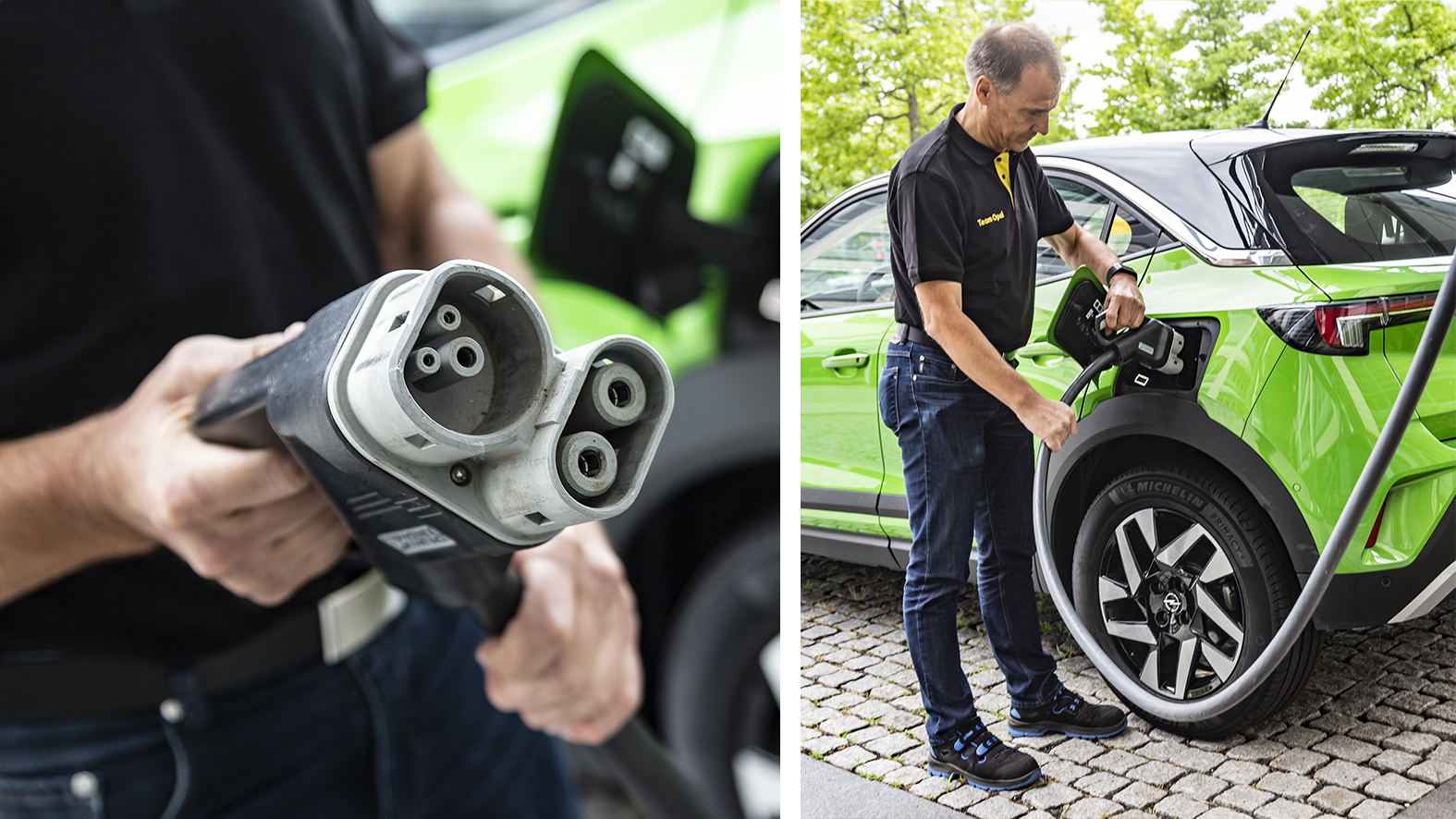 Powerful on-board charger: In addition to DC charging, a single-phase on-board charger with charging power of 7.4 kW is fitted as standard in the Mokka-e. The battery is charged to 80 per cent within half an hour at the 100 kW DC charging point.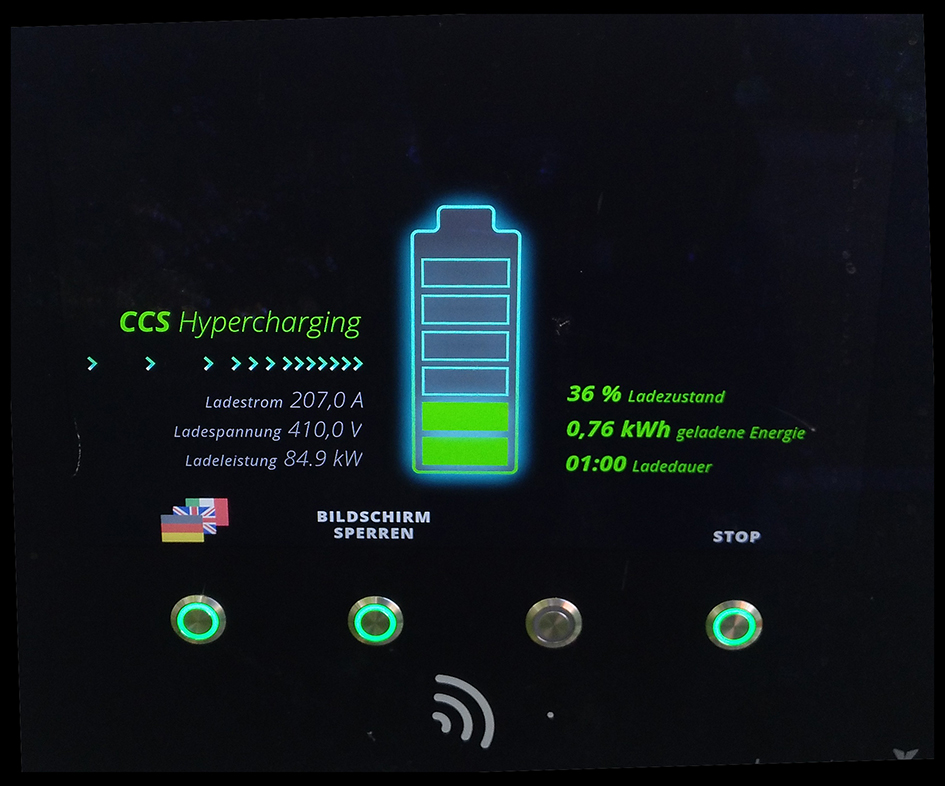 From 15 to 56 per cent: In this window, the Mokka-e can be charged particularly effectively within 15 minutes for a further 100 to 180 kilometres.
"Out of those 15 minutes you can get 100 kilometres of range at 120 km/h."
Tip 4
120 km/h is the ideal speed for long stretches
"I am a self-confessed high-speed driver. There were more than a few colleagues who predicted that I would not feel comfortable in the Mokka-e. After all, 150 km/h top speed is the end of the line. But the opposite has happened: the constant torque of 260 Newton metres is addictive, the driving fun is immense! Even if the top speed is lower: when other drivers in the rear-view mirror become smaller and smaller during acceleration, this is at least on a par. My preferred cruising speed has settled in at 120 km/h. This uses between 22 and 25 kWh – depending on whether it's more uphill or downhill. At 120 km/h, I reach my destination quickly and economically. And there's no shortage of driving fun."
Tip 5
Maximum relaxation
"All those who have not yet experienced it: you get to your destination very relaxed in the Mokka-e. It silences the hustle and bustle of everyday life. No engine noise, plus the interior is acoustically isolated. You can let your mind wander and listen to your favourite songs. Driving mode B – in which I like to drive – also contributes to a very pleasant and relaxed drive: when you take your foot off the accelerator, the braking system converts the kinetic power into additional energy reserves. The need to brake is minimised, which in turn reduces maintenance and operating costs."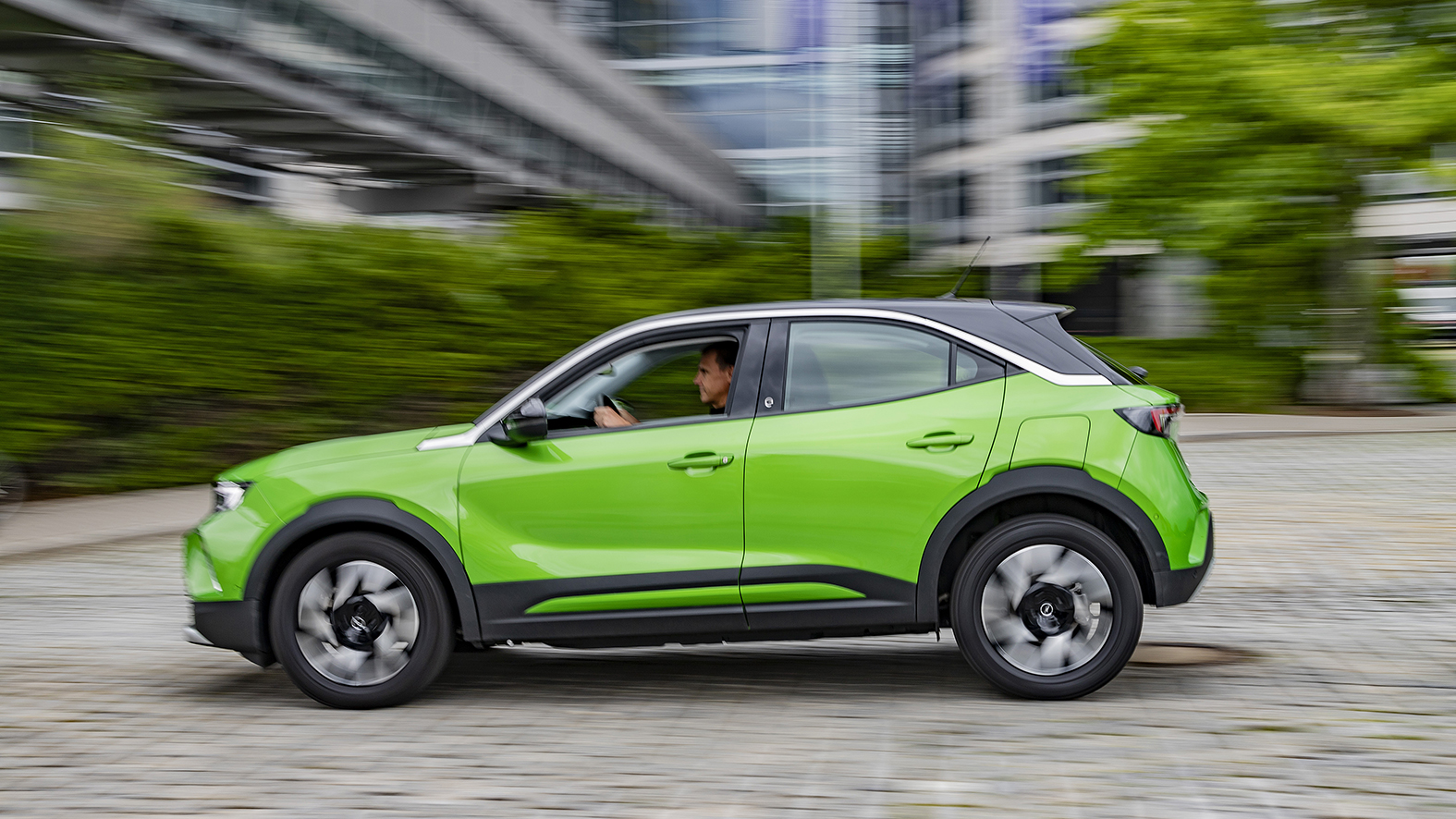 Impressive drive: The 260 Newton metres available at all times ensure driving fun.
---
July 2021