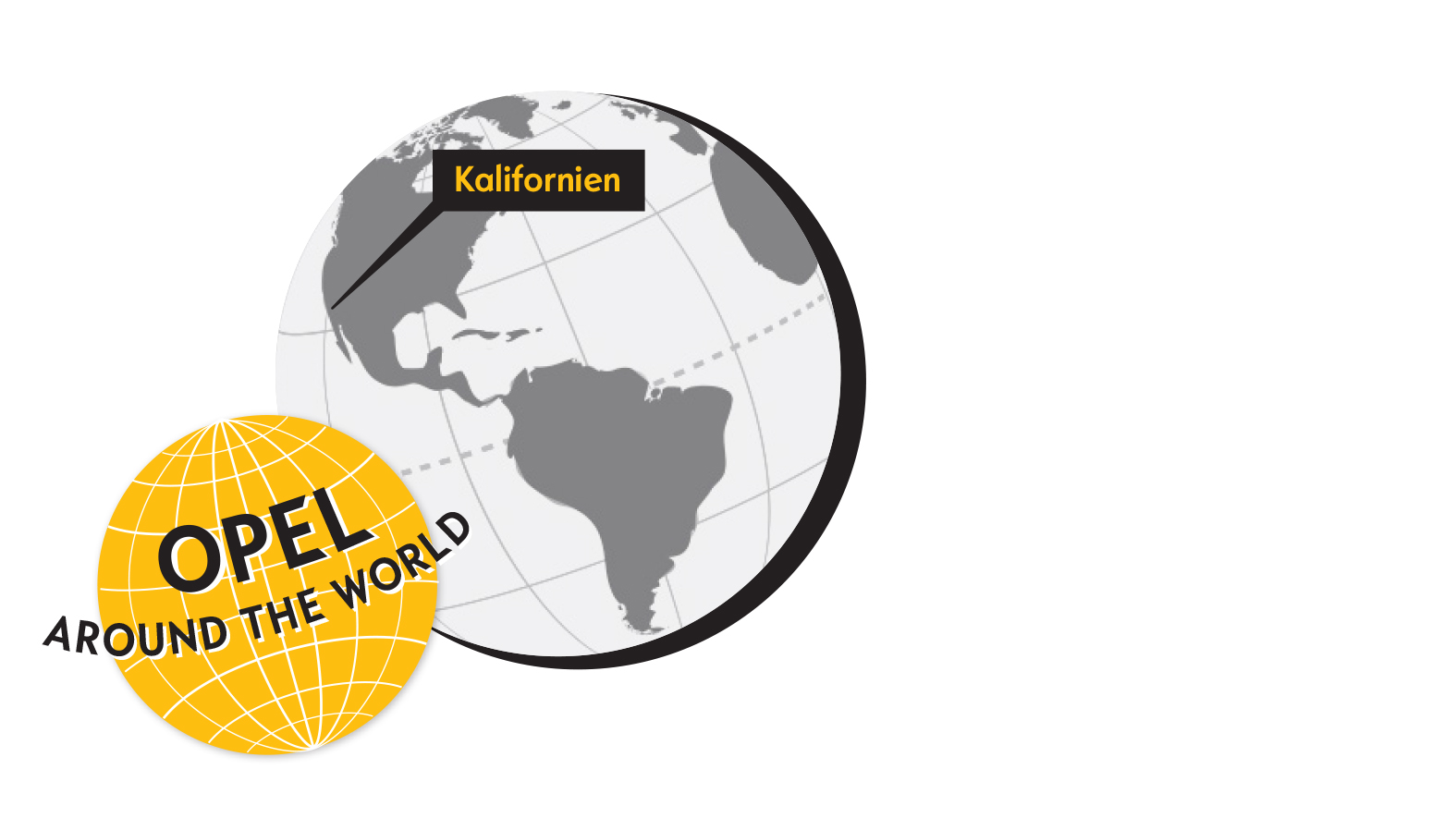 Gil Wesson knew what car he was going to buy when he grew up. Even though he was nine years old, his first encounter with an Opel GT left a lasting impression, so much so that he created a business out of his newly-found passion – and owned many GTs over the years. "I saw the car and thought it was the coolest thing ever. In 1978, when I turned 16, I bought my first Opel GT, a 1973 flame red car with 53,000 miles (85,000 km) on the clock," Gil says. "It was the first manual I had ever driven – and I loved it. It was so easy to drive." Gil's passion for the Opel GT is evident when he speaks: "The shape was awesome and the inside looked like the cockpit of a plane – it was very modern.
"Then I opened the hood and was a bit disappointed, to be honest," he says, laughing. "I was used to big V8s, so the four-cylinder 1,900 cc engine looked small. However, two out of three wasn't bad and I paid $3,500 for it. I loved it."
a brief Intermezzo with a Camaro
While all his friends at high school had American muscle cars, Gil drove his little Opel GT with pride. However, his peers' derision at what they perceived as his lack of knowledge about cars – which stemmed from his choice of vehicle – led him to sell the GT and buy a 1970 Chevrolet Camaro, which he fitted with a L-88 Corvette engine and raced all his gloating friends. He won every time. Six months later, his mind was still firmly set on GTs and he purchased his second Opel GT – he has never looked back since.
part of the opel familiy
Gil, from Tuolumne, California, is one of thousands of fans in the USA. Opel sold cars in the States from 1958 to 1975 before leaving the continent. Today, Gil says people are left in awe when an Opel passes by: "The number of thumbs up I get from passing cars, or people snapping photos with their smart devices is incredible. I also stopped using my Opel GT to go to restaurants because often times people come up to me and want to chat about the car – and I end up eating cold food."
Gil has made the trip from California to Rüsselsheim so often that he has become part of the Opel family. He has been visiting various classic car meetings in Europe since 1987. His trips here also give him the chance to track down rare classic Opel parts, a hobby which he has now turned into a business.
Turning a problem into an opportunity
His knack for fixing and repairing cars – the result of his profession as an electronics engineer – saw him spend more money and time working on his growing fleet of Opels. "After 1980, you couldn't get Opel parts from Buick dealers any longer. I knew where to get them from, and I also knew how to make parts that were no longer available. It was costing me a great deal of money and my wife remarked that I would be better off making a business out of it – so I did," Gil says, the smile on his face saying more than any words could. That's how Opel GT Source was born.
This seemingly unimportant comment has resulted in Gil becoming a household name among Opel enthusiasts around the world. His 15,000 clients are based in the US, Canada, Japan, Taiwan and further afield. His client base is not restricted to Opel GT owners – there are Mantas, Asconas, Kadettes, Rekords and Commodores.
 a tribute to famed Italian tuner Virgilio Conrero
What do you get if you mix a car fanatic with a standard Opel GT? A replica Opel GT Conrero. That's exactly what Gil did – in just 12 weeks – as a tribute to the famed Italian tuner Virgilio Conrero who tuned Alfas and subsequently Opels in the 1950s and 1960s.  The car is identical to the original in all aspects. In 2013, Gil brought the car down to Rüsselsheim to show it to Erhard Schnell who was the Opel GT chief designer.
Gil Wesson and friends
Four-star General
Retired four-star General Donald Kutyna, an Opel GT owner, is one of Gil's clients-cum-friend. He is probably best known for his role in the Rogers Commission investigation into the Space Shuttle Challenger disaster. During the proceedings, he befriended physicist Richard Feynman. After dinner one evening, Gen. Kutyna told Prof. Feynman about how, while working on the Solex carburetor of his car, he discovered that some seals disintegrated in low temperatures, suggesting that the Challenger might have suffered the same failure. This inspired Prof. Feynman to reveal the weakness of the O-rings on the Challenger, which caused the disaster. The car Gen. Kutyna had been working on was his white Opel GT.
The actor
Joe Mantegna, aka David Rossi, is a genius in catching criminals, but his choice of car color may leave a bit to be desired. Mantegna, who plays Rossi in the hit TV series Criminal Minds, bought a red Opel GT while studying acting in Chicago. Gil says Mantegna decided to change the color to black. "I tried to dissuade him, telling Mantegna he wouldn't like it. It's too hot in Southern California without A/C," Gil adds. "Well, all I can say is that in 2011, he re-sprayed the car white." Does he still have the car, we ask? "Most certainly," Gil replies.
Opel Around the World
The series is aimed at raising awareness of Opel's presence in countries and territories outside Europe. It is a lighthearted look into how the brand affects people's lives and the passion around the badge, be it from customers, dealers, employees, or people interested in Opel. Would you like to be featured on the series? Do you have a good story to tell? Contact us on opel.post@de.opel.com – we look forward to hearing from you.