---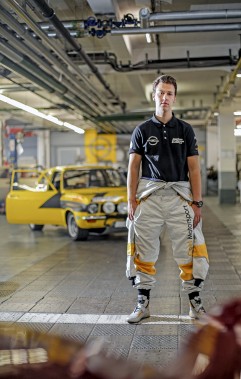 ---
↑ "Well, if your main goal is to be really fast, then that's going to look quite spectacular at times."
Emil, what was the starting point of your career in motor sports?
Well, the first time I drove a car was when I was five years old – my dad showed me the basics in our back yard at home. Naturally, I wasn't doing any controlled drifting back then, but apparently I did make a bit of gravel fly! Soon after, I started out in motocross racing; for the next ten years, I took part in lots of junior competitions. But as you know, motorbikes can be quite dangerous – there's no crumple zone at all. That's why two days after my 16th birthday, I switched to rallye racing. In Sweden, that's the minimum age for participating in rallies.
When was it that you decided that rallying was the thing for you?
That was quite a bit earlier, actually. Like I mentioned already, my dad taught me a lot about cars and racing, and he used to drive a lot of local rallies himself. I was always there in the service car watching him – amazing what you can do with a car. The sheer speed and precision simply blew me away.
With your Opel ADAM R2, you were on course for the championships very quickly. What do you like the most about this model? What is it that makes the ADAM's racing version special?
Yes – my co-pilot Joakim Sjöberg and I already won the European Championship before it had even finished. That's something that we and the team are incredibly proud of. I found out very quickly what an amazing vehicle I was maneuvering there. The ADAM R2 is a very tidy design that's based on quality, and it's a dream to drive. It's the perfect stock car really. Of course, the engine and its performance count for a lot, too; it really helped having an additional 10 hp for this season. That kind of boost is only possible if there's an excellent base to build on and if you have a well-functioning development team. Our car ran like clockwork – in my opinion, the ADAM R2 really is the top vehicle in its class right now.
---
Emil Bergkvist
| | |
| --- | --- |
| Location: |   Torsåker /Sweden |
| Date of birth: |   17 June 1994 |
| Place of birth: |   Gävle/Sweden |
| Height: |   1.80 m |
| Job: |  Construction work, freelancer |
| Personal status: |   Single |
| Hobbies: | Rallye racing, fitness, downhill slalom |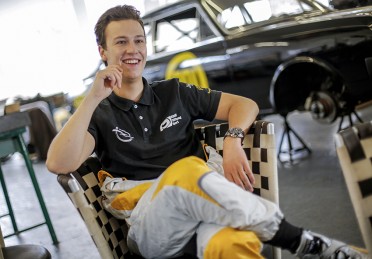 ---
sporting carrer milestones
1998: First motocross riding attempts
2010: Participation in various junior-class rallies (20 wins)
2012: Advances from Grade C to Grade A driver in Sweden (unbeaten)
2013: Advances to the Junior Team of the Swedish Automobile Sports Federation; overall victory in the VOC Sweden rallye; two R2 class victories in the Swedish Rallye Championship
2014: Champion in the ADAC Opel Rallye Cup; advances to the ADAC Opel Rallye Junior Team; runner-up in the Swedish Rally Sprint championship; Junior Rallye Driver of the Year in Sweden
2015: FIA Junior ECR in the ADAC Opel Rallye Junior Team with the Opel ADAM R2
www.youtube.com/watch?v=Pz5H1NtW16s
↑  Best of 2015 with Emil Bergkvist and Marijan Griebel.
---
 "
Colin McRae
ERC Flat Out Trophy"
This trophy is in honor of the Scotsman Colin McRae, who in 1995 made rallying history as the sport's youngest world champion at the age of 27. McRae had a reputation for being an unrelenting attacker behind the wheel and for not shying away from tricky and dangerous situations. McRae brought home an impressive 25 wins over a total of 141 World Rally Championship races. In 2007, McRae died in a helicopter crash.
Opel ADAM R2
The ADAC Opel Rallye Junior Team stormed straight to the top of the European Junior Championship (FIA ERC Junior) with its Opel ADAM R2 in its very first full season. One race before the season had even finished, Emil Bergkvist and his co-pilot Joakim Sjöberg had already secured the title in the sought after Junior Rallye category. A second Opel-sponsored driver, Marijan Griebel and his co-pilot Stefan Clemens, were expected to win the runner-up title right up until the end of the last race of the season. If it had not been for a damaged tire, a double victory would have been certain. As it was, Marijan Griebel won third place in the FIA ERC Junior. Opel Motorsport Director Jörg Schrott has nothing but praise for the team:
"I just can't say enough good things about how well our drivers did throughout the entire season. Naturally, we're also extremely pleased with the ADAM R2, which really proved it is a winner in just about any situation."
— Jörg Schrott —
Opel Motorsport Director
---
The sponsored drivers completed an international racing program comprising the entire European Junior Championship (FIA ERC Junior) as well as joining the World Championship leg in Germany at ADAC Rallye Deutschland.
How did the last race go for you, the Barum Rallye in the Czech Republic?
It certainly was exciting! We had the opportunity to help Marijan and Stefan (Marijan Griebel and Stefan Clemens – ed.) reach the runner-up spot; they were also driving an ADAM R2. We did everything we could to support them. Unfortunately, one of their tires gave out ten kilometers before the finish line, and after that, they just couldn't attack properly anymore. Of course, we just kept driving the best we could – after all, we were there to entertain, too.
And you were awarded for your efforts as well; after the Barum Rally, you received the Colin McRae ERC Flat Out Trophy. That's only ever given to drivers who are particularly spectacular or engaging. Is that how you would describe your driving style?
Well, if your main goal is to be really fast, then that's going to look quite spectacular at times. I really know this car inside out, and I gave my very best at the Barum Rallye – just like at any other race. It's a strategy that seems to work out for me, and I'm certainly very happy to have received that trophy.
---
---
How and where do you train? Surely you can't be practicing your stunning drifts on public roads.
No, you're right, we're not allowed to train on public roads. But Opel made sure to provide us with excellent training tracks for all of the European Championship races, even those that didn't actually count towards the championship. That's a big reason why we were so successful. I also have a personal trainer back home in Sweden so I stay fit. Most motor racing fans probably aren't that aware of the stresses that a driver and co-pilot are subjected to in a special stage. After those two races – Rallye Deutschland and the Barum Rallye – I'd lost 5 kgs in body weight. In part, this was due to the high temperatures, often more than 30 degrees Celsius. Plus there's no air conditioning in the ADAM R2. There's also a lot of actual physical stress to be dealing with.
For how much longer will you be taking part in the Junior Championship?
I can't really tell at this stage. But in any case, I'm incredibly grateful to everyone here at Opel who has helped us get where we are today. The whole team really has given their very best. It's only when everybody works together so well that it's possible to win such a hotly contested title as the European Junior Championship.
Who are your role models?
There's one that towers over the rest for me – Colin McRae, he always went for the maximum. That's my approach, too. McRae also mastered the fine art of staying consistent throughout a long series of races. That's the only way you'll ever win the title.
Rallye legend Rauno Aaltonen once said: "If the tree is looking too big, you're getting too close." Have you ever gotten too close to the tree?
Oh yes, I sure have – and far too many times at that. I don't know if you've watched any of my races on YouTube, but there was this one rally in Ireland with some really close shaves. Not just trees, but also stone walls, bridge guard rails, you name it. Just the same as on any other regular road, but here it was all a lot bigger and closer. The only thing you can truly rely on at a rally is that there's no traffic coming the other way. Aside from that, you've got to be prepared for pretty much anything. It's always about finding the right compromise between speed and making it through unscathed. Because once you've damaged your car, your chances of making it through the next special stage are quite a lot lower.
Last updated September 2015