Many day trips promoted as coffee tours don't exactly have the best reputation. Not surprising, as they are often excursions that end up as sales events. Lukewarm thermos coffee lulls the passengers into buying things that later end up in the attic. But there is a much better approach to this. Our coffee trip begins at the wheel of the Opel Mokka, which owes its name to the delicious mocha coffee (Mokka in German) – ideal casting! Leipzig as our destination is also a perfect match.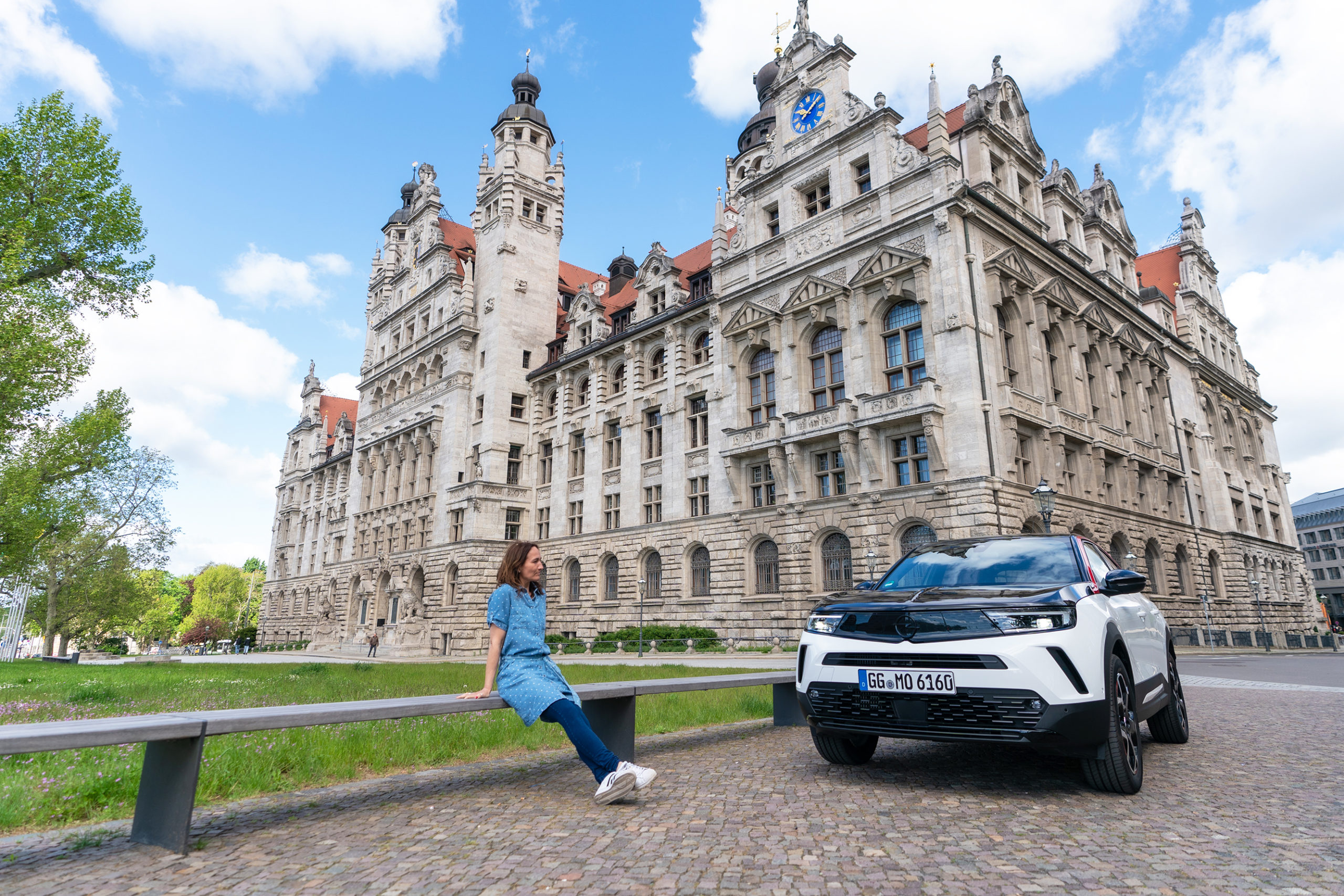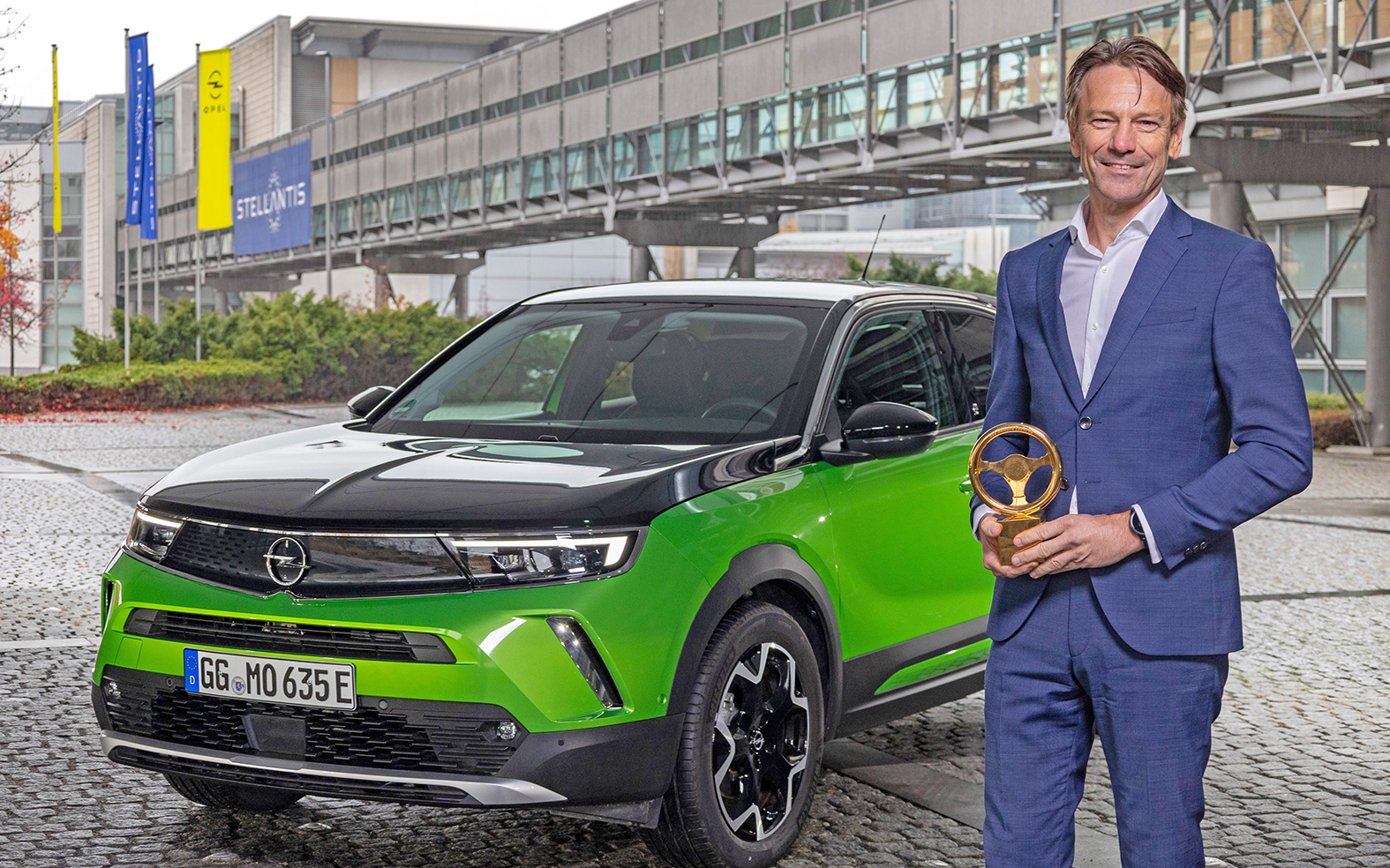 ---
Pure, bold –
and award-winning
The new Opel Mokka-e convinces with its handling and style and has won the "Golden Steering Wheel 2021", defeating strong competition and claiming one of the most prestigious prizes in the automotive industry as "Best Car under €25,000". After the Ampera-e in 2017 and the Corsa-e in 2020, the Mokka-e is now the third electric model from Opel to take the coveted title. "Our Opel Mokka-e is everything but ordinary. We are very pleased that our customers, the readers of AUTO BILD and BILD am SONNTAG, the expert jury and the editorial team see it the same way," said Opel CEO Uwe Hochgeschurtz at the award ceremony in Berlin's Axel Springer Haus.
---
The art of good coffee
The Saxon metropolis lies on an old trade route – and became large and prosperous through the trading of goods. That's why good coffee has been appreciated here for centuries. Today, almost a dozen coffee roasters have set up shop in the city to extract the aromas from beans that come from all corners of the world.

Every coffee bean consists of around 350,000 cells in which complex chemical reactions take place when heated (during roasting), so that an estimated 1,000 aromas are formed in each individual cell of a coffee bean. This puts coffee way out in front in terms of the number of possible flavours, with more aromatic substances than wine, for example.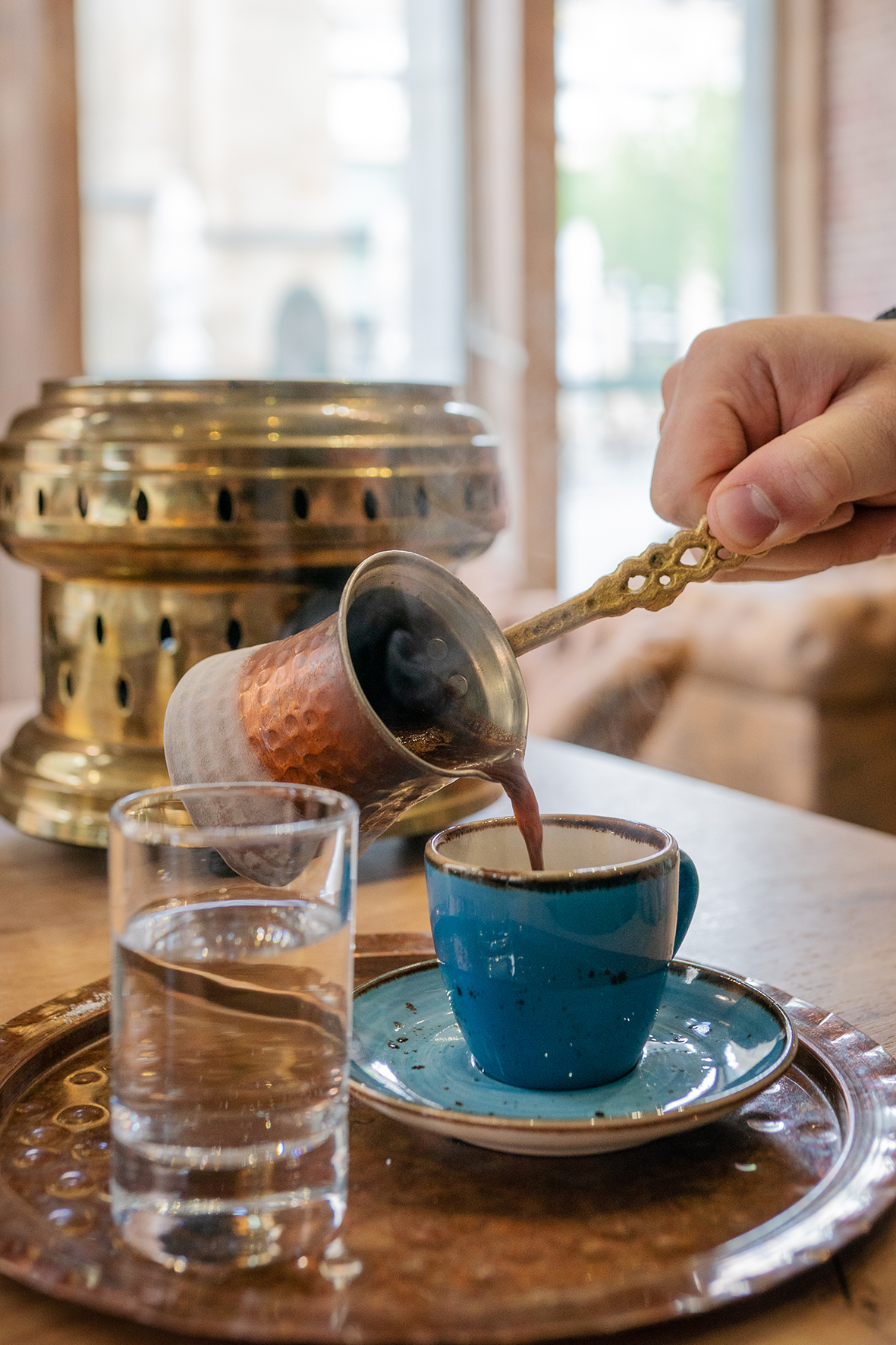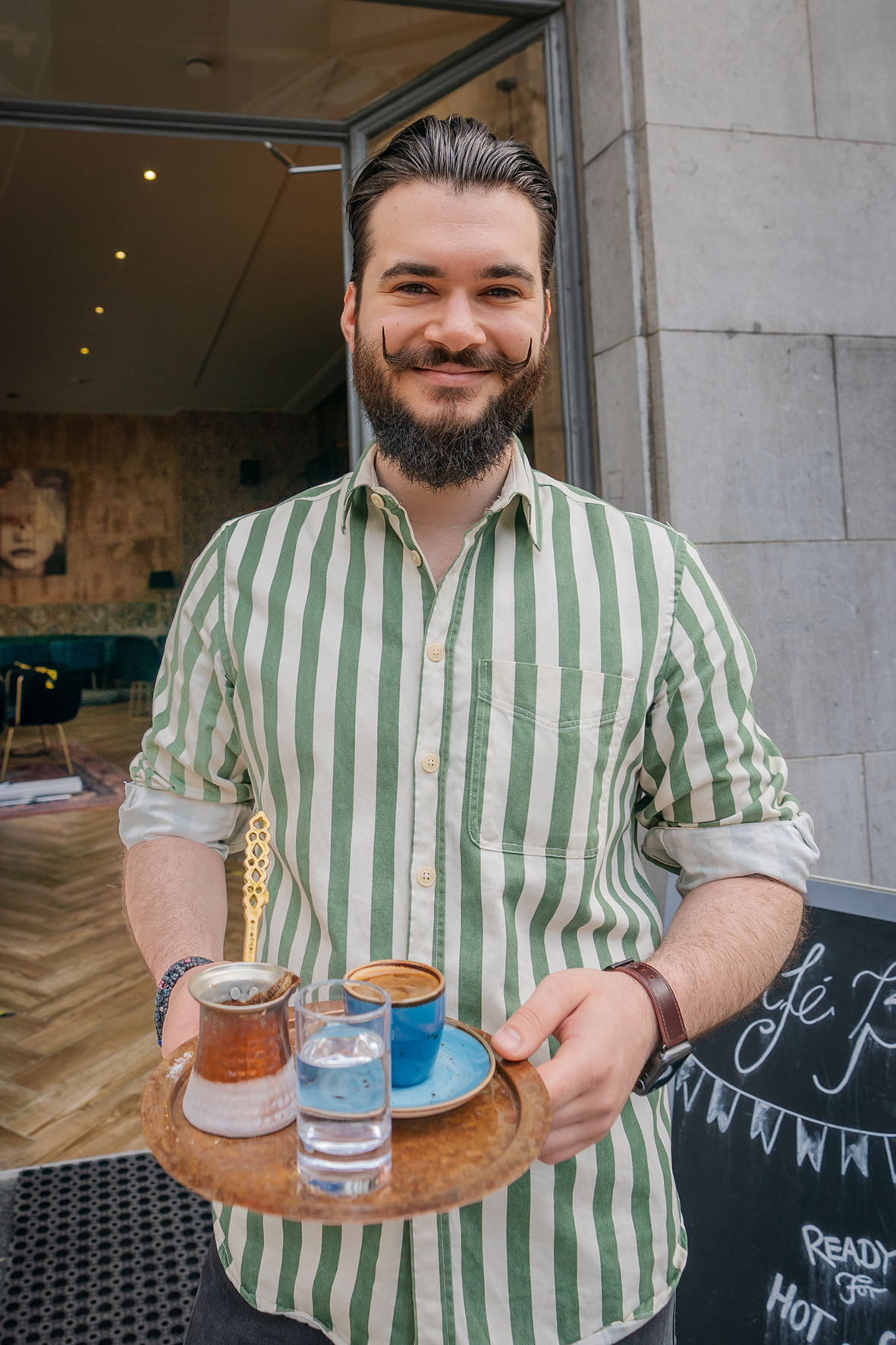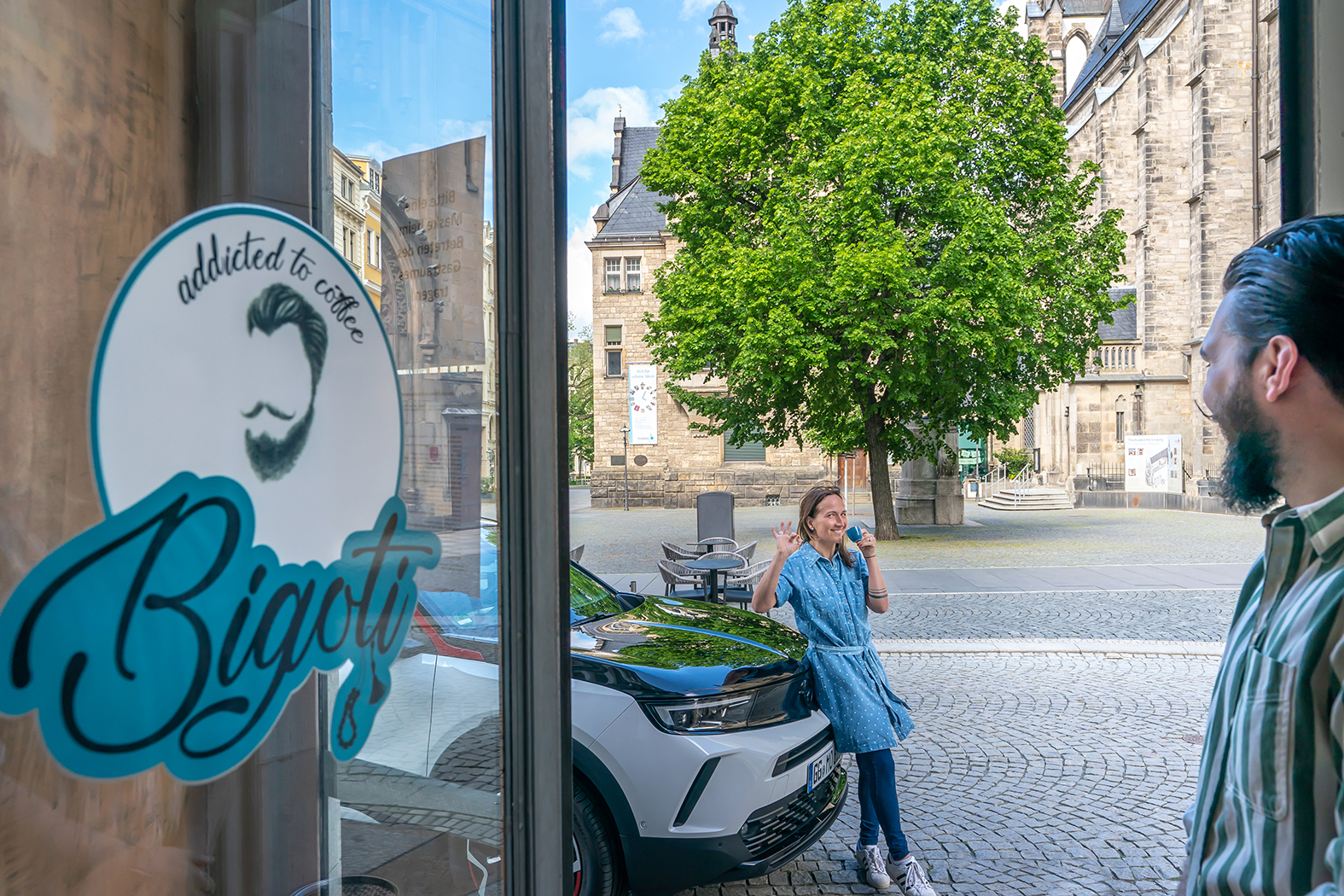 First stop: St. Thomas Church. Under the gaze of Johann Sebastian Bach, we park the Mokka and are immediately welcomed by Nikolaos Kostakopoulos, who runs Café Bigoti pposite the famous church. It's a beautiful corner shop with large windows and modern furnishings. Nikolaos is pleased that we like it here. The 27-year-old grew up in Greece. A gastro kid, as he says. He studied in Leipzig – and missed a good café. One that serves traditional mocha. Which brings us directly to the subject.
The aim of this coffee tour is to discover the secret of a good mocha. In other words, how do you achieve the perfect flavour synthesis with coffee beans? Nikolaos grins from under his twirled moustache. Then he gets started and demonstrates his technique: he heats fine sand in a special pan and nestles a small pot in it. Then he puts finely ground coffee into the pot and fills it up with water. Ten minutes later, the mocha is ready. The traditional way. Nice and strong, without being bitter.
The aim of this coffee tour is to discover the secret of a good mocha (Mokka).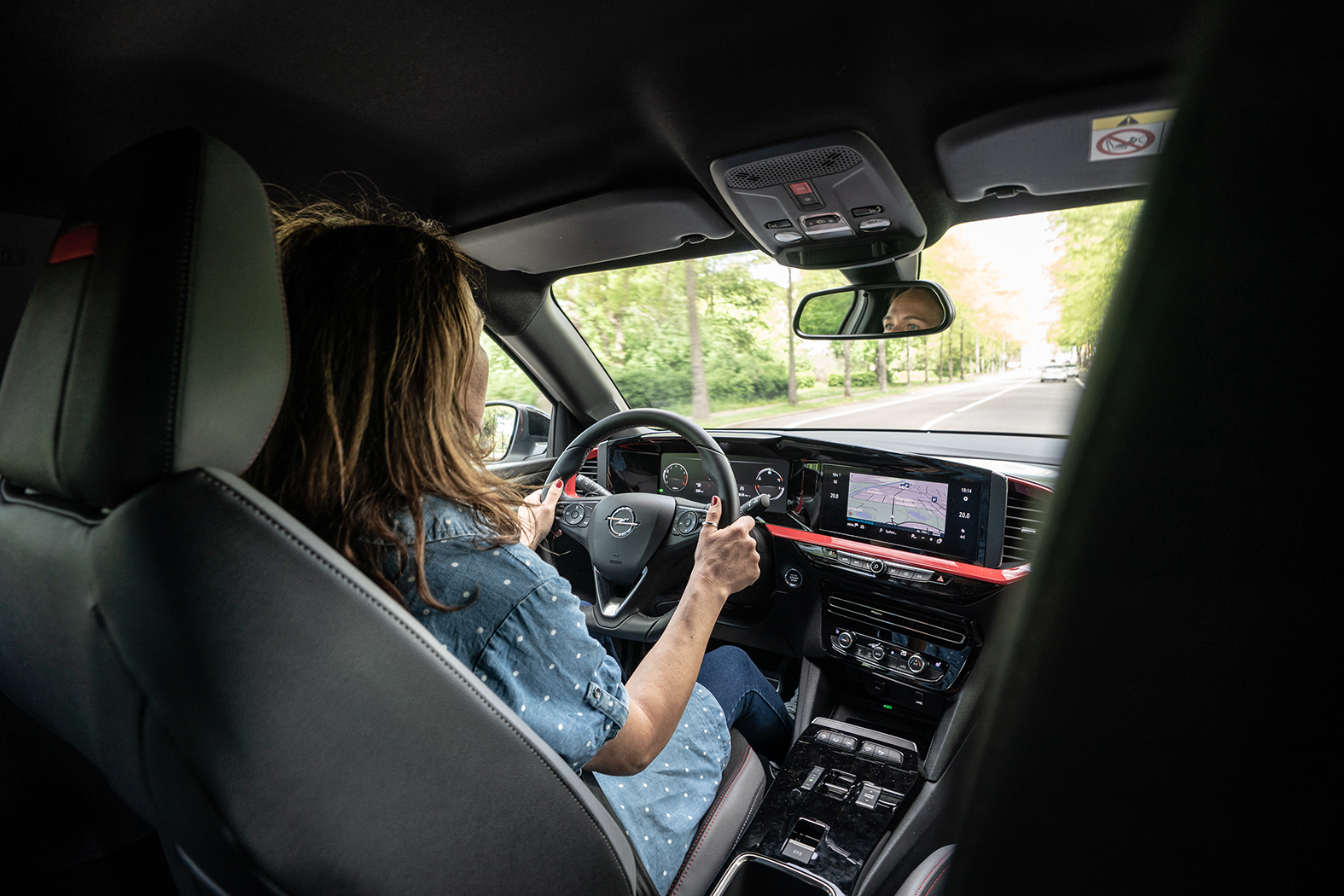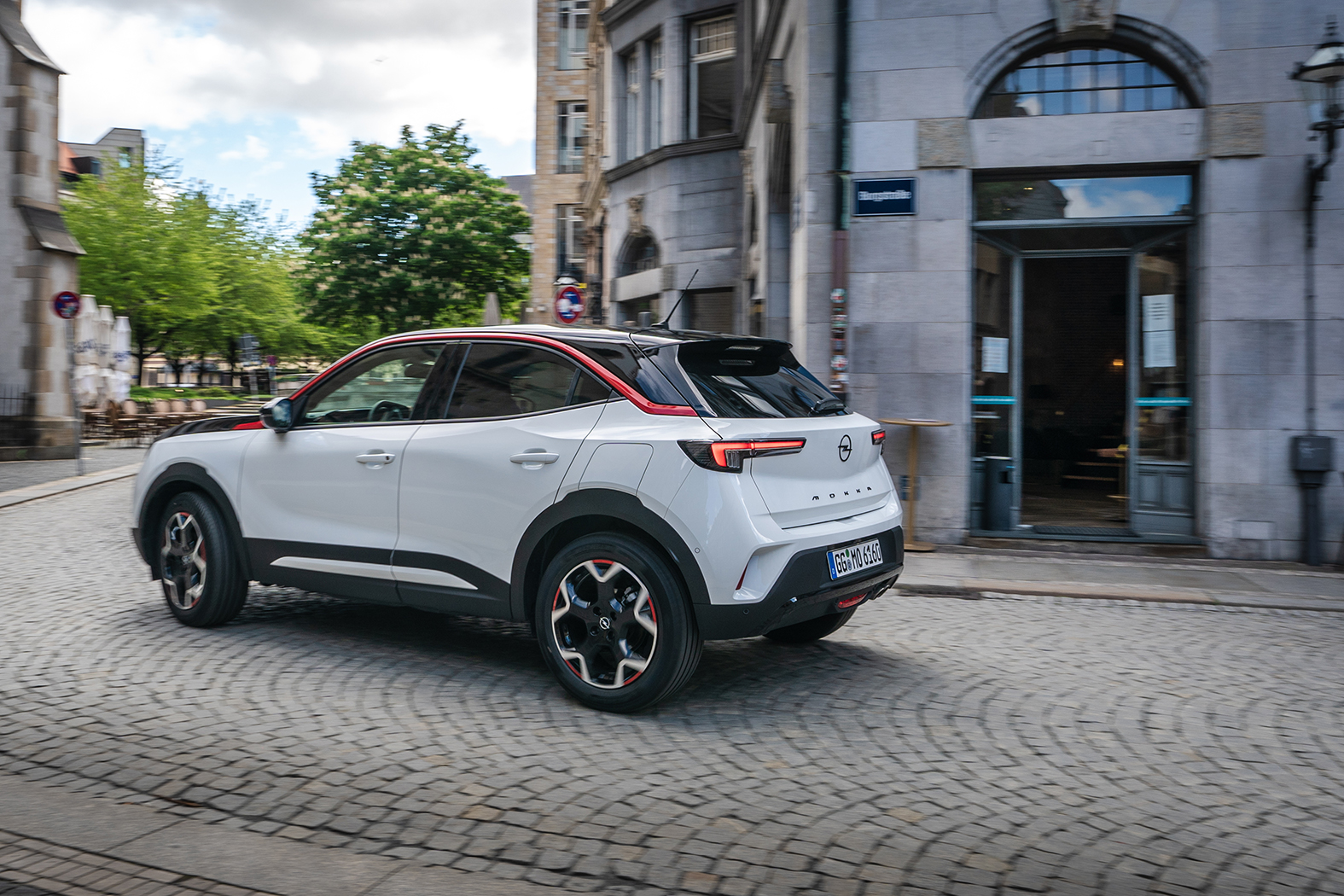 New start with
a coffee roastery
The second stop on our coffee tour is less than 15 minutes away. Leipzig's city centre passes in front of the windscreen, rays of sunlight dance across the bonnet as the Blitz heads west. Shortly afterwards, we park in the Bachviertel in front of large windows, an easy feat thanks to the SUV's compact dimensions. Inside, Annette and Mario Rose, a coffee-roasting couple with a special story, welcome us. They are both about to retire – and have fulfilled a dream with the Elstermühle. Their motto: "Life is too short for someday – we're doing it now!" Both wanted a joint project with which they could make others happy. And to achieve this, they put all their eggs in one basket: they gave up their jobs and sold their house. A coffee roaster friend in Bavaria shared his knowledge about the art of coffee with them.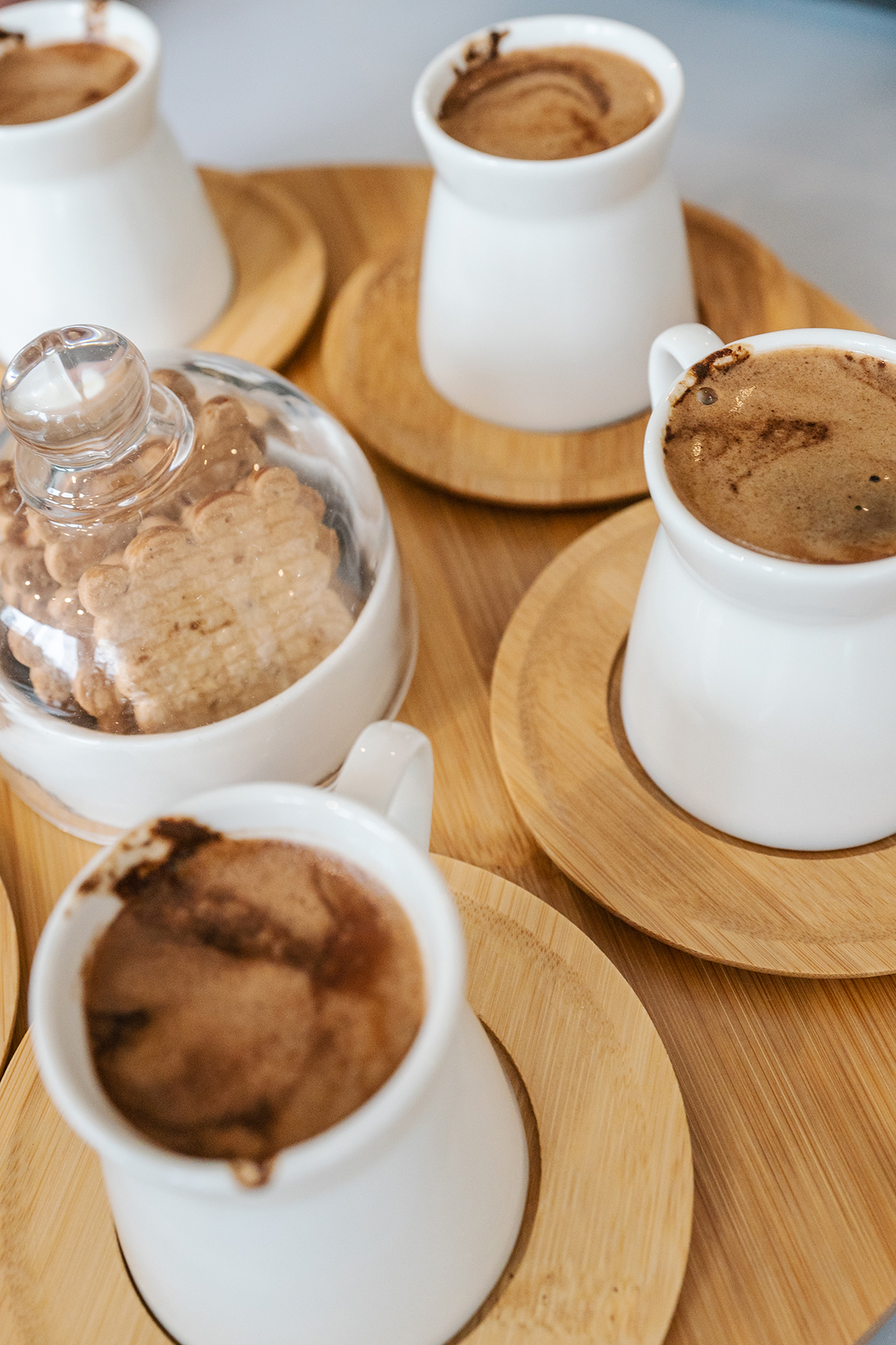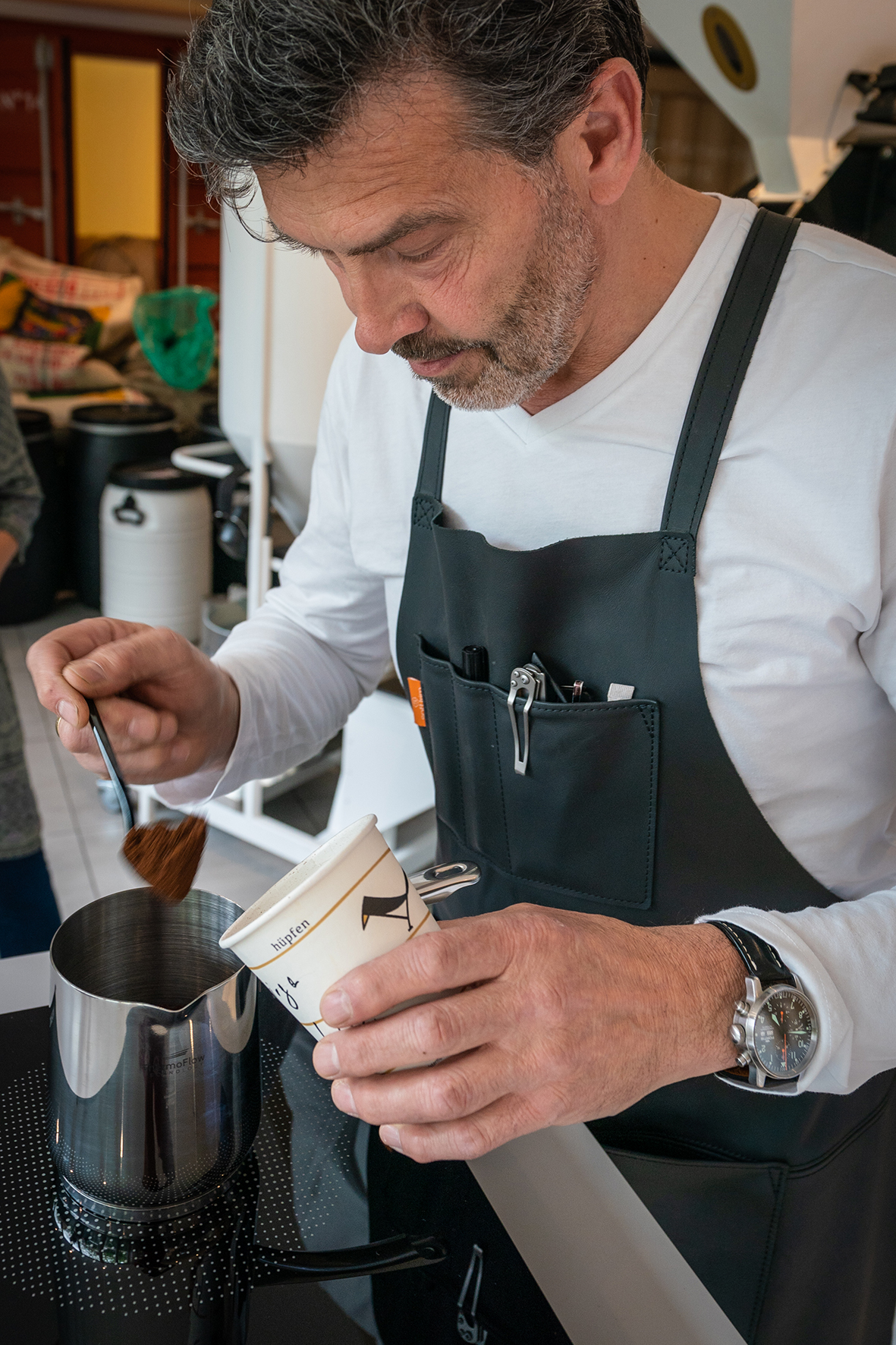 Annette and Mario have been running their own roastery in Leipzig since autumn 2018. A bright, modern place whose coffees have wonderful names: Charlemagne, for example, or Augustus the Strong, Albrecht the Proud and Anthony the Kind. It doesn't take long to see the attention to detail. The Elstermühle is clearly a project of the heart. Our interpretation of a coffee trip pleases the two – they quickly whirl through the mill to treat us to their kind of mocha. Mario has a special coffee for this, which he has ground very finely. It is infused with water and slowly heated. "To really tease out the aromas." After a few minutes, we curiously look into the pot, and inside we can see a thick liquid that smells wonderfully of coffee bliss.
"Somehow the Opel Mokka would also be a good fit to us."
Simple rule:
Good coffee makes you happy
Mario slowly ladles out the freshly prepared mocha and pours it into nice mugs that Annette got especially for this preparation. "This way it's a treat for your eyes too," she explains with a smile. A few minutes later we stand in a circle and taste the mocha from Elstermühle. A strong, delicious coffee that will keep us awake through the day. Mario saves the last sip for outside. He still wants to see the Opel. "Somehow it would also be a good fit to us." Like we said, a perfect match.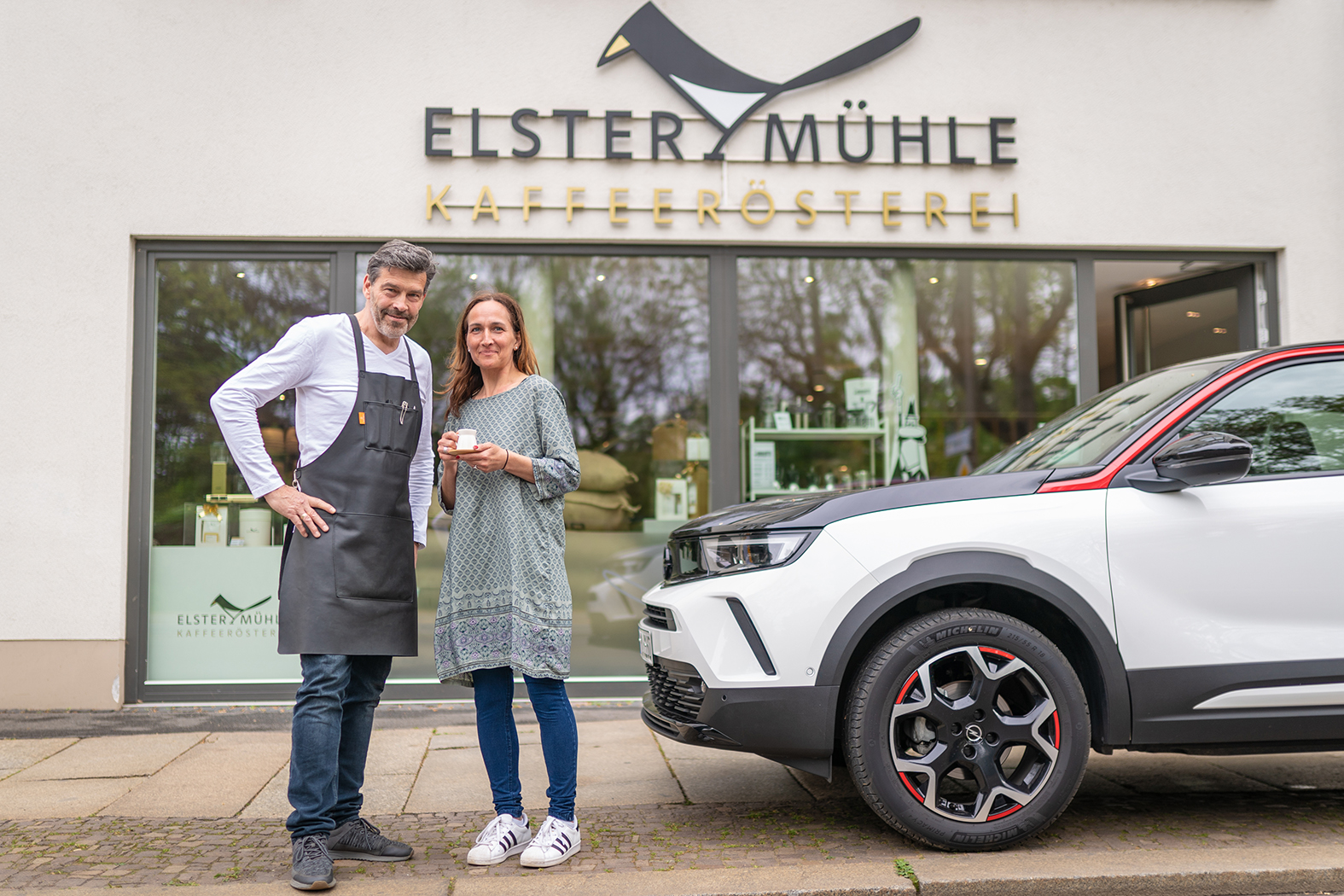 ---
November 2021