Opel Post: Mr. Lohscheller, this week you announced an extensive severance programme for Germany. Why is this necessary?
Michael Lohscheller: We have to reduce our structural and labour costs, as we are not profitable, thus putting our sustainability at risk. The PACE! plan aims to secure Opel for the long term, making Opel competitive again in the car industry. Part of the task is to work on our labour costs and we have already started to implement two programmes in Germany: partial retirement and early retirement. Now, with the voluntary severance package, management and the works council have agreed on a further measure within the framework of the arbitration office.
The Works Council has warned that no pressure should be exerted on employees in this process.
 The announced severance package is voluntary, as are all of our measures, in line with PACE! plan to avoid forced redundancies. We are convinced that the voluntary severance package is an attractive opportunity for those employees who would like to shape their future outside of Opel.
So cost reduction solely by cutting jobs?
Not at all. The fact is that we are leaving no stone unturned to see where we can become more efficient and competitive in the long run. We have already achieved quite a lot in the first months of PACE!, starting with the restructuring of our organisation to really leverage the synergies within Groupe PSA. Our engineers are in the process of reducing the complexity of our vehicles, they are focusing on the truly important customer options and, for example, have been able to cut development costs of the new Corsa – which will be launched next year – by more than half.
What about the capacity utilization and the future of the Engineering Centre in Rüsselsheim?
A wide range of additional responsibilities for the entire Groupe PSA are being allocated to our research and development centre in Rüsselsheim. In addition to the Centres of Competence already announced with the launch of the PACE! plan last November, a further nine will be located here, e.g. seats, manual transmission systems, restraint systems, vehicle fuel function or all activities related to electromagnetic compatibility (EMC). This increases the total number of Centres of Competence here in Rüsselsheim that are responsible for the entire Groupe PSA to 15. This structure significantly reinforces the Rüsselsheim Engineering Centre's position as a core part of the global research and development footprint in the context of the decreased workload coming from GM.
–––––
"The PACE! plan aims to secure Opel for the long term, making Opel competitive again in the car industry."
–––––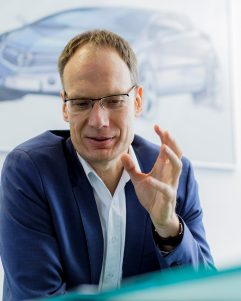 –––––
Résumé
Michael Lohscheller has been at the helm of the tradition-rich automaker Opel since June 2017. Since September 2012, he was responsible for the automaker's finances. Before joining Opel, Lohscheller was Executive Vice President and CFO at Volkswagen Group of America, where he led a successful turnaround driving significant growth and profit increase. The passionate runner, born on November 12, 1968, is married with two children.
–––––
Investments are being made in the plants in Spain, Hungary, Poland and Austria. When will the German plants finally get commitments for investments and product allocations?
There should be no doubt about our clear intention to also invest in the German plants and base new products there. We already made this clear when we presented our strategic plan PACE! in November. Believe me, there is no intention to refrain from investing here in Germany and Groupe PSA is also willing to do so in the interest of the German sites. The allocation of important products to various European Opel plants also shows this. But the prerequisite for this is competitive structures. We need to build sustainable business plans with our stakeholders and are currently conducting discussions with our social partners to achieve the necessary framework conditions and I very much hope that we can quickly make positive decisions. The faster the better. We have no time to lose.
There is speculation that you want to suspend the tariff increase in Germany in the process. IG Metall has negotiated a considerable salary increase of 4.3 percent for the industry.
As I have repeatedly said: we want to create the conditions for these investments also in Germany together with our social partners. To this end, we want to continue the negotiations, because the status quo is not an option for a company that has been making losses for almost 20 consecutive years. This requires certain adjustments to existing collective agreements, reducing labor costs and increasing efficiency compared to our competitors. That is why we have officially requested IG Metall to suspend the tariff increase for the duration of the negotiations. Opel is nevertheless committed to the existing tariff regulations.
Let's look at the announced export offensive. What role does the new Opel assembly in Namibia play?
Already this year, Opel models will be assembled in a new Groupe PSA plant in Namibia. With this, we continue our export offensive in markets outside of Europe and benefit significantly from the global presence of Groupe PSA. The production in Namibia will really help us to further strengthen our presence in Southern Africa. Groupe PSA and the Namibia Development Corporation (NDC) have signed a joint venture agreement to assemble both Opel and Peugeot vehicles in Walvis Bay.

Will more export markets be added?
As you know, significantly increasing profitable sales in markets outside of Europe is one of the key pillars of our strategic plan PACE! We have already set the course for growth with new importers in South Africa, Tunisia and Morocco. The production of vehicles in Namibia is now a next, important step. This local assembly enables us to offer our cars in southern African markets much more competitively. And I can tell you that we also have a new importer in Lebanon. Lebanon is a Middle Eastern market that sets trends and offers significant potential for Opel. The Astra model range as well as Crossland X and Grandland X are a perfect match for the market. Being successful there is important for our further expansion in the Middle East and Africa.
How satisfied are you with the overall situation?
I trust my management and Opel employees and I'm convinced that we have the strength to overcome our current situation, but we have a tough road ahead of us. We have been recording losses continuously since 1999. We have to fix many mistakes of the past. To do this, we now have to focus our attention on very specific and concrete daily work to prepare our sustainable future. First and foremost, we have to focus on our product and sell cars in a more profitable way. The start to 2018 was rather moderate, now we have to step it up. All in all, we are on the right path to achieve our three big goals: Opel becoming electric, global and profitable – without forced redundancies and without plant closures. I am convinced that by now everyone has understood that the status quo can no longer be an option. So the implementation of our measures continues to accelerate. And I have no doubt: the effort and the sometimes tough road will be worthwhile. We are making Opel/Vauxhall sustainable and strengthening our company for a successful future.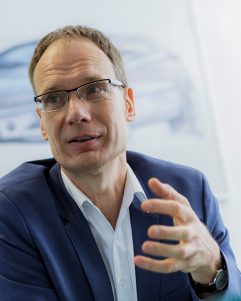 –––––
"First and foremost, we have to focus on our product and sell cars in a profitable way."
–––––
March 2018