Opel Post: You presented the brand manifesto at the town hall meeting. What changes lie ahead? And why does Opel need this kind of manifesto?
Tobias Gubitz: The good news is that nothing has changed in terms of our values. Opel has always been, and will remain, a German brand, one that's exciting yet approachable. The brand manifesto builds off of these values and really captures the essence of Opel in written and visual form. It also breaks this down across the various areas of the company – so that, for instance, seat developers can allow the brand values to influence their daily work just as much as Opel Bank employees can. The manifesto lays the groundwork for our future. It's our compass. We'll also put this kind of brand manifesto into place for Vauxhall.
And what's happening with that right now?
We'll be holding informational events about the contents starting in mid-September. We'll also make the brand manifesto available to all employees online in the form of an online document. After all, the principles it contains will help everyone shape the future. Accordingly, we got employees from all departments involved to develop the manifesto – from Engineering, to Product Marketing, through to Design and Communication.
---
---
What role will the Opel GT X Experimental play in all this?
The Opel GT X Experimental essentially embodies the brand manifesto in automotive form. The designers translated everything that we laid down on paper in the form of the brand concept car – it's German, exciting, and approachable. Those values were also reflected in the way we set up its debut. Our GT X Experimental didn't celebrate its world premiere at a car trade show in front of an audience of journalists; the event was held here, inside the Adam Opel Building, today with thousands of employees and employees tuning in live from the European sites.
You've been working on the brand in-depth for months. If you could sum it up in a single sentence, what is the essence of the Opel brand?  
Opel brings the art of German engineering, innovation, and design to the people. That's always been the case.
Are you thinking of any particular examples when you say that?
Well for instance, the Opel 'Doktorwagen' (Doctor's Car) made it easier to provide medical support in rural areas. The legendary Manta with custom design and sporty handling embodied the concepts of German, exciting, and approachable in the 1970s. And the Astra also demonstrated how innovative Opel is – it was the first vehicle in its class to feature an LED matrix light.

––––––
« The designers translated everything that we laid down on paper in the form of the brand concept car – it's German, exciting, and approachable. »
––––––
---
Brand USPs
---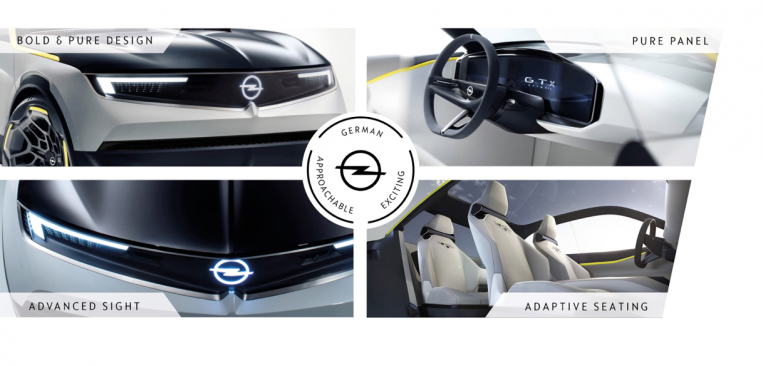 ---
Manifestos always state goals – what's the goal behind this one?
We want to and will make Opel the most desirable German mainstream brand again. And once we've gotten to that point, all of our products and services still need to clearly embody the Opel spirit. We want our customers to enjoy thoroughly positive experiences with our brand, whether they're purchasing or leasing a car, taking up on our service offerings, or, in the future, turning to us for car-sharing.
What sets Opel cars apart from Peugeot, Citroën, or other competitors' vehicles?
Our cars need to stand out from our sister brands and from the competition. To ensure that happens, we will consistently further develop the things for which Opel is already known. For instance, our leading lighting technology will pave the path for leading visibility technology. Or our ergonomic seats with the 'Aktion Gesunder Rücken' seal of approval will give way to seats that actively adapt to the driver and the driving situation. These unique selling points, plus our unmistakable design, will go a long way towards clearly positioning the Opel brand.
You've taken a look at our customers – who is actually buying our cars?
Middle-class society. I once heard it said that 'Opel sells amazing cars to great people' – and that sums it up nicely. We know that our customers take pride in their daily work. But they also enjoy their time off. We know that their family and friends are dear to their heart. And their car is usually something that they've worked hard for. It's something that they've gotten to reward themselves and, simultaneously, something that they need. It's quite an honor to be able to make cars for these people.

––––––
« We want to and will make Opel the most desirable German mainstream brand again. »
––––––
---

---

––––––
« Our customers don't want frills. They want reliable technology, driving pleasure, and good design. »
––––––
And what do these people expect from their car?
It should be reliable, since, for our customers, 'German' primarily stands for high quality and safety. They also like clever innovations that make their lives easier. They don't want frills; they want reliable technology, driving pleasure, and good design.
Customers' requirements are also constantly growing and changing…
That's why the Opel brand also has to continuously further develop. On the whole, we need to position it more broadly and make it more appealing to new consumer groups – through to the modern middle class. We want to be a true German friend to our customers. And that's what we have always been. When the people needed more room, we were the first German brand to introduce a station wagon, our "caravan". And innovation has been driving us ever since. Which brand was the first with catalytic converters in all petrol cars? Which brand was the first to introduce full size airbags in the whole portfolio?  Which brand stands for leading light technology and ergonomic seats? Opel does. We do! And now, as electromobility is gearing up for mainstream appeal, Opel will continue to be here for the people.
Thank you very much for the interview!
---
August 2018