The Experimental GT – was this study planned well in advance?
Erhard Schnell: No, not at all. The idea came from Clare MacKichan, who had recently come from Detroit to Rüsselsheim as head designer, and who was convinced that we could develop a classic sports car. He envisaged a compact vehicle that would make an especially strong statement. The only thing that was clear was that it would be a two-seat sports car.
At the time you were heading the Advanced Studio. Given the short development time, were you able to concentrate fully on the completion of the GT?
No, I'm afraid not. That would have been too perfect. We also worked on other Opel vehicles, further developing the Rekord and the Kadett. We could only turn our attention to the GT every couple of weeks. But when we did, we gave it a lot of our heart. Everybody, including young colleagues who had just joined us from the Art Center of Design in Pasadena (California), contributed their own ideas. The final GT design gradually emerged from all of the proposals. It was really astonishing that the study and the series production model were each developed in less than three years.
»The only thing that was clear was that it would be a two-seat sports car. «
---
↑  Opel GT – Sketch by former Chief Designer Erhard Schnell
---
Was the development really such a secret?
It certainly was. Clare MacKichan really hadn't told the Board anything. When the study was almost complete and ready to be presented at the Frankfurt Motor Show, he had no choice but to inform his superiors. We had really serious doubts when the Experimental GT was presented internally for the first time. It was a huge relief when there was a spontaneous burst of applause from the senior people there who were completely carried away.
Probably because the study had so many new design elements…
You mean the pop-up headlamps? Yes, they would certainly have played a part. But there were a lot of other details. We created full-frame doors that allowed only tiny production tolerances. These were necessary for the expressive roof shape of the GT. The fact that it also lacked a conventional trunk was a novelty.
Were you also working on a successor model?
Of course. We were actually quite far along the process. There was a model that was larger and had a very dynamic look. The problem was the bumpers. These were obligatory for America but would have completely ruined the elegant, dynamic design. This made the form for the United States unattractive. And then, of course, there was the oil crisis. That would have cast serious doubts on whether a successor model would have actually been successful in Europe.
---
BIOGRAPHY
---
Erhard Schnell, born in 1927, studied commercial art before starting his career as a designer at Opel. Regarded as the father of the Opel GT, he was commissioned to develop the study in 1964 and quickly turned the design visions into production reality. The Experimental GT was born, and its well-rounded, dynamic forms earned its silhouette the Coke bottle shape comparison. A series production model was quickly designed on this basis. Then Schnell went on to design other models including the aerodynamic world champion Calibra. Today the hale retiree lives in south Hesse, where he still dedicates much of his time to the world of design.
---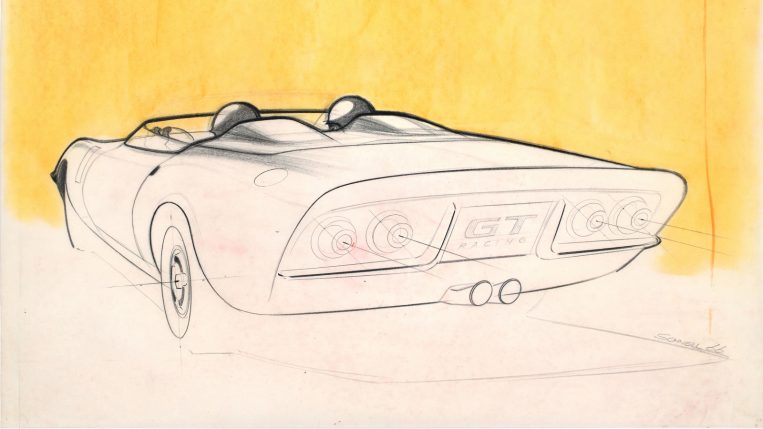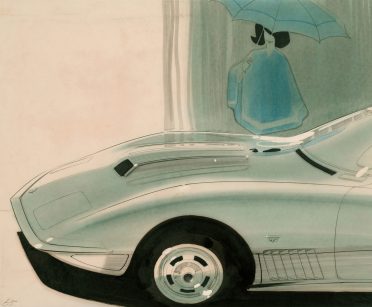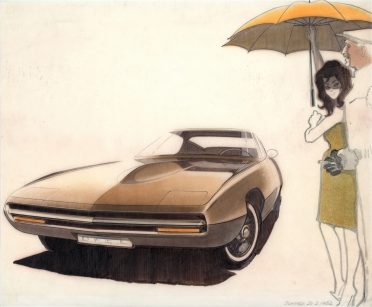 The timlessly beautiful design sketches from designer Erhard Schnell are available here for download.
---
In addition to the GT, you designed many other successful Opel models, including the iconic Calibra. Was that simply another job?
No, no, far from it. When a car is so well-received by customers, then it is entirely the result of one's own development and above all the work of a whole team. A lot of heart and soul goes into this work, and every detail counts. At these times, I was already proud to have developed the logotype for the Rekord. That was even taken over by the next model. I still like to think about that today. My old passion for graphic design came through here. But sometimes you do something that looks really good on paper but unfortunately can't be realized due to costs. Sometimes it's very difficult for young designers to understand and accept this.
Does form follow function?
Yes, absolutely! Perfect function is a matter of course for me. I exclude everything else from the outset.
Have you put aside your design pencil now that you're retired?
Not at all. I've simply transferred my work to my home, and design the garden or the house. I also still paint in watercolors quite often. I suppose I'll never be able to completely give it up.
---
November 2017