Gemeinsamer Ausflug: Schauspielerin Emily Cox und der Opel GT, den sie bei der Kronberg Klassik durch den Taunus und das Rhein-Main-Gebiet lenkte.
Emily, in September you took part in the Kronberg Klassik. How did you like this rally?
Emily Cox: This was my first rally and I'm really impressed by the enthusiasm of the participants and the love for their cars. They take the competition very seriously but it is still a game with lots of fun. I like that. During the rally I've been driving an Opel GT and found out that oldtimers are very different to drive. For example, the steering is very heavy when you're driving slowly. Privately, I drive an Opel Insignia Sports Tourer – that's a lot easier of course! (laughs)
Do you prefer being driver or co-driver and why?
I prefer to drive. In general I find driving fun, particularly with such a special car.
What do you like most about the Opel GT?
I like the GT's sporty, curvy shape and the seats are very comfortable. I really enjoyed the fun-to-drive feeling during the rally.
What kind of driver are you? Do you prefer sporty or defensive?
I like driving fast, but that's hardly possible on the roads. Just like in England, we have a general speed limit in Austria.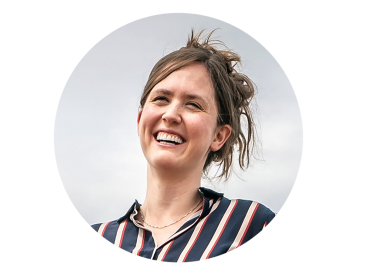 _____
Emily Cox
The daughter of an Irish mother and an English father, Cox grew up bilingual (English and German) in Vienna. After receiving her diploma in 2003, she studied acting at the Max Reinhardt Seminar in Vienna. In 2006, during her training, the now 33-year-old Cox was cast in her debut role in Tobias Dörr's short film 'Verwehte.' She subsequently won the award for best actor at the International Film Festival of the Film Academy Vienna for her performance as the 'girl.' Her international breakthrough came as she won the role of Brida, one of the main characters of the BBC/Netflix series 'The Last Kingdom' based on Bernard Cornwell's 'Saxon Stories.'
–––––
---
---
Privately, you're driving an Insignia Sports Tourer. What do you value most about the Opel flagship?
I think the Opel Insignia Sports Tourer is a really beautifully designed car. It looks very elegant but at the same time it is also sporty. On the Autobahn it is very stable and relaxing. I also enjoy the Automatic Park Assist. It never ceases to amuse me, when I watch the steering wheel, how it moves all by itself.
Do you often drive by car?
Professionally I travel lots and drive my Insignia as often as possible. For me, driving is a bit of freedom – so I do it quite a lot!
Depending on the source, you are described as British or Austrian. Which is correct and what do you say when asked "where do you come from"?
My mother is Irish, my father is English. I was born and grew up in Vienna. I have the British passport and recently got the Irish one too.
Which language do you dream in?
That depends on whom I'm talking to in my dream – English with English and German with Germans.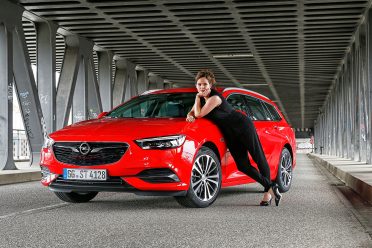 "I think the Opel Insignia Sports Tourer is a really beautifully designed car."

---
---


"My parents have always been an example for me, I grew up with the knowledge that you can make your passion your profession and that work should be fun."

You come from an artistic family. Did you always know that you wanted a career in this direction?
Both my parents are pianists and I grew up totally "free". Unlike some of my colleagues, I was fortunate that I never had to prove to anyone that art is a profession like any other, that you can make a living from it. On the contrary. My parents have always been an example for me, I grew up with the knowledge that you can make your passion your profession and that work should be fun. My father has often said to me that he doesn't care what I do, so long as it is something that fulfills me. Because work takes up such a lot of time every day and if it isn't fun, the time is wasted.
How did you become an actor? 
I have the most fun when I'm acting, I realized that when I was seven in a school play. So three months after leaving school I took the entrance exam for the Max Reinhardt drama school and got in straight away.
And what would you do if you weren't an actor?
I don't really know, I've never thought about a plan B.
The English daily "The Guardian" said that you "had many of the show's funniest lines" in the series "The Last Kingdom". Can you give an example?
There are so many funny lines, especially the ones that are funny outside the context of the scene. So go to "Netflix" and watch "The Last Kingdom". It's worth it!
---
---
When will you be online, on the screen or on German TV next?
The last year has been great, because I've worked so much for cinema, TV and also streaming, so I've been part of very exciting, very different projects. The comedy film "Wuff", from Detlev Buck, comes out on October 25, with me in one of the leading roles. The third series of "The Last Kingdom" is also out this autumn on "Netflix" and then comes "Labaule und Erben" in ARD German TV, a super mini-series with Uwe Ochsenknecht in the leading role; and at the end of November there's the Austrian film, "Womit haben wir das verdient".
How do you continue in 2019?
"Der Rebell" comes out next year, a very nice arthouse film from the brilliant director, Randa Chaoud, with the great colleagues Mehdi Meskar and Jonas Nay. Then "Danowski" in ZDF German TV with Milan Peschel and me as police detectives. "Tatort" from Vienna, "Jerks" from Christian Ulmen and then last but not least, the US remake of "Head full of Honey" by Til Schweiger, with Nick Nolte and Matt Dillon, plus me in a small role.
Thank you for the interview.


"The last year has been great, because I've worked so much for cinema, TV and also streaming."

---
November 2018