With protective suit, helmet and breathing apparatus in the fight against smoke and flames? "This is the image many people have in their heads when it comes to the fire brigade, but in reality the tasks are much more varied," says Larissa Wissmann-Gräßer. She chose the profession not because she wants to feel like a hero, but because she wants to take responsibility – "for people, their safety and the environment". The 19-year-old started her training as a plant firefighter at Opel on September 1. And it is not only the training programme that is new to the company. She is the first woman ever to join the plant fire brigade in Rüsselsheim.
"I want to take responsibility for people, their safety and the environment."
–Larissa Wissmann-Gräßer –

Be a role model
"Slowly but surely, women are becoming more visible in the firefighting sector," she says, especially in the volunteer fire brigades. When she was officially accepted into the Gotha-Uelleben volunteer fire brigade in her home state of Thuringia last April, three other female colleagues were welcomed alongside her. However, women are still underrepresented in professional fire brigades. Among the 42,000 full-time firefighters in Germany, there are only 550 women. Larissa Wissmann-Gräßer is all the more pleased that she can be a role model at Opel. Because: "Women are just as good firefighters. Of course, you have to be physically fit. But the crucial thing is to keep a cool head and be able to make decisions under stress," she says.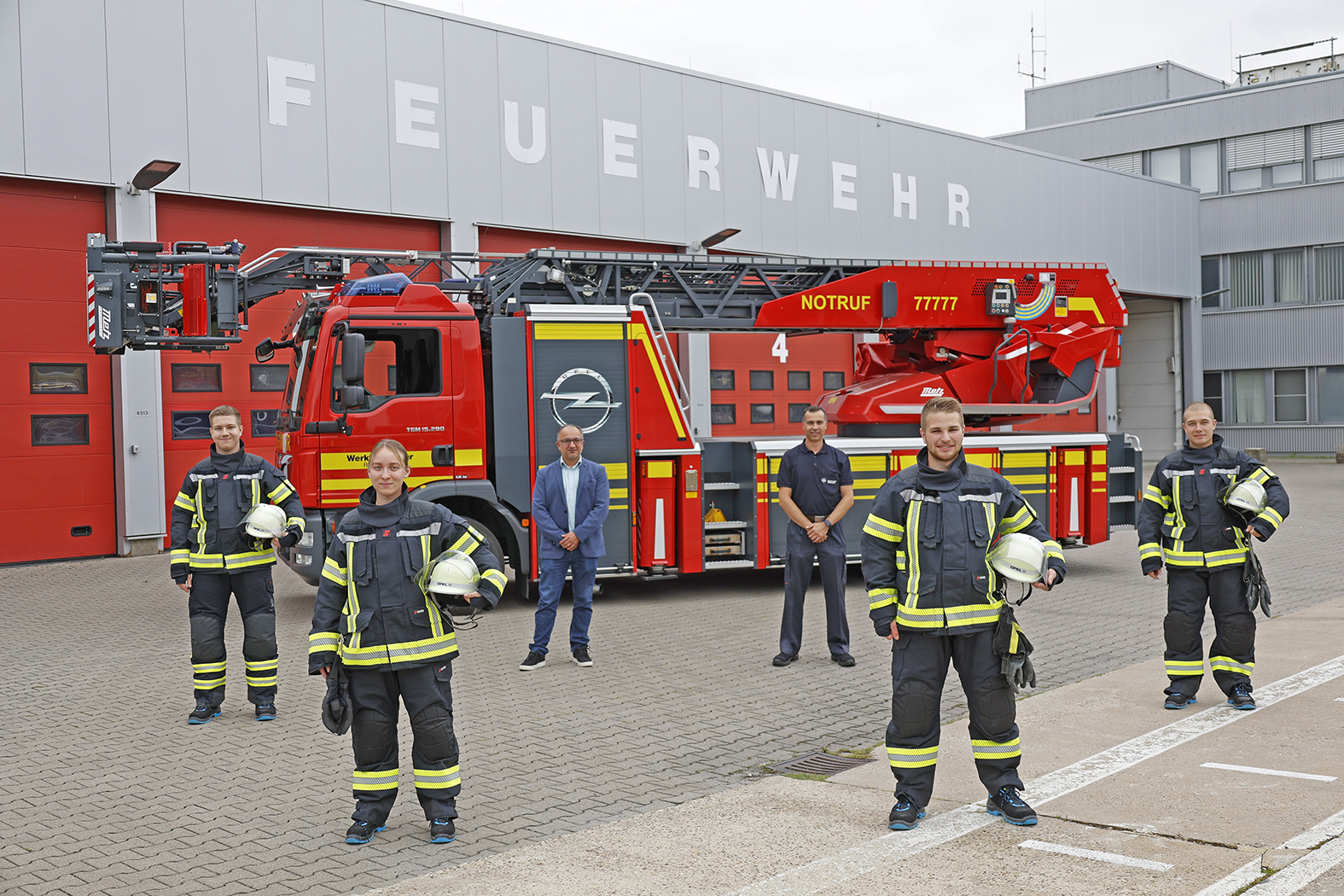 1,000 call-outs per year
The plant fire brigade was founded at Opel 110 years ago. It was a consequence of the devastating fire that broke out in a part of the original Opel plant on the night of August 19-20, 1911 that destroyed large parts of the sewing machine production facility. Today, 80 plant fire brigade personnel are on duty for fire and hazard protection, but also for the safety of the employees and the protection of the environment in Rüsselsheim. During normal operations, the employees complete around 1,000 jobs every year. Opel is training more firefighters in 2022. Applications are now being accepted.
The infrastructure for two genders working together under one roof has been in place at the plant fire brigade at Opel headquarters for many years. "When this building was built for us in 2005, we already had a women's changing room and separate sanitary facilities," says Okay Kocak, Head of the Rüsselsheim Plant Fire Brigade. Even if the job remained a male-only domain for the time being. In general, there has been little fluctuation in personnel among the company's plant fire brigade in recent years.
Job profile exists since 2009
However, this will change in three years at the latest – due to the age demographic. Some colleagues will go into retirement. "In order to train our next generation, Opel is offering vocational training as a plant firefighter for the first time starting this year," explains Okay Kocak. The training has only officially existed in Germany since 2009. Before that, plant firefighters had always been recruited from other training professions and given the appropriate further training. Kocak himself started as an industrial mechanic at Opel 28 years ago.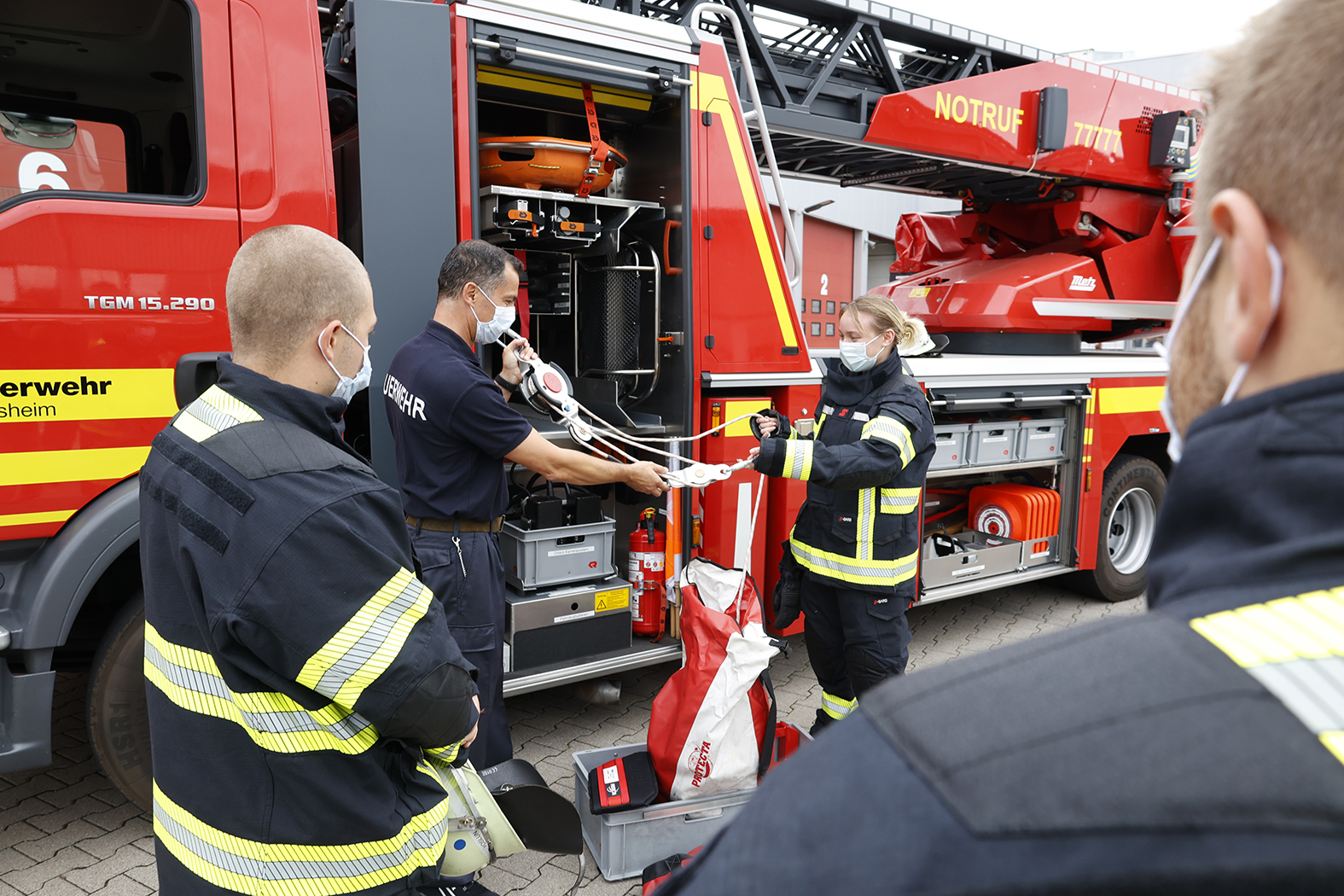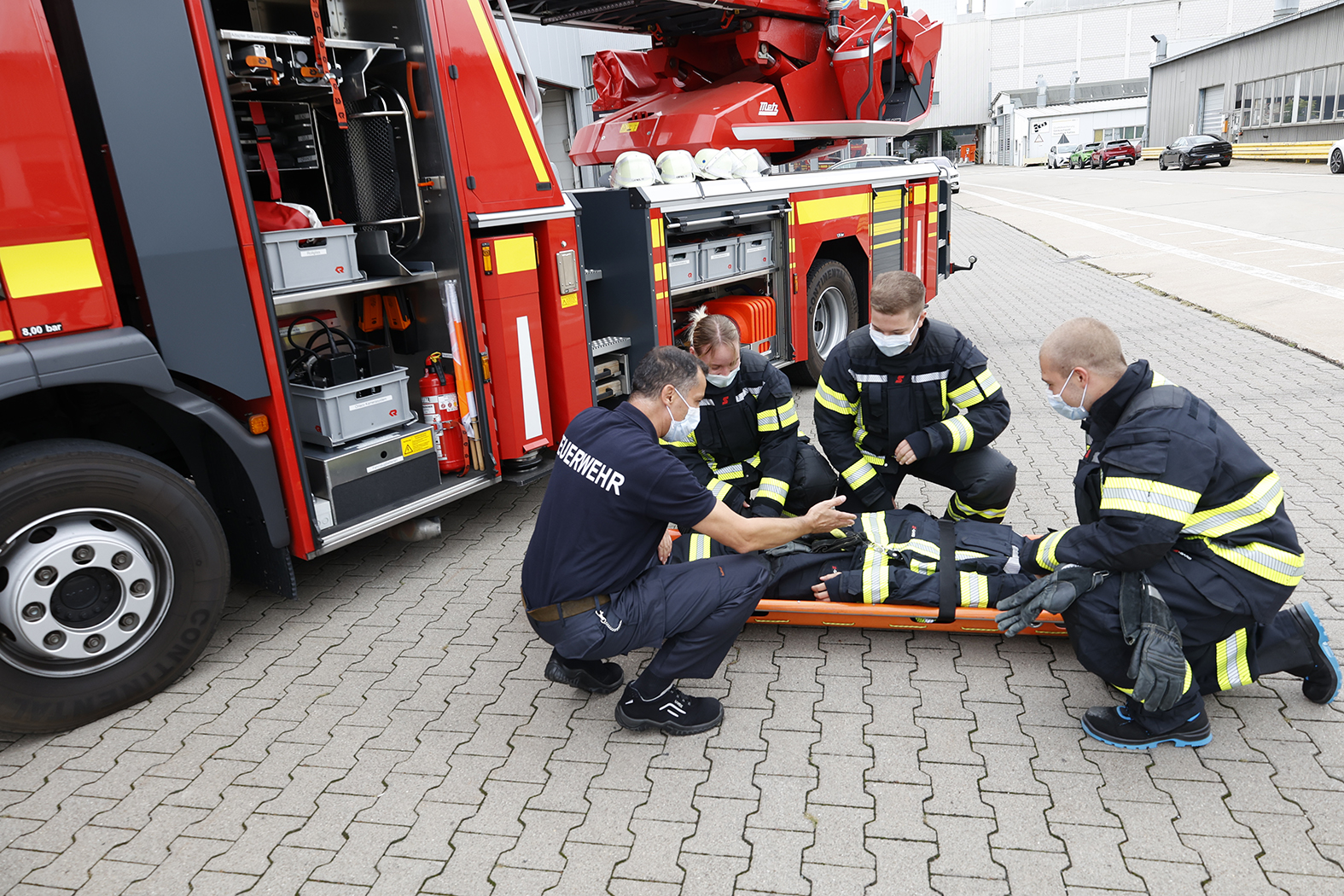 Larissa Wissmann-Gräßer is therefore not only breaking new ground in the company as a woman; from now on, the three male trainees will also follow a curriculum that no one in Rüsselsheim has had before. The two aspiring firefighters Robin Zimmermann and Felix Windhagen have already served in youth fire brigade units. Pascal Charisse, on the other hand, has informed himself in detail on the internet about the profession he wants to take up: "The combination of skilled/technical and fire brigade-specific training convinced me," says the 19-year-old.
"Next year we will train more prospective colleagues."
– Okay Kocak –
Head of Plant Fire Brigade
Classic trades as basis

The four budding firefighters will spend the first one and a half years of their programme in the vocational school and the vocational training workshop learning the classic industrial, metal, electrical and installation trades. Afterwards, the fire brigade-specific training begins. This includes not only firefighting and rescue and recovery work, but also emergency medical care, health and environmental protection.

Which doesn't necessarily mean that the Rüsselsheim plant fire brigade will only get to see its new manpower in a year and a half's time. "We will always involve our colleagues, for example soon during a briefing on a new battery extinguishing system," explains Mohamed Ajaoun, Deputy Head of the Rüsselsheim Plant Fire Brigade. Because the age of electric mobility has also long since dawned for the fire fighters.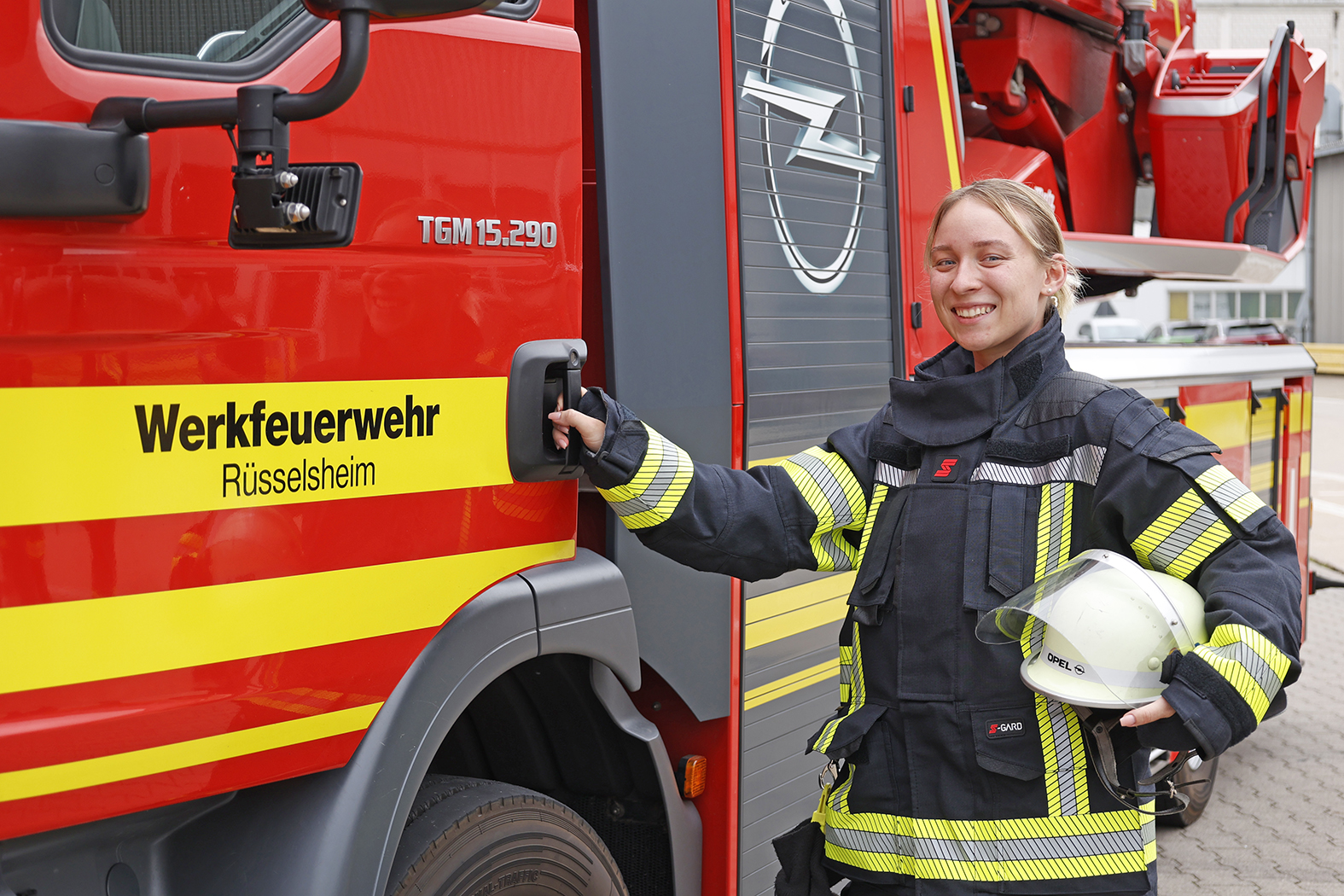 ---
November 2021