Mitten im Geschehen: Opel-Designchef Mark Adams macht sich ein Bild von der Kick-off-Veranstaltung zu #ADAMYOURSELF und spricht mit den Protagonisten der Kampagne.
Sieht aus wie eine Automesse oder ein extravagantes Loft-Apartment im New Yorker Meatpacking District: Doch das Ambiente inklusive Industriebodenbelag liefert K48. Die mit Baldachinen geschützten Bereiche gehören den Bloggern. Es sind von ihnen individuell eingerichtete Räume, in denen sie ihre jeweils persönlichen ADAM konfigurieren.
Łukasz Jakóbiak likes to think back on the moment when he made actress Sienna Miller stumble on her words, then blush and look to Hollywood star Bradley Cooper for help.
This was in the Four Seasons Hotel in Beverly Hills. Jakóbiak was interviewing Miller and had asked her what it felt like to kiss Cooper. Jakóbiak also once persuaded the singer Conchita Wurst to perform a spontaneous concert in the vlogger's modest, 20-square-meter Warsaw bachelor pad. That summer, Bronisław Komorowski, the then president of Poland, drove up to that same apartment in a presidential limousine to chat with Jakóbiak about politics, love, and other dilemmas.
---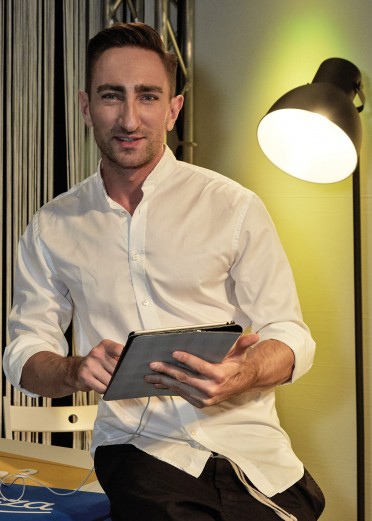 Łukasz "Luke" Jakóbiak
Age: 32
Nationality: Polish
Hometown: Warsaw
Platform:20m2 YouTube channel
Filming locations: Most of his vlogs are filmed in his apartment using three iPhones. Some are filmed on location with his interviewees.
Signature style: quick-witted, self-deprecating, spontaneous
Łukasz on ADAM: "I'm a city person, always plugged in and on the go. The ADAM is perfect for me – the fact that it's been newly fitted with OnStar, the personal online and service assistant, is just great."
---
"It should be daring, and have its own personality and sense of humor, kind of like me."
– Łukasz Jakóbiak –
Each of those moments is thoroughly documented on YouTube, Instagram, Facebook, and Twitter. For Jakóbiak, online communities feel like home. The 32-year-old is a journalist, trendsetter, and entertainer all in one – as a vlogger, he works with a mix of social networks. Thanks to his online talk show, he's achieved pop star status in Poland.
One December morning finds Jakóbiak standing in Hall K48 in Rüsselsheim, Germany, speaking with GM Executive Vice President & President Europe Dr. Karl-Thomas Neumann and Vice President & CMO Opel Group Tina Müller. He's explaining how he's going to style his ADAM: "It should be daring, and have its own personality and sense of humor, kind of like me." The Polish YouTube star is joined by nine other bloggers from all over Europe, including Germany's Nilam Farooq, commonly known as 'Daaruum,' and France's Caroline Bassac, the woman behind 'BeautéActive.' All ten are lifestyle experts, focusing on topics such as fashion, travel, and music. They've come to celebrate the launch of #ADAMYOURSELF, Opel's new online campaign.
---
---
The campaign has two goals. First off, to underscore the countless ways in which customers can personalize the ADAM. Ultimately, it's the customer, not Opel (the manufacturer), who defines the design of this city speedster, driven by his or her individual tastes. Müller has the following to say about the second campaign goal: "With #ADAMYOURSELF, we're right where the future ADAM drivers are: on social media channels." Opel is working with key players on the digital lifestyle scene to closely follow the new model's target group. Moreover, as Müller puts it, "We also invite [customers] to become a part of ADAM, using the car as a way to express their personality and creativity."
They can do so on the freshly launched campaign page: www.adamyourself.com.
The page features a configurator for customers to personalize their ADAM. The sky's the limit for creating custom cars, from colors, to rims, to seats and more. The lifestyle bloggers set an example by introducing their personalized takes on the ADAM to fans and followers. They also encouraged said fans and followers to submit their own designs to a competition.
---
Nilam Farooq
Age: 26
Nationality: German
Hometown: Berlin
Platform: Daaruum. // Nilam. YouTube channel
Topics: beauty, interior design, fashion, DIY
Filming locations: her apartment, numerous places in her hometown, vacation spots such as Cape Town
Signature style: curious, highly eloquent, fledgling acting ability (she appeared in an episode of the German TV show Tatort in 2015)
Nilam on ADAM: "I'm driven by my desire for an adrenaline rush, and I like to match my style to my pace. Because of that, I'm a huge fan of the ADAM S."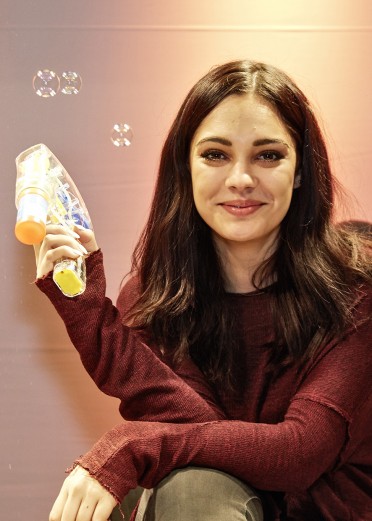 ---
"The call to #ADAMYOURSELF will take on its own crazy momentum."
– Nilam Farooq –
Country-specific juries, made up of Opel representatives and each country's respective social media star, will sift through the entries and choose their favorite designs. Starting in the fall of 2016, these winning designs will be put into production for the limited, special edition 'ADAMyourself' model series. The cherry on top: The winning designers will be become the face of ADAM for their respective countries.
With over one million YouTube subscribers, Farooq, also known as 'Daaruum,' is the vlogging queen of the German-speaking world. She finds this Opel project exciting and groundbreaking: "This marks the first time that a car manufacturer has courted millennials' attention in such a direct, intensive, and entertaining way." Farooq believes that the call to #ADAMYOURSELF will "take on its own crazy momentum." She adds: "If you love individuality, you'll really be into ADAM."
---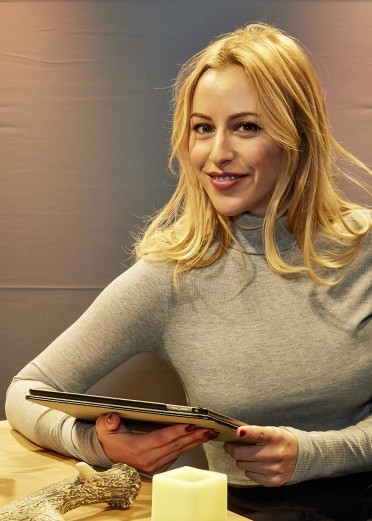 Caroline Bassac
Age: 25
Nationality: French
Hometown: just relocated to Valencia, Spain, from Lyon, France
Platform:http://beauteactive.com/
Topics: fashion, relaxation techniques, nature
Filming locations: parks, her apartment, the beach
Signature style: She goes by the motto 'Different is beautiful.'
Caroline on ADAM: "When it comes to fashion, I enjoy playing with colors. The configurator is made to let you play around with the ADAM."
---
The #ADAMYOURSELF video cast with Dr. Neumann:
https://www.youtube.com/watch?v=_11GrMn2_-Y
Last update December 2015