Sie geben im neuen Astra den Ton vor (von links): Uwe Bernd, Bernd Justen, Jürgen Schmitz, Frank Kristen, Alexander Schulz, Klaus-Dieter Kramer, Manuel Benzing, Robert Roosen, Matthias Lalk im Akustiklabor des P25-Gebäudes in Rüsselsheim. Auf dem Bild fehlen die Teammitglieder Jörg Forg und Veli Yilmazer.
Even in his free time, Bernd Justen is always on the job. Whenever he drives a car, he avoids all aural distractions – he keeps the radio off, doesn't make any calls, and refrains from eating snacks. "I'm extremely focused when I drive. I keep quiet and cancel out ambient noise. When you're riding in a vehicle with me, you could hear a pin drop."
You might assume that Justen is high-strung; after all, situations in which you could hear a pin drop are normally tense. However, that isn't the case. He's just highly perceptive when it comes to automotive sounds. Justen's finely tuned sensibilities are crucial to his career. He needs to be able to hear wind whistling through cracks, identify the pitch of an engine, and regulate the acoustics of power windows, turn signals, air-conditioning, and more.
A CONDUCTOR'S EAR
When it comes to his day-to-day work, Justen's sensitivity to sound makes him a true perfectionist. As Vehicle Performance Manager for compact class models, he's responsible for perfecting the noise characteristics of these models. Together with his ten-strong Acoustics team, he created a dynamic sound perfectly tailored to the new Astra, incorporating the car's smoothly running engine and minimalized interior noise level.

"Overseeing vehicle acoustics is like conducting an orchestra: You're listening to a group of incredible musicians play together. If one of them hits a wrong note, though, the concert is ruined."
– Bernd Justen  –
Vehicle Performance Manager
---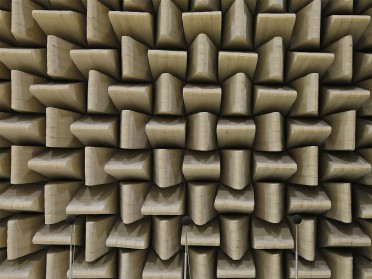 ---
"A car's acoustic environment is a delicate matter because it's influenced by so many different factors," says Justen. For example, you could spend weeks trying to perfect the thickness of a window, "only to find that the engine is incredibly loud, and that neither the windows nor the most powerful firewall insulation are able to muffle the sound." The interplay between a car's individual components is the be-all and end-all of vehicle acoustics. "It's like conducting an orchestra," explains Justen. "You're overseeing a group of musicians, each of whom is incredible. But if just one of them hits a wrong note, then they all fall out of harmony and the concert is ruined."
A WELL-COMPOSED PROTOTYPE
It's therefore understandable that it took over three years for Justen's acoustics experts, most of whom are mechanical and mechatronics engineers, to oversee the new Astra's entire serial development. They began this project right after the prototyping stage had been completed. At that point, the new Astra was already at quite an advanced stage, and the path from simulation-based basic design to hardware had already been covered. "The first Astra K prototypes were already capable of being driven, and we quickly noticed their outstanding composition," reports Klaus-Dieter Kramer. Kramer is the team leader under Justen and is responsible for internal workflows and coordinating with other departments.
---
---
"The first Astra K prototypes were already capable of being driven, and we quickly noticed their outstanding composition."
– Klaus-Dieter Kramer –
Acoustics team leader
GETTING INTO THE GROOVE
On day one of the new Astra's serial development, Kramer, Justen, and Acoustics Project Leader Jürgen Schmitz took a prototype for a test drive. "It's essential to get a grasp of the model's essential character," says Kramer. "The new Astra was conceived as an athletic, agile vehicle with increased efficiency, built to inspire emotion in the driver. We asked ourselves: how can we get this car into that groove?" After spending an hour going down various routes, the engineers had a preliminary answer to their question. And they didn't even need to go through any checklists.
"We got an incredible first impression," says Schmitz. From there on out, the team focused on refining the vehicle's acoustics to prepare it for acceptance runs for the board of directors, as well as for subsequent sale to customers. The new Astra is powered by the latest generation of turbocharged gas and diesel engines, which play a decisive role in translating the car's look into sound. "But that's just one aspect of the whole," explains Schmitz. The acoustics experts worked through a precise and thorough list of specifications to fine-tune the Astra.
WHERE THE MUSIC IS MADE
"We focus on the sound of the engine and the rolling noise alongside factors such as the sound the doors make when they close and the volume of the blower fan," says Justen. His team conducts their work on the Opel Test Center's test track in Rodgau-Dudenhofen, Germany, as well as on ordinary thoroughfares – in camouflaged vehicles, of course. Before the cars hit the streets, though, they undergo plenty of work in the acoustics laboratory. The lab is located in the P25 Building at company headquarters in Rüsselsheim, Germany.
---
---
HARMONIZING WITH OTHER DEPARTMENTS
Kramer has the following to say about the division of labor within the Acoustics team: "Each of us is responsible for one area of expertise, such as exhaust systems, insulation, or vehicle architecture. We analyze the current state accordingly, and whenever something's not absolutely perfect, we make a causal analysis. We then contact the relevant department and work together to find a solution." For instance, when it comes to engine noise, the Acoustics team join forces with the Powertrain employees. If there's an issue with the sound of the fuel tank cap, they get in touch with the Fuel department.
The new Astra was crowned the 'Goldenes Lenkrad 2015' (2015 Golden Steering Wheel) – a notable distinction. This vehicle has also won the praise of trade media outlets such as Germany's Auto Motor Sport and the United Kingdom's Top Gear. Justen has two large binders full of positive feedback in his office. Have these testaments to his success gotten him to relax when he drives his own car? "To be honest, no. I tried, but when I'm at the wheel, you could still hear a pin drop. The only noise comes from the vehicle itself – and it sounds wonderful."
---
 A Sneak Peek Under the Hood
---
The new Astra boasts some remarkable changes under the hood. Noise-optimized engine block design allows for exemplary engine smoothness. This design involves splitting the oil sump into two parts, among other provisions. Several additional measures have also been taken to reduce noise levels: the exhaust manifold has been integrated into the cylinder head in a soundproof manner, a specially developed noise-reducing valve cover has been implemented, the high-pressure fuel injector valves have been decoupled, and the low-friction control chain has been optimized for a quiet radial run-out.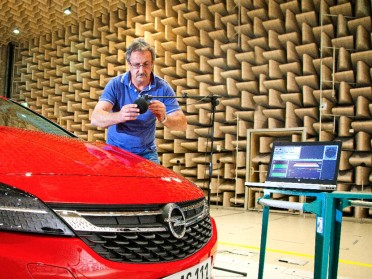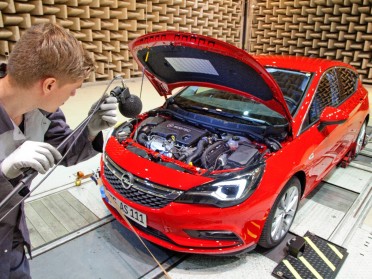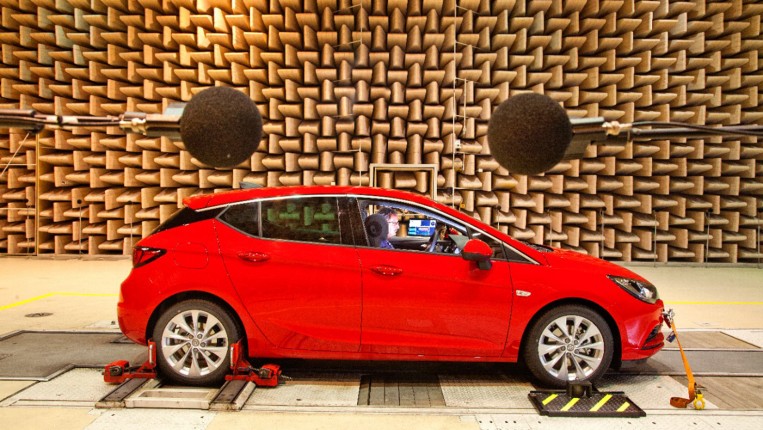 ---
Last update December 2015